Tracking of autologous adipose tissue-derived mesenchymal stromal cells with in vivo magnetic resonance imaging and histology after intralesional treatment of artificial equine tendon lesions - a pilot study
Stem Cell Research & Therapy
2016
7:21
Received: 27 August 2015
Accepted: 14 January 2016
Published: 1 February 2016
Abstract
Background
Adipose tissue-derived mesenchymal stromal cells (AT-MSCs) are frequently used to treat equine tendinopathies. Up to now, knowledge about the fate of autologous AT-MSCs after intralesional injection into equine superficial digital flexor tendons (SDFTs) is very limited. The purpose of this study was to monitor the presence of intralesionally injected autologous AT-MSCs labelled with superparamagnetic iron oxide (SPIO) nanoparticles and green fluorescent protein (GFP) over a staggered period of 3 to 9 weeks with standing magnetic resonance imaging (MRI) and histology.
Methods
Four adult warmblood horses received a unilateral injection of 10 × 106 autologous AT-MSCs into surgically created front-limb SDFT lesions. Administered AT-MSCs expressed lentivirally transduced reporter genes for GFP and were co-labelled with SPIO particles in three horses. The presence of AT-MSCs in SDFTs was evaluated by repeated examinations with standing low-field MRI in two horses and post-mortem in all horses with Prussian blue staining, fluorescence microscopy and with immunofluorescence and immunohistochemistry using anti-GFP antibodies at 3, 5, 7 and 9 weeks after treatment.
Results
AT-MSCs labelled with SPIO particles were detectable in treated SDFTs during each MRI in T2*- and T1-weighted sequences until the end of the observation period. Post-mortem examinations revealed that all treated tendons contained high numbers of SPIO- and GFP-labelled cells.
Conclusions
Standing low-field MRI has the potential to track SPIO-labelled AT-MSCs successfully. Histology, fluorescence microscopy, immunofluorescence and immunohistochemistry are efficient tools to detect labelled AT-MSCs after intralesional injection into surgically created equine SDFT lesions. Intralesional injection of 10 × 106 AT-MSCs leads to the presence of high numbers of AT-MSCs in and around surgically created tendon lesions for up to 9 weeks. Integration of injected AT-MSCs into healing tendon tissue is an essential pathway after intralesional administration. Injection techniques have to be chosen deliberately to avoid reflux of the cell substrate injected. In vivo low-field MRI may be used as a non-invasive tool to monitor homing and engraftment of AT-MSCs in horses with tendinopathy of the SDFT.
Keywords
HorseSuperficial digital flexor tendonSuperparamagnetic iron oxide particlesSPIOPrussian blue stainingGreen fluorescent protein
Background
Injury of the superficial digital flexor tendon (SDFT) is common, especially in thoroughbred racehorses [1]. Therapy with adipose-derived nucleated cells and adipose tissue-derived mesenchymal stromal cells (AT-MSCs) has shown promising results when treating both experimental tendonitis [2–5] and naturally occurring tendon and ligament injuries in horses [6, 7]. To further investigate the potential regenerative, immunomodulatory and inflammatory modulating effect of MSC therapy, knowledge of the distribution, kinetics and engraftment of the injected cells in the target tissue is of utmost interest [8]. Bone marrow-derived MSCs (BM-MSCs) and embryonic-like stem cells (ESCs) have been traced after labelling with green fluorescent protein (GFP) and were detectable in the treated tendon for up to 90 days [9, 10]. Whereas estimated BM-MSC survival was less than 5 % after 10 days, ESC numbers were at a constant level for 90 days [10]. Compared with MSCs from other sources, AT-MSCs show expression of extracellular matrix proteins with the highest collagen 1A2-to-collagen 3A1 ratios. Moreover, AT-MSCs display the second highest expression of the tendon markers tenascin-C and scleraxis [11], suggesting that AT-MSCs may be of special benefit in the treatment of equine tendinopathy. However, knowledge about the fate of autologous AT-MSCs after intralesional injection into equine SDFTs is marginal. As recently revealed, AT-MSCs labelled with nanocrystals were detectable in peripheral blood for 72 h and 7 days after implantation as well as in SDFT tissue 7 days after intralesional injection in an equine collagenase tendonitis model [12].
Labelling with superparamagnetic iron oxide (SPIO) nanoparticles is a technique to track MSCs assisted by magnetic resonance imaging (MRI) because of the strength of the signal change per unit of metal provided, particularly in T2*-weighted images [13]. By means of this technique, cells can be monitored non-invasively in vivo and at post-mortem histology by Prussian blue staining [14]. In contrast, GFP-based labelling techniques are dependent on tissue biopsies or even larger specimen, thus making euthanasia of the treated animal necessary [10]. In vitro studies have shown that controlled labelling of MSCs with SPIO nanoparticles neither caused death of rabbit BM-MSCs nor inhibited their proliferation [15]. A recent equine study has provided evidence that viability did not differ between SPIO-labelled and unlabelled BM-MSCs and umbilical cord blood MSCs. However, doubling time increased in SPIO-labelled MSCs compared with unlabelled cells [16]. In a rodent study, SPIO nanoparticles could be tracked in vivo for up to 4 weeks after subcutaneous implantation [17]. At the same time, in a different rodent study investigating the presence of SPIO-labelled BM-MSCs at a tendon-to-bone interface for up to 7 days, a reliable tracing of labelled cells was impossible and this was due to the similar signal intensity of cells and tendon tissue on T2-weighted MRI images [18]. As recently pointed out in an equine cadaver study, SPIO-labelled BM-MSCs are detectable immediately after intralesional SDFT injection by using 1.5-Tesla MRI [16].
The present pilot study aimed at testing whether standing low-field MRI has the potential to monitor the fate of intralesionally injected AT-MSCs labelled with SPIO particles in vivo and at monitoring the presence of AT-MSCs that were co-labelled with GFP histologically for up to 9 weeks in a surgical model of equine tendinopathy.
Methods
Four warmblood horses (two stallions, one mare and one gelding) between 1 and 4 years old were objects of this study. Pre-existing tendon injury was excluded by clinical examination, B-mode ultrasonography and ultrasonographic tissue characterization (UTC) (UTC 2009; UTC Imaging, Stein, The Netherlands). The study was approved by the animal welfare officer of the University of Veterinary Medicine Hannover, Foundation, Germany, and the ethics committee of the responsible German federal state authority in accordance with the German Animal Welfare Law (Lower Saxony State Office for Consumer Protection and Food Safety, Az. 33.9-42502-04-08/1622).
Collection of subcutaneous fat, AT-MSC isolation, and culture
After sedation of the horses, approximately 1–2 g of subcutaneous fat was harvested from the left coccygeal region at the base of the tail 8 or 9 days prior to surgical creation of standardized SDFT lesions. AT-MSCs were isolated and cultured as described elsewhere [4]. They were defined by the presence of markers CD44, CD90, CD105 and CD117 and the absence of CD34 and CD45.
Labelling with lentiviral plasmid and superparamagnetic iron oxide particles
After the addition of 10 μg/ml polybrene, the cultured AT-MSCs of all horses were incubated with lentivirus particles with a copGFP (hUbiC Promoter) for 48 h. The efficacy of transfection was controlled by fluorescence microscopy during passage 1 (Fig.
1
) and by flow cytometric analysis (Fig.
2
) which was performed on a BD FACSCanto™ II with BD FACSDiva™ 8.0.1 software (BD Biosciences, Franklin Lakes, NJ, USA). For excitation, the 488-nm laser line was used. Debris, dead or damaged cells as well as cell aggregates were excluded from further analysis according to forward scatter (FSC) and side scatter (SSC) properties (gate P1 and P2). For the detection of GFP fluorescence intensity, a combination of a 502 low-pass (LP) and 530/30 band-pass (BP) filter in front of the photomultiplier tube (PMT) detector (488-E) was employed. Detection sensitivity was set with a non-expressing control sample. The GFP-positive gate (P3) was set on the basis of the negative control population to include 0.0 % positive events. The mean efficacy of transfection was estimated to be 99 % after passage 0 (horse 2) and 63 %, 62 %, and 64 % after passage 2 (horses 1, 3 and 4) as determined by three analyses, respectively.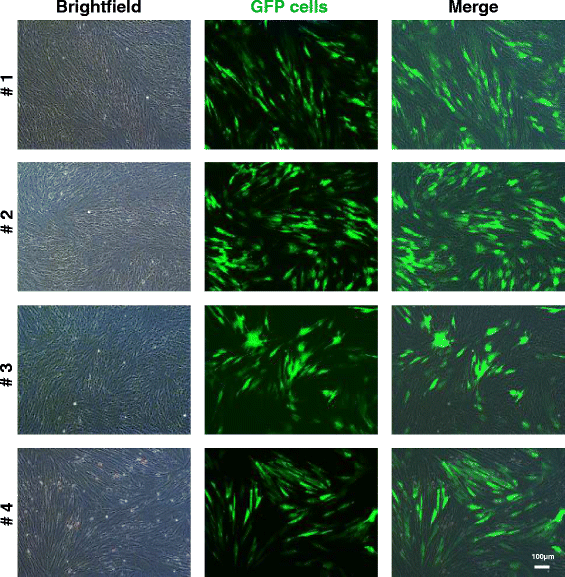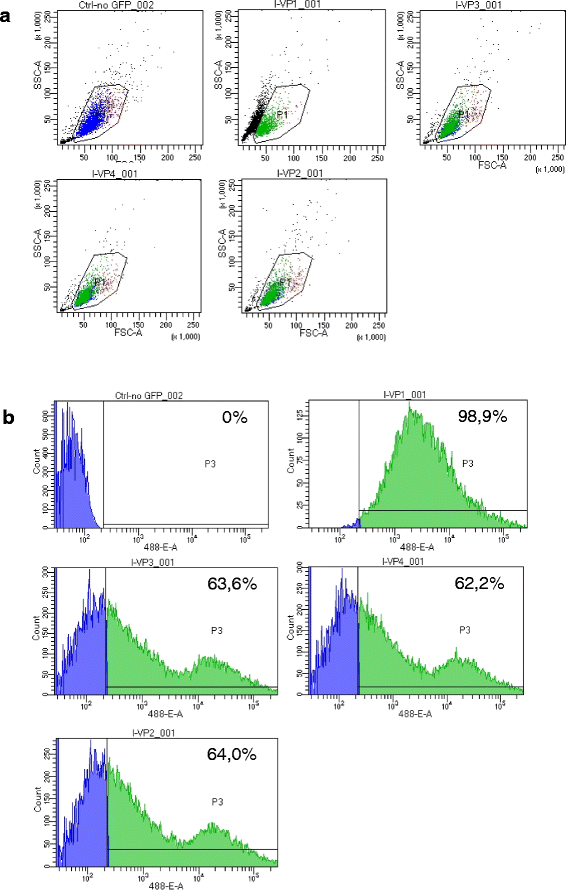 Additionally, AT-MSCs from horses 1, 2 and 4 were labelled by incubation with 45- to 60-nm SPIO particles coated with carboxydextran (Resovist™, SHU 555A; Schering AG, Berlin, Germany) in culture medium for 48 h at an SPIO concentration of 60 μg/ml Fe. Following the incubation, AT-MSCs were rinsed thrice with phosphate-buffered saline (PBS) solution. After harvest of AT-MSCs from passage 0, the total number of cells was counted and the cell viability evaluated, followed by sample preparation of 10 × 106 AT-MSCs on ice for transplantation. Cells not needed for transplantation were cryopreserved for further experiments.
Creation of superficial digital flexor tendon lesions
Lesions were created in the SDFTs of both front limbs under general anaesthesia by using a technique previously described [19–21]. A short longitudinal incision was made axially at the palmar aspect of the metacarpus just proximal to the digital sheath. A conical obturator (Ø 3.5 mm) from an arthroscope was introduced through a stab incision into the center of the SDFT and advanced proximally for 7–8 cm while carefully avoiding penetration of the epitenon. The obturator was replaced by an arthroscopic burr (Small Joint Round Burr ø 3.5 mm, 28204 FB; Karl Storz GmbH & Co. KG, Tuttlingen, Germany), which was activated and slowly withdrawn within approximately 20 s. The incisions were closed in a simple interrupted pattern. The horses received meloxicam (0.6 mg/kg body weight (bwt) [orally]) the day of surgery and for two consecutive days.
Injection of labelled AT-MSCs
The tendon lesions were treated unilaterally with AT-MSCs at 1 week (horses 2 and 3) and at 3 weeks (horses 1 and 4) after surgery. Three horses (1, 2 and 4) received AT-MSCs labelled with SPIO particles. The horses were sedated by using detomidine hydrochlorid (0.02 mg/kg bwt [IV]) and butorphanol (0.04 mg/kg bwt [IV]). Additionally the medial and lateral palmar nerves were anaesthetized with 2 ml of 2 % mepivacaine hydrochlorid 2 cm distal to the carpometacarpal joint. Approximately 10 × 106 AT-MSCs suspended in 2 ml 0.9 % saline (total volume 3 ml) and divided into aliquots of 1.5 ml were injected into the SDFT lesions from lateral under ultrasonographic guidance by using a 23-G, 1-inch needle. Entrance of the needle was 3 and 5 cm proximal to the surgical scar. Following the implantation of the cells, the limbs were dressed with half-limb bandages for 16 days. The contralateral SDFT was treated with 3 ml of saline in the same manner.
Standing low-field magnetic resonance imaging
In two of the horses treated with SPIO-labelled AT-MSCs (2 and 4), sequential standing low-field MRI of the metacarpal regions was performed by using a clinical 0.27-Tesla open magnet (Hallmarq Veterinary Imaging, Guildford, Surrey, UK) and a fetlock radiofrequency coil. Front-limb SDFTs were scanned 6 and 33 days after the intralesional treatment in horse 2 and after 2, 18, 47 and 62 days in horse 4.
Initially the horses were sedated with romifidine (0.06 mg/kg bwt [IV] and butorphanol (0.01 mg/kg bwt [IV]). The sedation was prolonged to effect with detomidine (0.01 mg/kg bwt [IV]). After positioning of the metacarpal regions in the isocenter of the magnet, the following MRI sequences and variables were applied: transverse gradient-echo T1-weighted, TR (relaxation time): 50 ms, TE (echo time): 8.0 ms, FA (flip angle): 50°, matrix size: 170 × 130, number of excitations: 1; transverse gradient-echo T2*-weighted, FA: 25°, matrix size: 170 × 126; number of excitations: 1; transverse STIR, TR: 2260 ms, TE: 22.0 ms, FA: 90°, matrix size: 168 × 168, number of excitations: 8. The field-of-view angle was 170 × 170 mm, the slide width was 5.0 mm and the gap width was 6.0 mm.
Follow-up
Following the creation of the lesions, the horses received box rest for 3 weeks. Thereafter they were exercised in accordance with a protocol adapted from Bosch et al. (2010) [21] until euthanasia: From week 4 to 6, they were walked for 10 min once a day on a treadmill. During week 7 to 9, walking was extended to 20 min once daily. After sedation with xylazine (0.4 mg/kg bwt [IV]) and levomethadone (0.05 mg/kg bwt [IV]) and induction of general anaesthesia with ketamine (3 mg/kg bwt [IV]) and midazolam (0.02 mg/kg bwt [IV]), horses were euthanized by using an overdose of pentobarbital (80 mg/kg bwt [IV]) at 3, 5, 7 and 9 weeks after injection of the cells, respectively.
Fluorescence microscopy and Prussian blue staining
The SDFTs were dissected immediately after death, and a tendon segment including the lesion was harvested from between 4 and 5 cm proximal to the surgical scar. These specimens were stored for 96 h in 4 % paraformaldehyde followed by 96 h in PBS. Thereafter they were snap-frozen in Tissue-Tek (Sakura, Alphen aan den Rijn, The Netherlands) at −180 °C. Transverse sections with a thickness of 10 μm were cut with a cryostat and distended on histology slides. Sections were fixed with 4 % paraformaldehyde for 10 min, washed with PBS and stored at −80 °C after drying until required. Slices were examined under a fluorescence microscope (20× magnification). A set of frozen sections was stained with Prussian blue as described elsewhere (immunohistochemistry world) and examined with a light microscope (20× magnification).
Immunohistochemistry and immunofluorescence
The cell culture and frozen tissue sections were analysed immunohistochemically and with immunofluorescence to detect the GFP antigen. Incubations with the primary polyclonal antibody rabbit-Anti-CopGFP (Evrogen AB 513; Evrogen, Moscow, Russia) diluted at 1:1000 were carried out overnight at 4 °C. After incubation with the primary antibody, one set of sections was incubated with a biotylinated swine-anti-rabbit secondary antibody (E0431; Dako, Hamburg, Germany) at a dilution of 1:400 for 60 min at room temperature. Thereafter, the peroxidase streptavidin-biotin-complex (ABC) detection system (Vectastain Elite ABC Kit; Vector Laboratories Inc., Burlingame, CA, USA) was applied and slices were exposed to diaminobenzidine tetrachloride (DAB) substrate (Sigma-Aldrich, St. Louis, MO, USA) in accordance with the instructions of the manufacturer. A second set of sections was incubated with a secondary goat-anti-rabbit antibody Alexa 546 (Molecular Probes) at a dilution of 1:1000. Finally, the sections were counterstained with 4′,6-diamidino-2-phenylindole (DAPI) (D9542; Sigma-Aldrich) diluted at 1:2000. Cop-GFP transfected control cells functioned as positive controls. In the negative control sections, the primary antibody was omitted. During microscopy of all slices, the number of cells with a positive signal was estimated subjectively (low/moderate/high numbers).
Conclusions
Conclusively, standing low-field MRI has the potential to track SPIO-labelled AT-MSCs in surgically induced SDFT lesions for up to 9 weeks in vivo, as demonstrated by the detection of large numbers of labelled cells with histology, immunofluorescence and immunohistochemistry in post-mortem specimen of the lesions. Injection techniques have to be chosen deliberately to avoid reflux of the cell substrate injected. In future dose-dependent controlled clinical trials, numbers of cells retrieved in the tendons should be quantified and horses should be monitored for a longer period of time.
Abbreviations
AT-MSC:

Adipose tissue-derived mesenchymal stromal cell
BM-MSC:

Bone marrow-derived mesenchymal stromal cell
bwt:

Body weight
DAB:

Diaminobenzidine tetrachloride
DAPI:

4′,6-diamidino-2-phenylindole
ESC:

Embryonic stem cell
FA:

Flip angle
GFP:

Green fluorescent protein
IV:

Intravenously
MRI:

Magnetic resonance imaging
MSC:

Mesenchymal stromal cell
PBS:

Phosphate-buffered saline
SDFT:

superficial digital flexor tendon
SPIO:

Superparamagnetic iron oxide
TE:

Echo time
TR:

Relaxation time
Declarations
Acknowledgements
The authors thank Drs. Astrid v. Velsen-Zerweck, Gerco Bosch and Florent David for their much appreciated help throughout the study period and Monika Langlotz, of ZMBH (Zentrum für Molekulare Biologie der Universität Heidelberg), Flow Cytometry & FACS Core Facility, for providing flow cytometric analyses.
Open AccessThis article is distributed under the terms of the Creative Commons Attribution 4.0 International License (http://creativecommons.org/licenses/by/4.0/), which permits unrestricted use, distribution, and reproduction in any medium, provided you give appropriate credit to the original author(s) and the source, provide a link to the Creative Commons license, and indicate if changes were made. The Creative Commons Public Domain Dedication waiver (http://creativecommons.org/publicdomain/zero/1.0/) applies to the data made available in this article, unless otherwise stated.
Authors' Affiliations
(1)
Clinic for Horses, University of Veterinary Medicine Hannover, Foundation, Hannover, Germany
(2)
Pferdeklink Kirchheim, Kirchheim unter Teck, Germany
(4)
Department of Equine Sciences, Faculty of Veterinary Medicine, Utrecht University, Utrecht, The Netherlands
(5)
Institute for Anatomy and Cell Biology, University of Heidelberg, Heidelberg, Germany