Illuminating the physiology of extracellular vesicles
Stem Cell Research & Therapy
2016
7:55
Abstract
Extracellular vesicles play a crucial role in intercellular communication by transmitting biological materials from donor cells to recipient cells. They have pathophysiologic roles in cancer metastasis, neurodegenerative diseases, and inflammation. Extracellular vesicles also show promise as emerging therapeutics, with understanding of their physiology including targeting, distribution, and clearance therefore becoming an important issue. Here, we review recent advances in methods for tracking and imaging extracellular vesicles in vivo and critically discuss their systemic distribution, targeting, and kinetics based on up-to-date evidence in the literature.
Keywords
Extracellular vesicleExosomeMicrovesicleImagingIn vivo distribution
Background
Extracellular vesicles (EVs) released from a variety of cells target recipient cells for intercellular communication and transfer a subset of genetic materials and proteins [1–3]. Until now, diverse roles have been identified for EVs, ranging from immune modulation [4–6], to neuron–glial communication [7, 8], to stem cell-injured tissue interaction [9], to the pathophysiological processes of cancer metastasis [10–12].
EVs include a broad spectrum of vesicles secreted by several types of cells and the term is used as a collective one. These include exosomes, ectosomes, oncosomes, shed vesicles, and microvesicles. Thus, EVs represent a broad spectrum of vesicles secreted by several types of cells. Among these, exosomes are small (30–100 nm) vesicles derived from the endosomal pathway while microvesicles are of various sizes and generated by budding of the plasma membrane (50–1000 nm) [3, 5]. However, discriminating exosomes from microvesicles is difficult based on their physical properties or protein composition. Because of this overlap, we discuss imaging results and physiology of EVs referring to both types of EVs.
Genetic materials or proteins conveyed by EVs functionally change the recipient cells [13], and therefore visualization and tracking of EVs currently receive great attention as a way to reveal their physiology. Recently developed imaging techniques provide direct evidence of cellular phenotypic change as a consequence of intercellular transfer of genetic materials mediated by EVs. Tracking of exogenous engineered EVs also became an important issue for their diagnostic and therapeutic use [14–16] in cancer [17, 18] and in regenerative medicine [19]. EVs can transport genetic materials and proteins, and thus have potential as a drug carrier [17, 20, 21]. Despite the high expectation of therapeutic potential, the lack of knowledge of in vivo behavior of EVs is a major drawback. Noninvasive imaging enables us to understand the in vivo distribution and the fate of EVs and to elucidate their targeting capability, and here we review these imaging approaches and critically discuss the physiology of EVs revealed by the imaging and tracking studies.
Tracking methods for extracellular vesicles
Fluorescence labeling
The imaging and tracking strategy for EVs is summarized in Fig.
1
. Direct fluorescence labeling of EVs has been widely used to investigate in vivo behavior of exogenous EVs. Fluorescence labeling could provide whole-body images on highly sensitive optical cameras as well as fluorescence microscopic images. Thus, EVs labeled with dyes can be widely used for microscopic identification of EVs to reveal intercellular communication and for tracking systemically administered EVs. Lipophilic dyes including PKH, DiI, and DiR are commonly used and yield stable fluorescent signals [
11
,
18
,
22
,
23
]. The labeling process is very simple and there is no need to use genetically modified EVs. This simple imaging technique revealed the spatiotemporal location of systemically injected exogenous EVs in target tumors [
18
]. However, optical imaging is limited to exogenous EVs and fluorescent dyes persist in tissues even after the EVs are degraded. This is because lipid labeling is not specific for intact EVs and fluorescence might remain in degraded EVs [
16
].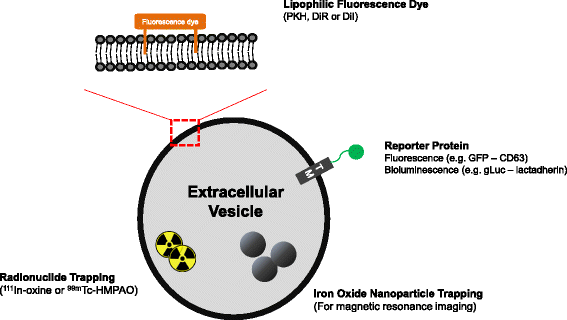 To visualize endogenous EVs and track cell-to-cell communication directly, reporter imaging methods were introduced. Protein markers of EVs, such as CD63, were used to design reporter conjugated to fluorescent proteins [6, 12]. Although surface proteins labeled with fluorescent proteins are widely expressed in EVs, only a subpopulation of EVs is labeled and the signal intensity depends on the amount of reporter protein expression [7, 15]. Alternatively, schemes such as labeling transmembrane domains with a biotin–streptavidin system [16] or using a reporter fused with a palmitoylation signal [15] were also attempted to track endogenous EVs. Reporter fluorescence imaging systems are more specific to EVs than lipophilic dyes. However, they require genetically engineered cells, and whole-body optical imaging of systemically administered EVs is difficult because of the low yield of fluorescence-labeled EVs.
Bioluminescence reporter system
The bioluminescence reporters are able to unravel the in vivo behavior of EVs with very high sensitivity. Genetically engineered bioluminescent proteins (e.g., Gaussia luciferase combined with transmembrane domains such as lactadherin) could reveal the spatiotemporal distribution of EVs in a quantitative manner [16, 24] in small animals without background autofluorescence. Bioluminescence imaging overcomes the problem of retained or recirculating fluorescence signals coming from retained fluorescence dyes after EV degradation. However, this system has the shortcoming that the luminescence signal is attenuated when its location is deep in the internal organs. Furthermore, similar to fluorescence reporter imaging, the bioluminescent signal depends on the reporter protein expression [7, 15]. These labeling procedures are complicated compared with those of fluorescence dyes, which limits the study of the in vivo distribution and fate of EVs in various cells under different conditions.
Radionuclide and magnetic resonance imaging of extracellular vesicles
Optical imaging of EVs (either fluorescence or bioluminescence) has an intrinsic limitation of signal attenuation even in small animals, and other noninvasive imaging methods are necessary for clinical applications. Radionuclide labeling of EVs is one of the options. Similarly to bioluminescence imaging, a streptavidin reporter combined with transmembrane domains expressed in EVs was conjugated with 125I-labeled norbiotinamide [25]. Another direct radiolabeling method was also tried using 111In-oxine, which appeared quite similar to fluorescence dye labeling [26]. Although the whereabouts of fluorescent dyes released from degraded EV membranes are unknown, 111In—if freed from the cells (and thus probably from the EVs)—accumulates in the reticuloendothelial system (RES) of the liver, spleen, and bone marrow [27]. These methods were used only to evaluate ex vivo biodistribution, but more recently 99mTc-HMPAO-labeled EVs were also tested to obtain whole-body images using single photon emission computed tomography (SPECT) [28]. The serial imaging of 99mTc-HMPAO-labeled EVs enabled us to understand in vivo kinetics of EVs quantitatively.
Another approach is to use superparamagnetic iron oxide nanoparticles for magnetic resonance imaging (MRI) [29, 30]. Electroporation of exosomes with superparamagnetic iron oxide nanoparticles produced nanoparticle-laden exosomes [30]. The disadvantage of this method is also difficult—a very large amount of EVs should be used because the signal-to-noise ratio is proportional to the amount of particles on MRI and quantification. Although these noninvasive imaging techniques including SPECT, positron emission tomography (PET), and MRI can show EVs even in deep organs, for clinical translation they require relatively expansive facilities and—except for MRI—may have concerns of radiation exposure.
In vivo fate, distribution, and targeting of extracellular vesicles
Conclusion
Imaging of EVs is essential to understand the physiology of EVs and to apply EVs as therapeutics for various diseases. The simple and commonly used tracking is carried out with lipophilic labeling of EVs either using fluorescent dyes or radiolabeled dyes. However, accurate tracking of EVs was limited due to nonspecificity of labeling and retention or recirculation of labels after degradation. Furthermore, optical imaging has the issues of limited penetration depth and potential toxicity of substrates in the case of luciferin. In the future, for clinical application of EVs, radionuclide imaging and MRI may be used as noninvasive imaging methods without these disadvantages.
Even though distinctive roles of EVs for intercellular communication are mediated by the complex and specific composition of EV lipids and proteins, systemic distribution and clearance did not yet disclose the differences according to the EV origins and compositions. In vivo distribution of EVs appears to be similar to artificial nanovesicles such as liposomes. EVs are rapidly cleared by the RES or excreted via the liver or kidneys, which may limit their reach to certain target tissues; surface modification to reduce nonspecific uptake may also be required for eventual clinical application of EVs as therapeutics.
Studies of the secretion of EVs by various cells under diverse conditions suggest that there are many subsets of EVs composed of different genetic materials and proteins including surface markers and other biomaterials [52, 53]. If we wish to make a library of EVs of interest, including their roles in physiology and their future therapeutic potential, information regarding their in vivo distribution, clearance, and kinetics should be noted for each subtype of EVs. To elucidate the physiology of various subsets of EVs, novel methods of isolation and purification of these subsets as well as efficient methods for their in vivo characterization will be needed to understand intercellular communication between EV donor cells and receptor cells or distant organs.
Abbreviations
BBB:

blood–brain barrier
EV:

extracellular vesicle
MRI:

magnetic resonance imaging
RES:

reticuloendothelial system
RVG:

rabies viral glycoprotein
siRNA:

small interfering RNA
SPECT:

single photon emission computed tomography
Declarations
Acknowledgements
This research was supported by a grant from the Korea Health Technology R&D Project through the Korea Health Industry Development Institute, funded by the Ministry of Health & Welfare, Republic of Korea (HI14C0466), by the Ministry of Health & Welfare, Republic of Korea (HI14C3344), and by the Ministry of Health & Welfare, Republic of Korea (HI14C1277), supported by the Technology Innovation Program (10052749) funded by the Ministry of Trade, Industry and Energy, Republic of Korea, and supported by the original Technology Research Program for Brain Science through the National Research Foundation of Korea (NRF-2015M3C7A1028926).
Open AccessThis article is distributed under the terms of the Creative Commons Attribution 4.0 International License (http://creativecommons.org/licenses/by/4.0/), which permits unrestricted use, distribution, and reproduction in any medium, provided you give appropriate credit to the original author(s) and the source, provide a link to the Creative Commons license, and indicate if changes were made. The Creative Commons Public Domain Dedication waiver (http://creativecommons.org/publicdomain/zero/1.0/) applies to the data made available in this article, unless otherwise stated.
Authors' Affiliations
(1)
Department of Nuclear Medicine, Seoul National University College of Medicine, Seoul National University Hospital, Jongno-Gu, South Korea
(2)
Department of Molecular Medicine and Biopharmaceutical Sciences, Graduate School of Convergence Science and Technology, Seoul National University, Gwanak-gu, South Korea
(3)
College of Medicine or College of Pharmacy, Seoul National University, Gwanak-gu, South Korea