Erratum to: CXCL14 and MCP1 are potent trophic factors associated with cell migration and angiogenesis leading to higher regenerative potential of dental pulp side population cells
Stem Cell Research & Therapy
2016
7:86
Received: 7 June 2016
Accepted: 10 June 2016
Published: 27 June 2016
Following the publication of our article in
Stem Cell Research & Therapy
[
1
], we have become aware that errors were introduced inadvertently in Fig.
2
.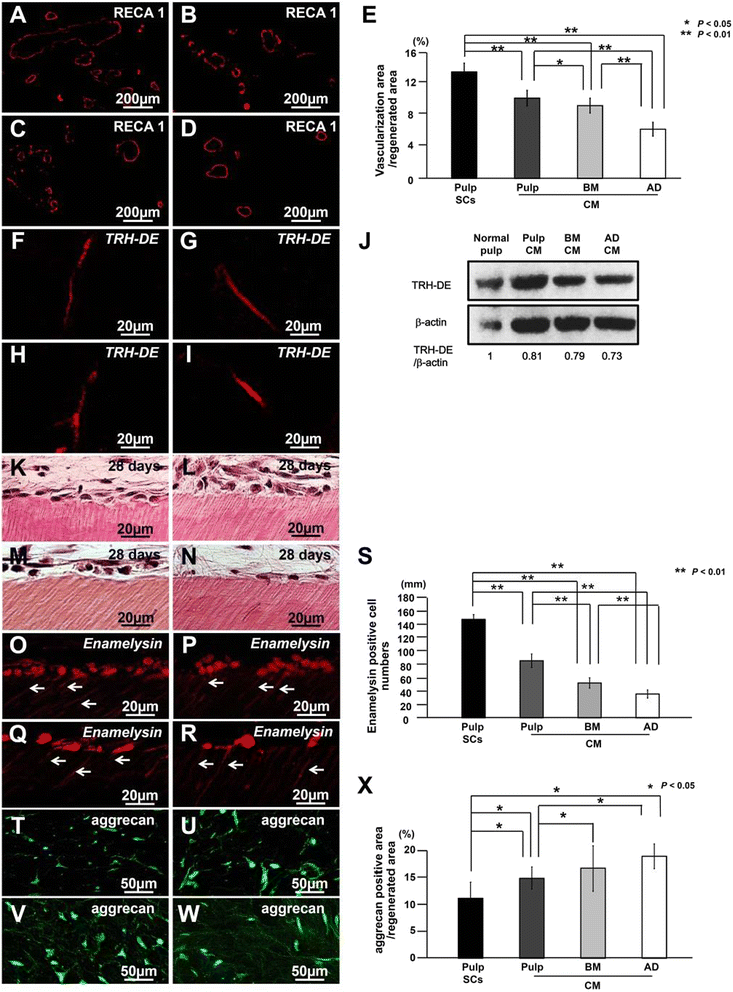 During the preparation of panel J, the bands of β-actin were cut out and attached in the middle to remove non-specific bands. The bands of all samples were located on the same membrane. Unfortunately this panel was included in our article by mistake.
We are now providing a new version of Fig. 2 below which presents in panel J experimental data which were obtained at the same time.
The protein band intensity was re-quantified by densitometry (CS Analyzer) using the correct TRH-DE and β-actin band. Relative protein expression level was evaluated on the basis of band intensity of TRH-DE/β-actin. Each expression level of normal pulp was defined as 1.0.
We apologize for this error and confirm that the conclusions of the article are not affected.
Open AccessThis article is distributed under the terms of the Creative Commons Attribution 4.0 International License (http://creativecommons.org/licenses/by/4.0/), which permits unrestricted use, distribution, and reproduction in any medium, provided you give appropriate credit to the original author(s) and the source, provide a link to the Creative Commons license, and indicate if changes were made. The Creative Commons Public Domain Dedication waiver (http://creativecommons.org/publicdomain/zero/1.0/) applies to the data made available in this article, unless otherwise stated.
(1)
Department of Dental Regenerative Medicine, Center of Advanced Medicine for Dental and Oral Diseases, National Center for Geriatrics and Gerontology, Research Institute, Morioka 7-430, Obu Aichi, 474-8511, Japan
(2)
Department of Pediatric Dentistry, School of Dentistry, Aichi-Gakuin University suemoridouri 2-11, Nagoya Aichi, 464-8651, Japan
(3)
Department of Gerodontology, School of Dentistry, Aichi-Gakuin University suemoridouri 2-11, Nagoya Aichi, 464-8651, Japan
Hayashi Y, Murakami M, Kawamura R, Ishizaka R, Fukuta O, Nakashima M. CXCL14 and MCP1 are potent trophic factors associated with cell migration and angiogenesis leading to higher regenerative potential of dental pulp side population cells. Stem Cell Res Ther. 2015;6:111.View ArticlePubMedPubMed CentralGoogle Scholar