We're sorry, something doesn't seem to be working properly.
Please try refreshing the page. If that doesn't work, please contact us so we can address the problem.
Erratum to: Specific disruption of Lnk in murine endothelial progenitor cells promotes dermal wound healing via enhanced vasculogenesis, activation of myofibroblasts, and suppression of inflammatory cell recruitment
Stem Cell Research & Therapy
2017
8:50
Received: 2 February 2017
Accepted: 3 February 2017
Published: 9 March 2017
Unfortunately, after publication of this article [
1
], it was noticed that Fig.
4
was incorrect. Panels B and D contained incorrect graphs. The corrected Fig.
4
can be seen below and the original article has been updated to correct this.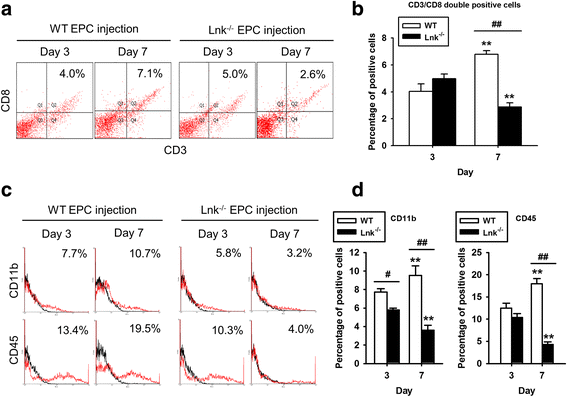 Open AccessThis article is distributed under the terms of the Creative Commons Attribution 4.0 International License (http://creativecommons.org/licenses/by/4.0/), which permits unrestricted use, distribution, and reproduction in any medium, provided you give appropriate credit to the original author(s) and the source, provide a link to the Creative Commons license, and indicate if changes were made. The Creative Commons Public Domain Dedication waiver (http://creativecommons.org/publicdomain/zero/1.0/) applies to the data made available in this article, unless otherwise stated.
(1)
Department of Pharmacology and Toxicology, University of Alabama at Birmingham School of Medicine, Birmingham, AL 35294, USA
(2)
Department of Physiology, Laboratory for Vascular Medicine and Stem Cell Biology, Medical Research Institute, School of Medicine, Pusan National University, Yangsan, 626-870, Republic of Korea
(3)
Research Institute of Convergence Biomedical Science and Technology, Pusan National University School of Medicine, Yangsan, Republic of Korea
(4)
Department of Immune Regulation, Research Centre for Hepatitis and Immunology, Research Institute, National Centre for Global Health and Medicine, Chiba, Japan
(5)
Department of Regenerative Medicine Science, Tokai University School of Medicine, Kanagawa, Japan
(6)
Division of Cardiology of Chonnam National University Hospital, Cardiovascular Convergence Research Center Nominated by Korea Ministry of Health and Welfare, Gwangju, 501-757, Republic of Korea
Lee JH, Ji ST, Kim J, Takaki S, Asahara T, Hong Y-J, Kwon S-M. Specific disruption of Lnk in murine endothelial progenitor cells promotes dermal wound healing via enhanced vasculogenesis, activation of myofibroblasts, and suppression of inflammatory cell recruitment. Stem Cell Research & Therapy. 2016;7:158. http://doi.org/10.1186/s13287-016-0403-3.View ArticleGoogle Scholar