Mesenchymal stem cells: potential application for the treatment of hepatic cirrhosis
Stem Cell Research & Therapy
2018
9:59
Abstract
Nowadays, orthotopic liver transplantation is considered the most efficient approach to the end stage of chronic hepatic cirrhosis. Because of the limitations of orthotopic liver transplantation, stem cells are an attractive therapeutic option. Mesenchymal stem cells (MSCs) especially show promise as an alternative treatment for hepatic cirrhosis in animal models and during clinical trials. Nevertheless, the homing of transplanted MSCs to the liver occurs in limited numbers. Therefore, we review the strategies for enhancing the homing of MSCs, mainly via the delivery routes, optimizing cell culture conditions, stimulating the target sites, and genetic modification.
Keywords
Mesenchymal stem cells
Cirrhosis
Homing
Background
Cirrhosis is the end stage of progressive fibrosis that is caused by various reasons and that responds poorly to medical conservative treatment. Chronic damage to the liver leads to the extensive accumulation of extracellular matrix (ECM) among the hepatocytes. Epidemiological data state that 1.03 million cirrhotic patients worldwide die each year from severe associated complications [1].
Currently, liver transplantation is the most effective therapy for advanced hepatic diseases. Among those fortunate enough to receive liver transplantation, the survival rates at 3, 12, and 36 months are 94%, 88%, and 79%, respectively [2]. However, we should be take into account the lack of donor organs, the high costs, and the long-term use of immunosuppressants after transplantation. Thus, there is an urgent need to find alternative therapeutic strategies. Recent studies have shown that hepatocytes in the cirrhotic liver still have the potential to regenerate, but there is an imbalance between regeneration and necrosis [3]. A potential hypothesis states that a fully functioning part of the liver could be created through the proliferation of the infused cells that will remodel the injured liver. It is doubtful whether increasing the number of hepatocytes alone would be an effective treatment for the patients.
Based on the proof-of-concept, hepatocytes were transplanted to treat liver-related diseases [4]. Because of the limited number of hepatocytes and the lack of their proliferation and stability in vitro, the efficacy of grafted hepatocytes decreased progressively. Hence, it is crucial to find another readily available cell source.
This review aims to highlight all currently available evidence regarding the use of stem cells for treatment of liver cirrhosis and to determine whether there is any factual basis for their potential.
Stem cells in regenerative medicine
Stem cells, termed as clonogenic undifferentiated cells, cannot just self-renew indefinitely but can differentiate into a variety of cell lineages, including pluripotent embryonic stem cells (ESCs), induced pluripotent stem cells (iPSCs), hematopoietic stem cells (HSCs), hepatic stem cells, mesenchymal stem cells (MSCs), and so forth (Fig.
1
).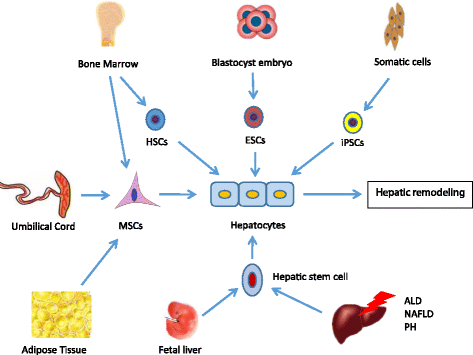 Splenic teratomas could be formed after infusion of ESCs [5]. The application of ESCs is therefore limited because of their potential for malignancy. iPSCs are artificially derived from a nonpluripotent cell and thus ethical issues remain the major obstacle to their clinical administration. Furthermore, the only available source of HSCs is the hematopoietic system, and this restricts their clinical application. Hepatic stem cells have been identified in fetal as well as mature liver. During embryonic development, the cells within the liver bud are recognized as hepatoblasts which are bipotent, giving rise to both hepatocytes and bile-duct epithelial cells. Moreover, cells in the ductal plates in fetal and neonatal livers are also hepatic stem cells. Their capacity to repopulate the liver upon transplantation is also well studied in animal models [6, 7]. Hepatic progenitor cells (HPCs), also defined as hepatic stem cells, are rare in normal adult livers (0.01%), located in the Canals of Hering, and all regenerative responses are mainly granted by mature hepatocytes except in certain disease states [7].
HPCs are activated after liver injury, such as alcoholic liver disease (ALD) and nonalcoholic fatty liver disease (NAFLD) [8]. Oxidative stress, which plays the main role in the pathogenesis of ALD and NAFLD, promotes the accumulation and differentiation of HPCs into hepatocytes [9, 10]; furthermore, HPCs can differentiate into hepatocytes in vivo and promote liver regeneration after partial hepatectomy or acute toxic liver injury [11]. This suggests that infusion of the progenitor cells may alleviate the damage of hepatocytes which is caused by long-lasting oxidative stress or partial hepatectomy.
The proliferation of HPCs as a response to chronic liver damage is minimal [11] and is correlated with the severity and localization of the inflammatory infiltrate [12]. Manipulation of the HPC microenvironment may be used as a therapeutic approach for the alleviation of liver insufficiency [11, 12].
In addition, evidence has suggested that mesenchymal cells through the processes of mesenchymal-epithelial or epithelial-mesenchymal transition (MET/EMT) may contribute to adult liver regeneration during chronic liver injury [13]. Mesenchymal cells in the liver may be derived not only from their own progenitor cells but also from the bone marrow (BM) by migrating to the injured liver [14, 15], although this statement is controversial. This suggests that not only HPCs but also mesenchymal cells simultaneously contribute to the initiation and development of liver diseases, although the mechanisms remain unclear [16]. This indicates that the interaction between HPCs and mesenchymal cells is important for remodeling of injured liver. The accumulating evidence suggests that HPCs could be the best alternative treatment for hepatic damage; however, HPCs may cause carcinogenesis and fibrogenesis, as has been shown in vitro [6]. Before thorough viewing of their therapeutic potential, a better knowledge of the factors that determine HPC differentiation and their possible malignant transformation is necessary.
The therapeutic potential of MSCs has been extensively investigated as well as their differentiation, immunoregulatory properties, and secretion of trophic factors. In contrast to ESCs, iPSCs, and HPCs, MSCs do not have any ethical problems and have become the ideal alternative.
During the past few years, MSCs have been mainly isolated from the bone marrow (BM-MSCs). Alternative sources of MSCs have been proposed, such as from adipose tissue (AD-MSCs), umbilical cord blood (CB-MSCs), umbilical cord (UC-MSCs), and amniotic fluid.
The application of MSCs
BM-MSCs are capable of undergoing differentiation into hepatic cells and recovering liver function, indicated by the apoptosis of hepatic stellate cells, decreased transforming growth factor (TGF)-β1, and alpha-smooth muscle actin (α-SMA) gene expression [17]. AD-MSCs, which are more immunocompatible and easier to isolate than BM-MSCs, have a protective role against liver fibrosis [18]. UC-MSCs show a more beneficial immunogenic profile and stronger overall immunosuppressive potential than BM-MSCs [19].
Although MSC differentiation into hepatocytes has been demonstrated in vivo, evidence suggests that various trophic and immunomodulatory factors play a key therapeutic role in the treatment of liver fibrosis. The trophic factors, which are secreted by MSCs, prevent apoptosis of hepatocytes with the help of antiapoptotic factors (hepatocyte growth factor (HGF) and insulin-like growth factor (IGF-1)), angiogenetic factors (vascular endothelial growth factor (VEGF)), mitogenetic factors (epidermal growth factor (EGF), HGF, and nerve growth factor (NGF)), and TGF-α [20, 21]. Because of the smaller and less complex immunogenic potency, MSC-free therapy might constitute a better alternative treatment.
Further clinical trials have evaluated the efficiency of transplanted MSCs for treating patients with liver fibrosis. Several clinical trials have been designed to evaluate their therapeutic potential in hepatic cirrhosis treatment [
22
–
26
] (Table
1
). The results of the studies seem to be promising, with improvements in model for end-stage liver disease (MELD) score and metabolic parameters, but data on histological improvement are weak. Long-term outcomes after UC-MSC treatment would be preferable for patients with liver cirrhosis [
22
,
23
], although the short-term efficacy of infused BM-MSCs is favorable [
24
–
26
]. It should be noted that the number of infused cells, the delivery route, and the frequency of injection per patient vary in the studies. Different sources of MSCs and various populations of patients may be more convincing for any therapeutic effect. Moreover, AD-MSCs and UC-MSCs have better immunocompatibility, and they are more vitalized and much easier to isolate than BM-MSCs from older patients [
18
,
19
]. The efficacy of autologous BM-MSCs may suffer from aging differentiation and deficiency in vitality [
18
,
22
]. In contrast, allogeneic UC-MSCs are free from these limitations [
19
,
22
]. Furthermore, for prognosis and better analysis on the difference between stem cells, the follow-up time of patients should be prolonged with the creation of time points. The results are also limited because of small sample sizes and absence of control groups [
22
–
26
]. Currently, there are no standardized protocols for clinical trials and it is not possible to monitor whether the infused MSCs home to the targeted organs or not.
Table 1
MSCs in clinical trials treating liver fibrosis
| Cell source | Delivery route | No. of cells | Patient population | No. of patients | Follow-up period | Efficacy | Limitations | Reference |
| --- | --- | --- | --- | --- | --- | --- | --- | --- |
| UC-MSCs | Intravenous | 5 × 105/kg, three times | Chronic hepatitis B | 30 treatment, 15 control | 12 months | Improvement of liver function and MELD score; reduced ascites | No track of the infused UC-MSCs and the histological evidence in the studied patients | [22] |
| UC-MSCs | Intravenous | 5 × 105/kg, three times | Primary biliary cirrhosis | 7 treatment | 48 weeks | Decrease in serum ALP and γ-GGT; alleviation of fatigue and pruritus | No track of the infused UC-MSCs and histological evidence alterations in the studied patients; less detailed follow-up time points | [23] |
| BM-MSCs | Intravenous infusion | 1 × 107/kg | Liver cirrhosis due to hepatitis C virus | 15 treatment,10 control | 6 months | Improvement in the frequency of encephalopathy, jaundice, ascites, bleeding tendency, and lower limb edema | Less detailed follow-up time points | [24] |
| Autologous BM-MSCs | Hepatic artery | 0.75 ± 0.50× 106/patient | Hepatitis B virus cirrhosis | 27 treatment,29 control | 24 weeks | Significant improvement in liver function | During follow-up, patients were lost about 1/3 | [25] |
| Autologous BM-MSCs | Peripheral vein | 1 × 106/kg | End-stage liver disease due to hepatitis C virus | 20 treatment,20 control | 6 months | Significant improvement in liver function | No histological evidence; less detailed follow-up time points | [26] |
Gholamrezanezhad et al. [27] have shown that there was no significant improvement in liver function after a 1-month period of follow-up because the homing ability of BM-MSCs into the liver occurred in just a limited number of infused cells. Peng et al. [28] also mentioned that the homing ability of MSCs is the main cause why autologous MSC transplantation did not achieve acceptable long-term effects on the prognosis of a patient. The lingering problem of cell-based therapies is whether the delivered cells home within the injured sites or not and how to increase their homing ability.
Homing
Migration or homing within the injured tissues is influenced by multiple factors including the delivery route, the number of infused cells, culture conditions, and others. We review various factors that are related to the migration of MSCs.
Conclusion
The present review demonstrates that stem cell therapy has a favorable therapeutic effect. Currently, the crucial factor that determines the benefit of MSCs is the homing efficacy. The disadvantages of MSC therapy in clinical trials include the risks of iatrogenic tumorigenesis, cellular embolism, and the optimum time for the infusion of cells. Moreover, its safety in clinical trials should be approved by institutional ethics committees. In conclusion, the results on MSCs which were used for the treatment of liver fibrosis are promising, but we need to know the underlying mechanism of their therapeutic effects.
Abbreviations
AD-MSC:

Adipose-derived mesenchymal stem cell
ALD:

Alcoholic liver disease
BM-MSC:

Bone marrow-derived mesenchymal stem cell
CB-MSC:

Cord blood-derived mesenchymal stem cell
c-met:

Cellular mesenchymal to epithelial transition factor
CXCR4:

Chemokine receptor type 4
ECM:

Extracellular matrix
EGF:

Epidermal growth factor
ESC:

Embryonic stem cell
HGF:

Hepatocyte growth factor
HIF-1α:

Hypoxia-inducible factor-1α
HPC:

Hepatic progenitor cell
HSC:

Hematopoietic stem cell
IGF-1:

Insulin-like growth factor-1
iPSC:

Induced pluripotent stem cell
MELD:

Model for end-stage liver disease
MSC:

Mesenchymal stem cell
NAFLD:

Nonalcoholic fatty liver disease
NGF:

Nerve growth factor
SDF:

Stromal cell-derived factor
TGF:

Transforming growth factor
TIMP:

Tissue inhibitor of metalloproteinase
UC-MSC:

Umbilical cord-derived mesenchymal stem cell
VEGF:

Vascular endothelial growth factor
Declarations
Acknowledgements
We thank Dr. Jiaying Liu for supporting us with human UCB-MSCs.
Funding
This work was supported by the National Natural Science Foundation of China (No. 81770591), the Gilead Sciences Research Scholars Program in Liver Disease—Asia, the Key Medical Talents Fund of Jiangsu Province (ZDRCA2016007) and the Medical Innovation Team Project of Jiangsu Province (CXTDA2017023).
Availability of data and materials
Not applicable.
Authors' contributions
YZ, YL, LZ, JL, and CZ designed the manuscript and analyzed the literature. YZ, YL, and CZ wrote the manuscript and prepared the table. All authors reviewed and approved the final manuscript.
Ethics approval and consent to participate
Not applicable.
Consent for publication
All authors consent to the publication of this manuscript.
Competing interests
The authors declare that they have no competing interests.
Publisher's Note
Springer Nature remains neutral with regard to jurisdictional claims in published maps and institutional affiliations.
Open AccessThis article is distributed under the terms of the Creative Commons Attribution 4.0 International License (http://creativecommons.org/licenses/by/4.0/), which permits unrestricted use, distribution, and reproduction in any medium, provided you give appropriate credit to the original author(s) and the source, provide a link to the Creative Commons license, and indicate if changes were made. The Creative Commons Public Domain Dedication waiver (http://creativecommons.org/publicdomain/zero/1.0/) applies to the data made available in this article, unless otherwise stated.
Authors' Affiliations
(1)
Department of Infectious Disease, the First Affiliated Hospital with Nanjing Medical University, Nanjing, China
(2)
Department of Pediatrics, the First Affiliated Hospital with Nanjing Medical University, Nanjing, China