Sequential intravenous allogeneic mesenchymal stromal cells as a potential treatment for thromboangiitis obliterans (Buerger's disease)
Stem Cell Research & Therapy
2018
9:150
Received: 29 March 2018
Accepted: 10 May 2018
Published: 30 May 2018
Abstract
Thromboangiitis obliterans (TAO), also known as Buerger's Disease, is an occlusive vasculitis linked with high morbidity and amputation risk. To date, TAO is deemed incurable due to the lack of a definitive treatment. The immune system and inflammation are proposed to play a central role in TAO pathogenesis. Due to their immunomodulatory effects, mesenchymal stromal cells (MSCs) are the subject of intense research for the treatment of a wide range of immune-mediated diseases. Thus far, local intramuscular injections of autologous or allogeneic MSCs have shown promising results in TAO. However, sequential intravenous allogeneic MSC administration has not yet been explored, which we hypothesized could exert a systemic anti-inflammatory effect in the vasculature and modulate the immune response. Here, we report the first case of a TAO patient at amputation risk treated with four sequential intravenous infusions of bone marrow-derived allogeneic MSCs from a healthy donor. Following administration, there was significant regression of foot skin ulcers and improvements in rest pain, Walking Impairment Questionnaire scores, and quality of life. Sixteen months after the infusion, the patient had not required any further amputations. This report highlights the potential of sequential allogeneic MSC infusions as an effective treatment for TAO, warranting further studies to compare this approach with the more conventionally used intramuscular MSC administration and other cell-based therapies.
Keywords
Allogeneic mesenchymal stromal cells
Thromboangiitis obliterans
Cell transplantation
Introduction
Thromboangiitis obliterans (TAO), also known as Buerger's disease, is an inflammatory occlusive disorder that affects small and medium sized peripheral blood vessels of the extremities. It is characterized by hypercellular inflammatory thrombotic occlusions of arteries and veins, which ultimately leads to vascular insufficiency, critical limb ischemia, and amputation [1]. This high-morbidity disease mainly affects young male smokers, severely limiting their quality of life. Although smoking cessation is the most effective therapeutic intervention, there is currently no definitive cure for TAO [2].
To date, the pathogenesis of TAO has not been fully elucidated. Smoking is considered the main precipitating factor of the disease which could trigger an immune response and inflammatory damage targeting vascular endothelial cells and leading to thrombosis [3]. Indeed, several reports have provided insights into the immunopathogenesis of TAO, suggesting that the immune system plays a critical role in the etiology of the disease [1, 3–5].
Mesenchymal stromal cells (MSCs) are the subject of intense research over a wide range of conditions due to their angiogenic and immunomodulatory effects [6]. Previous studies using MSCs for TAO have focused on their local effect after intramuscular administration [7, 8]. However, we hypothesized that their intravenous use could directly act upon the mechanisms that underlie TAO pathogenesis by exerting systemic anti-inflammatory effects in the vasculature and modulating the response of the immune system. Sequential doses of intravenous MSCs have been previously shown to be safe and potentially effective in the treatment of cardiovascular conditions and immune complications, such as graft-versus-host disease (GVHD), through systemic immunomodulatory mechanisms [9, 10]. In addition, the use of allogeneic MSCs could overcome the problems of autologous MSCs in inflammatory diseases in which they are dysfunctional [11].
To the best of our knowledge, this is the first report of a TAO patient treated with sequential intravenous infusions of allogeneic MSCs. The patient, who had critical limb ischemia and was at amputation risk, had exhausted all available therapeutic options and received intravenous allogeneic MSCs under a compassionate use program.
Results
No adverse effects or signs of allograft rejection were detected following any of the four intravenous allogeneic MSC infusions.
Three months after the treatment, a regression of trophic changes in the patient's right foot could be observed (Fig.
3
). Six months after the infusions, the patient had almost complete ulcer remission and restitution of the skin integrity (Fig.
3
).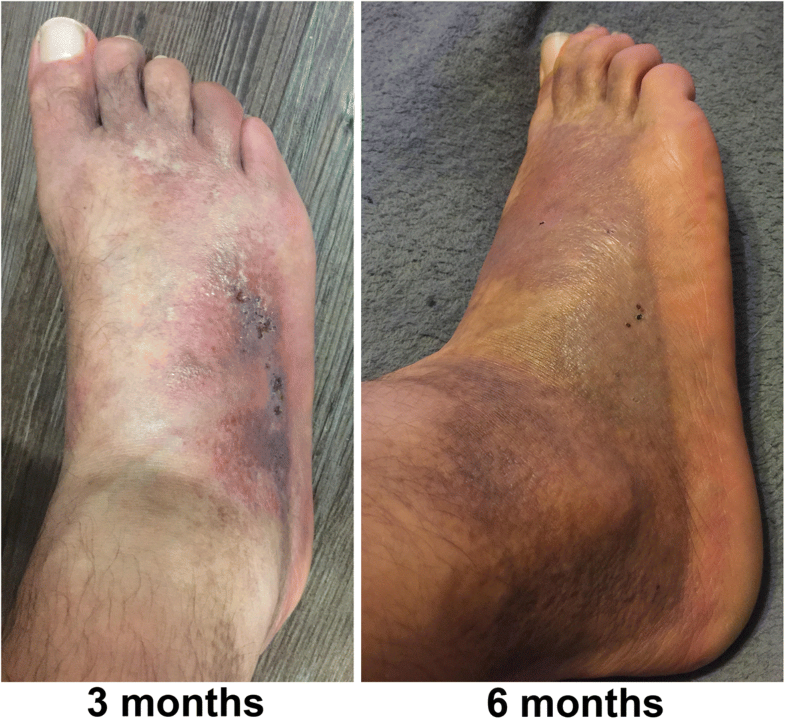 In the 5-month follow-up examination, the patient reported a reduction in rest pain and the disappearance of paresthesia. The pedal pulse was again palpable and an ABI of 0.47 was measured. However, ABI correlation with functional performance is controversial [15].
The patient's WIQ distance score increased from 54 to 64 out of 100, and the speed and climbing scores remained unaltered. Furthermore, the EQ-5D scores improved from 0.72 to 0.83 out of 1 in the descriptive system and to 90 out of 100 in the VAS, revealing a marked quality of life improvement (Fig.
4
). An MRA performed 5 months after the first infusion showed no significant changes in the vasculature.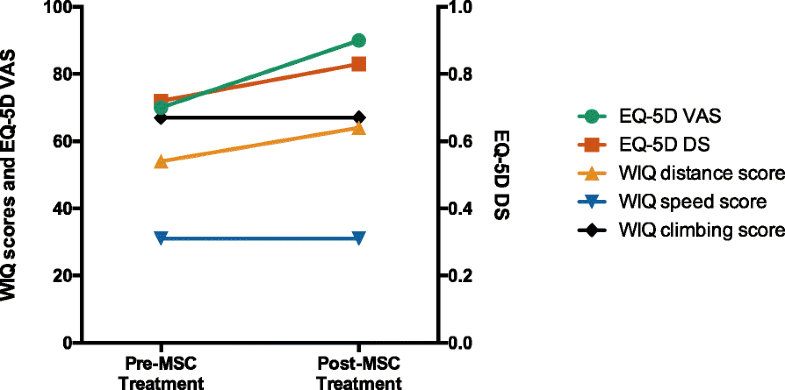 Ten months after finishing the treatment, a new spinal cord neurostimulator was implanted to improve pain management. Sixteen months after the MSC infusions, the patient had not required any further major nor minor amputations.
Since the donor and the recipient only shared two out of six HLA antigens (one HLA-A and one HLA-DR antigen by conventional serological studies), the patient's serum was screened for the presence of anti-HLA antibodies (IgG isotype) by Luminex® single antigen determination. No anti-HLA antibodies were detected.
Discussion
The patient was referred to our hospital in the same clinical situation that resulted in the amputation of his left leg several years before, with no therapeutic options left in the event of clinical worsening. After the joint assessment of the patient between the Vascular Surgery Department and the Cell Therapy Unit, which had collaborated in the past for the treatment of critical limb ischemia patients, the administration of MSCs under compassionate use was decided. In this report, the quality of life and clinical improvement suggest that sequential intravenous infusions of allogeneic MSCs might be an effective treatment for TAO. In the future, clinical trials with larger patient numbers are needed to demonstrate safety and efficacy, which would also be an opportunity to perform additional studies to assess the immune-system changes induced by MSCs in this clinical entity.
The therapeutic approach in this patient sought a systemic immunomodulatory effect on the vasculature and the immune system, rather than a local one, through the sequential intravenous infusions of allogeneic MSCs. A central role in the pathogenesis of TAO has been attributed to the immune system, based on the existence of immunocompetent cells in acute lesions and the identification of elevated pro- and anti-inflammatory cytokines and autoantibodies in patient sera [1]. Recently, it has been proposed that smoking, the main risk factor of the disease, could induce IL-33-mediated immune responses that would result in vascular endothelial damage with subsequent thrombosis and ischemia [3]. Therefore, sequential intravenous infusions of allogeneic MSCs could potentially target the mechanisms underlying TAO immunopathogenesis.
To the best of our knowledge, this is the first description of a TAO patient treated with sequential intravenous infusions of allogeneic MSCs. A recent report has demonstrated that, when injected intravenously, MSCs become trapped in the lungs and phagocytized by cells of the innate immune system. These cells rapidly distribute the MSC effect to distant body organs after polarization towards an immunoregulatory phenotype [16]. The immunomodulatory properties of MSCs after intravenous infusion have been highlighted in numerous disease models and clinical studies, and have shown enormous potential in the treatment of immune-mediated diseases, such as GVHD [6, 17, 18].
With hundreds of completed or ongoing clinical trials [19], allogeneic MSCs are considered safe and may be superior to autologous MSCs that are dysfunctional in inflammatory diseases [11]. Furthermore, this report emphasizes the advantages of the intravenous route as a convenient method for the administration of multiple MSC doses in the outpatient setting.
Conclusion
This report shows that sequential intravenous administration of allogeneic MSCs might be an effective treatment for TAO. Our results warrant further studies to compare this approach with the more conventionally used intramuscular MSC administration and with other cell-based therapies in order to determine the most effective approach for TAO in larger clinical trials.
Abbreviations
ABI:

Ankle-brachial index
EQ-5D:

European Quality of Life—5 dimensions
GVHD:

Graft-versus-host disease
MRA:

Magnetic resonance angiography
MSC:

Mesenchymal stromal cell
TAO:

Thromboangiitis obliterans
VAS:

Visual analogue scale
WIQ:

Walking Impairment Questionnaire
Declarations
Acknowledgments
We are grateful to Teresa Garcia, Eva Lorenzo, and Manuel Herrero for their technical assistance in cell production.
Funding
No specific funding was received from any bodies in the public, commercial or not-for-profit sectors to carry out the work described in this article.
Availability of data and materials
The datasets used and/or analyzed during the current study are available from the corresponding author on reasonable request.
Authors' contributions
JDMR contributed to data analysis and interpretation, data collection, literature review, and drafted the manuscript. FSL, RFS, and FSG contributed to the conception and design of the study. AMR and EMV contributed to MSC production and characterization. RR participated in data collection and interpretation. FSL and FSG oversaw the clinical procedure, and FSG also participated in the analysis and interpretation of results. All authors critically reviewed and approved the final manuscript.
Ethics approval and consent to participate
All the procedures reported were in accordance with the ethical standards of the 1975 Helsinki Declaration and its later amendments and were approved by the Ethics Committee of the Hospital Universitario de Salamanca (Spain). Informed consent was obtained from the MSC-treated TAO patient and the MSC donor. Appropriate approval was also obtained from the Spanish Medicines Agency (AEMPS).
Consent for publication
The patient's written informed consent for publication was obtained.
Competing interests
The authors declare that they have no competing interests.
Publisher's Note
Springer Nature remains neutral with regard to jurisdictional claims in published maps and institutional affiliations.
Open AccessThis article is distributed under the terms of the Creative Commons Attribution 4.0 International License (http://creativecommons.org/licenses/by/4.0/), which permits unrestricted use, distribution, and reproduction in any medium, provided you give appropriate credit to the original author(s) and the source, provide a link to the Creative Commons license, and indicate if changes were made. The Creative Commons Public Domain Dedication waiver (http://creativecommons.org/publicdomain/zero/1.0/) applies to the data made available in this article, unless otherwise stated.
Authors' Affiliations
(1)
Department of Hematology, Cell Therapy Unit, IBSAL-Hospital Universitario de Salamanca, Salamanca, Spain
(2)
Department of Angiology and Vascular Surgery, IBSAL-Hospital Universitario de Salamanca, Salamanca, Spain
(3)
Faculty of Medicine, Universidad de Salamanca, Salamanca, Spain
(4)
Department of Radiology, Hospital de Leon, Leon, Spain
(5)
Department of Angiology and Vascular Surgery, Hospital de Leon, Leon, Spain
(6)
Centro en Red de Medicina Regenerativa y Terapia Celular de Castilla y Leon, Salamanca, Spain