Correction to: The role of fibrinolysis inhibition in engineered vascular networks derived from endothelial cells and adipose-derived stem cells
Stem Cell Research & Therapy volume 9, Article number: 261 (2018)
Correction
The original article [1] contains numerous value errors in the graphs in Fig. 2b regarding the markers describing the values for total tubule length and mean tubule length without aprotinin at 2.5 mg/ml concentration of fibrinogen. The corrected version of this figure can be viewed ahead.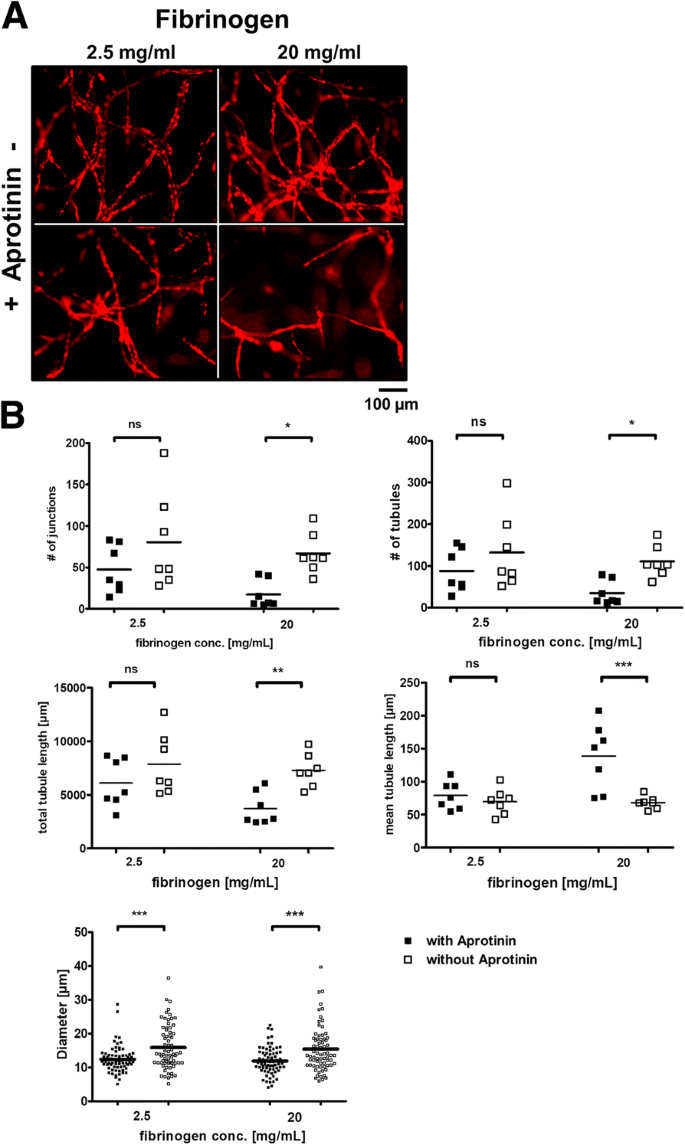 Reference
Mühleder S, et al. The role of fibrinolysis inhibition in engineered vascular networks derived from endothelial cells and adipose-derived stem cells. Stem Cell Res Ther. 2018;9:35. https://doi.org/10.1186/s13287-017-0764-2
Rights and permissions
Open Access This article is distributed under the terms of the Creative Commons Attribution 4.0 International License (http://creativecommons.org/licenses/by/4.0/), which permits unrestricted use, distribution, and reproduction in any medium, provided you give appropriate credit to the original author(s) and the source, provide a link to the Creative Commons license, and indicate if changes were made. The Creative Commons Public Domain Dedication waiver (http://creativecommons.org/publicdomain/zero/1.0/) applies to the data made available in this article, unless otherwise stated.
About this article
Cite this article
Mühleder, S., Pill, K., Schaupper, M. et al. Correction to: The role of fibrinolysis inhibition in engineered vascular networks derived from endothelial cells and adipose-derived stem cells. Stem Cell Res Ther 9, 261 (2018). https://doi.org/10.1186/s13287-018-1001-3
Received:

Revised:

Accepted:

Published:

DOI: https://doi.org/10.1186/s13287-018-1001-3