Correction to: Human umbilical cord-derived mesenchymal stem cells protect against experimental colitis via CD5+ B regulatory cells
Stem Cell Research & Therapy
2019
10:33
Received: 2 January 2019
Accepted: 2 January 2019
Published: 21 January 2019
Correction to: Stem Cell Res Ther
https://doi.org/10.1186/s13287-016-0376-2
The original article [
1
] contains a duplication error within Fig.
3
. The correct version of Fig.
3
can instead be viewed directly ahead.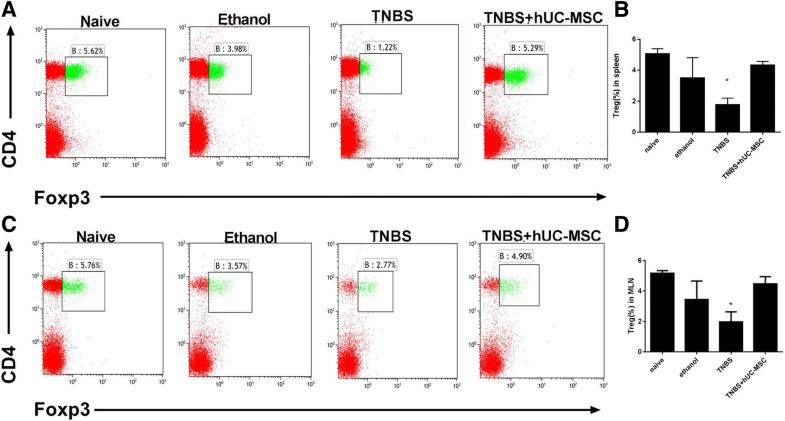 Open Access This article is distributed under the terms of the Creative Commons Attribution 4.0 International License (http://creativecommons.org/licenses/by/4.0/), which permits unrestricted use, distribution, and reproduction in any medium, provided you give appropriate credit to the original author(s) and the source, provide a link to the Creative Commons license, and indicate if changes were made. The Creative Commons Public Domain Dedication waiver (http://creativecommons.org/publicdomain/zero/1.0/) applies to the data made available in this article, unless otherwise stated.
(1)
Division of Gastroenterology, The First Affiliated Hospital, Sun Yat-sen University, Guangzhou, 510080, People's Republic of China
(2)
Division of Gastroenterology, The Sixth Affiliated Hospital, Sun Yat-sen University, Guangzhou, 510655, People's Republic of China
(3)
Center for Stem Cell Biology and Tissue Engineering, The Key Laboratory for Stem Cells and Tissue Engineering, Ministry of Education, Sun Yat-Sen University, Guangzhou, 510080, People's Republic of China
(4)
Department of Immunology, Weizmann Institute of Science, 7610001 Rehovot, Israel