Vascular tissue engineering: biodegradable scaffold platforms to promote angiogenesis
Stem Cell Research & Therapy
2013
4:8
Published: 24 January 2013
Abstract
The ability to understand and regulate human vasculature development and differentiation has the potential to benefit patients suffering from a variety of ailments, including cardiovascular disease, peripheral vascular disease, ischemia, and burn wounds. Current clinical treatments for vascular-related diseases commonly use the grafting from patients of autologous vessels, which are limited and often damaged due to disease. Considerable progress is being made through a tissue engineering strategy in the vascular field. Tissue engineering takes a multidisciplinary approach seeking to repair, improve, or replace biological tissue function in a controlled and predictable manner. To address the clinical need to perfuse and repair damaged, ischemic tissue, one approach of vascular engineering aims to understand and promote the growth and differentiation of vascular networks. Vascular tissue engineered constructs enable the close study of vascular network assembly and vessel interactions with the surrounding microenvironment. Scaffold platforms provide a method to control network development through the biophysical regulation of different scaffold properties, such as composition, mechanics, dimensionality, and so forth. Following a short description of vascular physiology and blood vessel biomechanics, the key principles in vascular tissue engineering are discussed. This review focuses on various biodegradable scaffold platforms and demonstrates how they are being used to regulate, promote, and understand angiogenesis and vascular network formation.
Keywords
Vascular Endothelial Growth Factor
Hyaluronic Acid
Vascular Network
Small Intestinal Submucosa
PLGA Scaffold
Introduction
The ability to create, repair, and regulate the human vascular system holds wide therapeutic applications. Scientists have attempted to harness this ability for treatments in myocardial infarction, ischemia, peripheral vascular disease, and wound healing [1–3]. There is a need to stimulate vascular growth and repair, such as in ischemia and tissue-engineered constructs. Specifically in cardiovascular diseases, vasculature must be repaired because ischemic tissue has been deprived of oxygen, leading to cell damage and cell death [2]. Cardiovascular disease was named the leading cause of death globally in 2004 and also the number one cause of death in the United States in 2010 [4–6]. Along with other vascular diseases, it continues to drain billions of dollars in health-care costs from the economy [6].
Grafting autologous arteries and veins to bypass a blocked and damaged vessel is currently the most common clinical solution for a heart attack caused by atherosclerosis [1, 7]. The problem with bypass surgery is that it does not repair the damage caused to heart tissue by ischemia and hypoxia, and most patients do not have healthy vessels for grafting due to their current disease or advanced age [7–9]. There is thus a significant clinical need to perfuse and repair damaged, ischemic tissue by promoting the growth of new vascular networks through angiogenesis, the sprouting of blood vessels from pre-existing vasculature, or through vasculogenesis, the spontaneous formation of new vasculature without the presence of pre-existing vessels [10, 11]. Vascular tissue engineering studies the formation and growth of vascular networks through the utilization of scaffolds, varying cell sources, growth factors, cytokines, and mechanical stimuli to recreate a physiological microenvironment. Specifically, scaffold platforms that are fabricated from various biomaterials enable control over vascular network development through the regulation of different scaffold properties, such as composition, mechanics, degradation, and dimensionality. This review focuses on various biodegradable scaffold platforms to control vascular network assembly and promote angiogenesis. Following a short description of the mechanisms of vascular network formation and blood vessel biomechanics, the key principles and cell sources for vascular tissue engineering are discussed.
Background
Vasculogenesis and angiogenesis
During embryonic growth, new vasculature develops through vasculogenesis. Angioblasts differentiate into endothelial cells (ECs), which cluster to form a tube-like structure supported by smooth muscle cells (SMCs) [10]. ECs create the selectively permeable lining of blood vessels, forming a barrier that resists thrombosis and facilitates platelet activation, especially during wound healing. By producing collagen and elastic fibers, SMCs provide contractile and elastic forces, which support blood vessel integrity. After initial blood vessels form, the vascular network continues to grow through a process called angiogenesis, which is particularly important during natural wound healing and also during cancerous tumor survival. The extracellular matrix (ECM) has a diverse composition that helps regulate angiogenesis by providing critical signaling cues, EC receptor inter-actions, and the retention of growth factors [12–17]. During this process, proteases degrade the ECM to make way for new vessel formation.
In angiogenesis, vessel branching generally occurs in three stages: quiescence, activation, and resolution [10]. During quiescence, EC proliferation is inhibited as ECs are tightly interwoven with vascular endothelial cadherins and are supported by pericyte cells. Activation usually occurs when a vessel receives angiogenic signaling cues, such as vascular endothelial growth factor (VEGF), from another cell source. Upon activation, pericytes break away from the basement membrane. The basement membrane degrades, allowing room for extending ECs to migrate [10]. The EC monolayer dilates as the vessel's permeability increases by VEGF signaling, and cell junctions become less tightly bound. A tip cell, an EC with filopodia that is chosen to sense the microenvironment, leads the direction of vessel formation. This tip cell extends from the degraded basement membrane with the help of directional cues from angiogenic factors [10, 16, 18]. The surrounding ECs are known as stalk cells, which support the tip cell, proliferate to lengthen the extending stalk, and eventually form a new vessel. During resolution, the extending tip and stalk cells fuse with another extending vessel branch. EC junctions are reformed, and pericytes reattach to newly laid basement membrane [10].
Key biochemical molecules in angiogenesis
Key biochemical molecular players in angiogenesis are VEGF, angiopoietin-1, platelet-derived growth factor, and some fibroblast growth factors (FGFs), such as basic FGF (FGF2) and FGF9 [10, 12, 18–21]. VEGF is an important stimulator of angiogenesis [18, 19, 22–26]. FGFs play a role in vessel sprouting and in mural cell wrapping for support [20, 21]. Platelet-derived growth factor plays a role in stabilizing new vessels by recruiting mural cells [21]. Tip cells are said to migrate toward increasing VEGF gradients, and angiopoietin-1 is said to stabilize stalk cell formation [18]. More detailed information on the role of angiogenic molecules and the signaling pathways involved can be found in the reviews by Carmeliet and Jain [10], Cheresh and Stupack [13], and Witmer and colleagues [26].
Mechanical forces and oxidative balance
Blood flow and pressure act on the blood vessel wall to maintain homeostasis through biochemical pathways and mechanical forces. Wall shear stress and circumferential wall stress and strain are the main forces associated with vascular wall biophysical regulation [27, 28]. Wall shear stress results from the frictional force of blood flowing past the EC layer. Circumferential wall stress and strain (stretch) in the circumferential direction result from pressure. This pressure is generated by pulsatile blood flow and acts perpendicular to the EC layer [28]. In physiological and pathological states, the vasculature can be dilated and remodeled by changes in blood pressure and flow.
Oxidative balance is key to maintaining healthy vascular function and homeostasis. Blood pressure causes vessels to stretch beyond their relaxed state, known as mechanical distention. Shear stress caused by blood flow activates integrins on the EC monolayer and induces vasodilation. Integrin activation leads to endothelial nitric oxide synthase phosphorylation. Activated endothelial nitric oxide synthase produces nitric oxide, which stimulates vasodilation, relaxes SMCs, and decreases blood pressure [27, 28]. To counterbalance vasodilation and induce vasoconstriction, circumferential stretch leads to nicotinamide adenine dinucleotide phosphate oxidase activation that generates superoxide, increasing free radical levels [28]. Free radical anions react with nitric oxide to create peroxynitrite, an oxidant. The decreased levels of nitric oxide reduce vasodilation. Oxidative balance between free radical species (oxidants) and antioxidants, such as nitric oxide, controls the vasodilation and homeostasis of the vascular wall [28]. In tissue engineering, this balance is important to take into consideration when designing solutions to repair vascular damage.
Vascular tissue engineering: cell sources for regenerative medicine
In vascular regenerative medicine, there are two focuses: forming artificial blood vessels, and producing tissue constructs that regulate the growth of new vascular networks. Both of these approaches to repair, improve, and understand the human vascular network are founded in the principles of tissue engineering. Generally, the components used in vascular engineering are a biodegradable scaffold, cells from either an autologous or an allogeneic source, and growth factors necessary to create a stimulating microenvironment, as depicted in Figure
1
[
7
,
9
,
29
]. Many grafts and constructs are also preloaded
in
vitro
by mechanical stimulation in a bioreactor, which mimics physiological conditions [
1
,
7
,
8
]. Researchers use various combinations of these components to try to recapitulate human vascular function.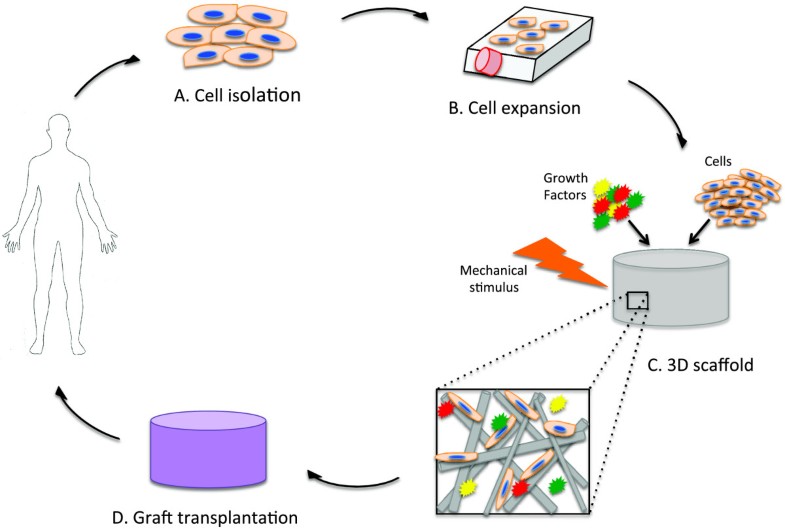 Cell sources for tissue engineering can be divided into three categories: somatic cells, adult progenitor and stem cells, and pluripotent stem cells (PSCs). In these categories, there are numerous cell types that are used for vascular tissue engineering. For further details please refer to current reviews by Bajpai and Andreadis [30] and Reed and colleagues [31]. Briefly, some common cell sources used for vascular constructs are ECs, SMCs, endothelial progenitor cells (EPCs), mesenchymal stem cells, and PSCs [30, 31]. For mature vascular cells, ECs and SMCs can be derived autologously, directly from a patient. The use of autologous cells can be ideal for vascular engineering because there is no immunogenic response or cell rejection upon implantation. However, mature vascular cells are terminally differentiated with limited proliferation capacity and thus limited expansion ability [8, 9].
Adult progenitor cells have more proliferation potential and plasticity to differentiate down a specific lineage. EPCs can be isolated autologously from peripheral blood and bone marrow [11, 32, 33]. However, these cells have limited self-renewal capabilities compared with stem cells, and their origin and regeneration capacity are debated. Adult stem cells, such as mesenchymal stem cells, are an autologous multipotent cell source that have high proliferative capacity, can differentiate into SMCs, and have been suggested to be able to differentiate into ECs [30, 34–39]. Nevertheless, autologous adult progenitor and stem cell populations can be sparse and difficult to detect and isolate. As such, methods for isolating and expanding autologous EPCs and mesenchymal stem cells are generally time intensive and expensive [9].
PSCs, including induced PSCs and embryonic stem cells (ESCs), can differentiate into all three germ layers. They have an unlimited ability to self-renew, making them easy to expand for therapeutic use [40, 41]. ESCs are derived from a developing embryo, while induced PSCs are generated by the reprogramming of somatic or adult progenitor and stem cells. Allogeneic cell rejection is therefore a consideration when developing ESC-based therapeutics, while induced PSCs hold the potential to be a useful autologous cell source [40]. Human PSCs have been successfully differentiated into mature and functional vascular ECs and SMCs [30, 31, 42–56]. Therapeutically, the use of human PSC vascular derivatives has oncogenic concerns, such as teratoma formation due to proliferative or undifferentiating cell populations [56, 57]. Allogeneic cells either from healthy donors or from animals can make cells available via an off-the-shelf route, as cells can be expanded beforehand in large quantities. However, there are problems with graft and construct rejection due to the foreign allogeneic cells, as well as differences between donor and recipient cell characteristics such as age, antigens, and proliferation potential.
Biodegradable scaffold platforms to promote angiogenesis
Conclusion
There is a significant clinical need to engineer platforms that can promote angiogenesis in damaged, ischemic tissue or can regulate angiogenesis in cases of vascular overgrowth. Tissue engineering has increased our under-standing of processes in vascular network formation. Currently, biodegradable scaffolds created from synthetic or natural polymers and ECM-derived scaffolds hold promise in vitro and in animal studies. In many cases, however, scaffolds alone may not be enough to enable sufficient recruitment of host vasculature to support tissue regeneration in a clinically relevant manner. There is an increasing effort to understand the factors that control stem and progenitor cell homing and differentiation to vascular cell types, as well as the organization into vascular networks. One important aspect in the regulation of these processes is the physical interactions of cells with the scaffold prior to and after implantation. Presently, a quick off-the-shelf therapy to vascularize damaged tissue for any type of patient has yet to be achieved. Platforms need to be studied in preclinical, large animal models over extended time periods to truly gauge their clinical feasibility.
Note
This article is part of a thematic series on Physical influences on stem cells edited by Gordana Vunjak-Novakovic. Other articles in the series can be found online at http://stemcellres.com/series/physical
Abbreviations
EC:

endothelial cell
ECM:

extracellular matrix
EPC:

endothelial progenitor cell
ESC:

embryonic stem cell
FGF:

fibroblast growth factor
HA:

hyaluronic acid
IL:

interleukin
PCL:

polycaprolactone
PLLA:

poly-L-lactic acid
PLGA:

poly(lactic-co-glycolic acid)
PSC:

pluripotent stem cell
SMC:

smooth muscle cell
VEGF:

vascular endothelial growth factor.
Authors' Affiliations
(1)
Department of Biomedical Engineering, Johns Hopkins University, Baltimore, USA
(2)
Department of Chemical and Biomolecular Engineering, Johns Hopkins Physical Sciences - Oncology Center and Institute for NanoBioTechnology, Johns Hopkins University, Baltimore, USA
Copyright
© BioMed Central Ltd 2013