The less-often-traveled surface of stem cells: caveolin-1 and caveolae in stem cells, tissue repair and regeneration
Stem Cell Research & Therapy
2013
4:90
Abstract
Stem cells are an important resource for tissue repair and regeneration. While a great deal of attention has focused on derivation and molecular regulation of stem cells, relatively little research has focused on how the subcellular structure and composition of the cell membrane influences stem cell activities such as proliferation, differentiation and homing. Caveolae are specialized membrane lipid rafts coated with caveolin scaffolding proteins, which can regulate cholesterol transport and the activity of cell signaling receptors and their downstream effectors. Caveolin-1 is involved in the regulation of many cellular processes, including growth, control of mitochondrial antioxidant levels, migration and senescence. These activities are of relevance to stem cell biology, and in this review evidence for caveolin-1 involvement in stem cell biology is summarized. Altered stem and progenitor cell populations in caveolin-1 null mice suggest that caveolin-1 can regulate stem cell proliferation, and in vitro studies with isolated stem cells suggest that caveolin-1 regulates stem cell differentiation. The available evidence leads us to hypothesize that caveolin-1 expression may stabilize the differentiated and undifferentiated stem cell phenotype, and transient downregulation of caveolin-1 expression may be required for transition between the two. Such regulation would probably be critical in regenerative applications of adult stem cells and during tissue regeneration. We also review here the temporal changes in caveolin-1 expression reported during tissue repair. Delayed muscle regeneration in transgenic mice overexpressing caveolin-1 as well as compromised cardiac, brain and liver tissue repair and delayed wound healing in caveolin-1 null mice suggest that caveolin-1 plays an important role in tissue repair, but that this role may be negative or positive depending on the tissue type and the nature of the repair process. Finally, we also discuss how caveolin-1 quiescence-inducing activities and effects on mitochondrial antioxidant levels may influence stem cell aging.
Keywords
CaveolaeCaveolin-1Stem cellsSignal transductionCholesterolTissue repairRegenerative medicine
Introduction
Stem cells are an important resource for tissue regeneration. Much stem cell research has focused on stem cell sourcing and stem cell regulation by external stimuli (reviewed in [
1
]). However, relatively little is known about the composition of the stem cell membrane, the organization of which can affect cell responses to external stimuli. Specifically, membrane lipid rafts are recognized as important platforms regulating activity at the cell surface. These cholesterol-rich and sphingolipid-rich liquid-ordered phases in the cell membrane allow compartmentalization and clustering of signaling molecules [
2
,
3
]. Concentration of signaling molecules in membrane rafts may enable amplification, cross-talk, specificity or inhibitory regulation of cell signaling. One flask-shaped subtype of membrane raft, the caveola [
4
,
5
], is the regulation center for a plethora of cell signaling events owing to the activity of its distinguishing caveolin scaffolding proteins [
6
]. There are three caveolin proteins, which are essential for caveolae formation, cholesterol binding [
7
–
10
] and cholesterol trafficking [
10
–
12
]. As shown in Figure
1
, the caveolin proteins form a hairpin loop in the cell membrane with their N-termini and C-termini remaining in the cell cytoplasm [
13
,
14
]. The cytoplasmic portion of the caveolin protein contains a caveolin scaffolding domain sequence that can bind to many different cell signaling molecules and effect cell signal transduction (reviewed in [
6
,
15
]).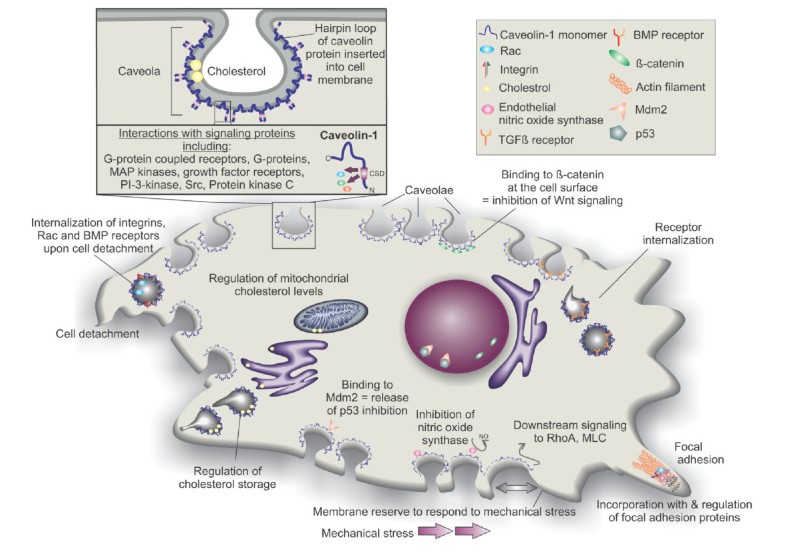 Caveolae are particularly abundant in adipocytes, endothelial cells, pulmonary type I cells and muscle cells [10]. Assays of various mouse and rat tissues have determined that caveolin-1 is most highly expressed in fat and lung tissue [16–20], but it is also expressed in many other tissues and differentiated cell types [18, 19, 21–28]. Caveolin-2 is usually co-expressed with caveolin-1 and appears unable to form caveolae in the absence of caveolin-1 [17, 18, 29]. Caveolin-3, meanwhile, is highly expressed in muscle cells [19, 22, 30].
Given its expression in many cell types, the role of caveolin-1 in cell activities has been well researched. The growth factor receptors and signaling molecules that localize to caveolae and/or interact with caveolin-1 include the platelet-derived growth factor receptor and the epidermal growth factor (EGF) receptor, G-protein coupled receptors, G-protein alpha and beta subunits, Src, endothelial nitric oxide synthase, and proteins in the Ras-p42/44 mitogen-activated protein kinase and phosphatidylinositol 3-kinase–Akt pathways [6, 15]. While association of signaling molecules with caveolin-1 is usually inhibitory [6, 15], signaling can be enhanced, probably by bringing molecules in close proximity to one another [31]. Furthermore, binding to the caveolin-1 scaffolding domain may enhance the activity of some enzymes. This has been demonstrated in vitro with the insulin receptor kinase [32]. Figure 1 summarizes functions attributed to caveolae and caveolin-1 in various cell types. If present in stem cells, many of these activities could impact stem cell behavior. This review discusses current research findings that implicate caveolin-1 in the regulation of stem and progenitor cell activity, tissue repair and aging.
Conclusions
In summary, caveolin-1 affects several aspects of stem cell biology, including proliferation, differentiation, substrate-driven differentiation, homing and mobilization. We predict that alteration to caveolin-1/caveolar activity is a prerequisite for stem cell activation and differentiation, and that increased caveolin-1 expression with age may implicate the protein in age-related declines in tissue regenerative potential. However, because of the multiple (and probably context-dependent) effects of caveolin-1, this will not apply to all cells and tissues. Promotion of caveolin-1 activity may be desirable for some areas of regenerative medicine (for example, mobilization of bone marrow stores of progenitor cells), while inhibition may be desirable in others (for example, to reverse muscle aging, increase bone density, or improve in vitro expansion of adult stem cell harvests). Manipulation of caveolin-1 expression/activity may be possible in specific tissues in vivo; for example, via siRNA approaches or modulation of cholesterol biosynthesis. However, much research is required to define caveolin-1 function in different stem cells and to determine whether manipulation of membrane signaling platforms such as caveolae could be beneficial in stem cell therapies and regenerative medicine.
Abbreviations
BMP:

Bone morphogenetic protein
EGF:

Epidermal growth factor
ESC:

Embryonic stem cell
MSC:

Mesenchymal stem cell
siRNA:

Small interfering RNA.
Declarations
Acknowledgements
Supported in part by a grant from the Commonwealth of Pennsylvania Department of Health (SAP 4100050913).
Authors' Affiliations
(1)
Center for Cellular and Molecular Engineering, Department of Orthopaedic Surgery, University of Pittsburgh School of Medicine, Pittsburgh, USA
Copyright
© BioMed Central Ltd. 2013