Considerations for pre-clinical models and clinical trials of pluripotent stem cell-derived cardiomyocytes
Stem Cell Research & Therapy
2014
5:1
Published: 9 January 2014
Different disorders, notably through myocardial ischemia, can cause the critical loss of cardiomyocytes. This loss initiates a cascade of detrimental events, including the development of cardiac fibrosis, formation of non-contractile scar tissue and promotion of adverse ventricular remodeling - all mechanisms that can lead to heart failure and eventually death. Replacement of dead or dysfunctional cardiac myocytes through cell-based therapies has thus become an emerging and exciting strategy for the treatment of heart failure.
The restoration of damaged heart muscle tissue can be achieved through different strategies, including cell transplantation approaches [1]. Even if recent evidence suggests the existence of cardiomyocyte renewal in the post-natal mammalian heart [2, 3], the heart is one of the least regenerative organs in the body. Hence, a large number of cardiac myocytes are needed for replacement therapy. However, human donor hearts and cardiomyocytes are in extremely limited supply, motivating a demand for alternative cardiomyocyte sources. The remarkable proliferative and differentiation capacity of stem cells represents an appealing strategy to provide an unlimited supply of specific cell types, including viable functioning cardiac cells.
Different types of autologous cells (including skeletal myoblasts, hematopoietic stem cells and mesenchymal stem cells) have been tested so far in pre-clinical and clinical trials but with inconsistent results [4–6]. In this review, we specifically focus on the use of pluripotent stem cells (PSCs) as a source for cell transplantation. PSCs have the ability to differentiate into cell types of all three germ layers, including cardiac and vascular cells [7–9]. Human embryonic stem cells (ESCs) were first isolated in 1998 and are derived from the inner cell mass of blastocyst stage embryos. They have the unique ability to self-renew indefinitely while maintaining the potential to differentiate into all cell types in the human body [10]. The use of human ESCs is, however, limited by different issues, including ethical concerns. The revolutionary discovery of induced pluripotent stem cells (iPSCs), whereby somatic cells (such as dermal fibroblasts or white blood cells) can be reprogrammed into an embryonic-like pluripotent state by the forced expression of a defined set of transcription factors [11], has provided another source of pluripotent stem cells [12]. Like ESCs, iPSCs are multipotent and clonogenic but can also offer autologous personalized therapy. The seminal understanding of pluripotency holds great promise for regenerative medicine and the use of ESCs or iPSCs as a source for cardiac repair has thus become an emerging and exciting field.
However, studies involving the transplantation of PSC-derived cardiomyocytes into the heart have begun only recently. There are currently a very limited number of clinical studies using ESCs or iPSCs that have been approved [
13
]. In 2009, the Food and Drug Administration approved the first clinical trial using ESCs in patients with spinal cord injury, but the trial was discontinued due to funding challenges. PSCs are currently being tested to treat patients with two different forms of macular generation (Stargardt's macular dystrophy and age-related macular degeneration) using PSC-derived retinal pigment epithelial cells [
14
]. A pilot clinical study using iPSC-derived retinal pigment epithelium cells in patients with exudative age-related macular degeneration has been launched in Japan during summer 2013. It is noteworthy that no clinical trials using PSC-derived cardiomyocytes for the treatment of heart failure have been approved so far, but different research programs have been launched with the objective of treating patients within the next 5 years. This article reviews the main questions that should be considered before translating PSC-derived cardiomyocytes into clinical investigations (Figure
1
).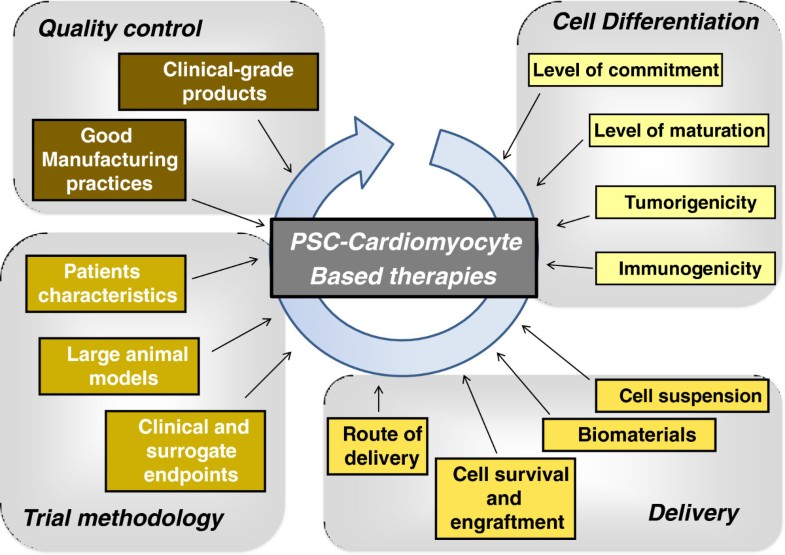 (1)
Cardiovascular Research Center, Icahn School of Medicine at Mount Sinai, One Gustave L Levy Place, Box 1030, New York, NY 10029, USA
(2)
UPMC Univ Paris 06, UMR_S ICAN Cardiometabolism and nutrition, Paris, France
© BioMed Central Ltd. 2014