Transcriptional regulation of haematopoietic transcription factors
Stem Cell Research & Therapy
2011
2:6
Published: 10 February 2011
Haematopoiesis represents one of the best studied models of adult stem cell development and differentiation [1, 2]. Powerful techniques allow purification and in vitro as well as in vivo functional assays of small subsets of cells, from haematopoietic stem cells (HSCs) via a plethora of intermediate progenitors to fully mature cell types. Transcription factors (TFs) directly regulate gene expression and thus control cellular phenotypes. It is no surprise, therefore, that TFs have emerged as some of the most powerful regulators of both normal development and disease.
TFs play important roles during haematopoiesis, from stem cell maintenance to lineage commitment and differentiation. However, relatively little is known about the way in which regulatory information is encoded in the genome, and how individual TFs are integrated into wider regulatory networks. Based on the recent analysis of large-scale efforts to reconstruct tissue-specific regulatory networks, it has been suggested that transcriptional regulatory networks are characterised by a high degree of connectivity between TFs and transcriptional cofactors. Extensive cross- and autoregulatory links therefore create densely connected regulatory circuits that control the large numbers of tissue-specific effector proteins (en-zymes, structural proteins) [
3
,
4
] (Figure
1
). To understand the functionality of large mammalian regulatory networks, it will therefore be important to identify downstream target genes of specific TFs as well as gain insight into combinatorial TF interactions. This in turn will not only provide fundamental insights into normal development, but also advance our understanding of how deregulation of networks contributes to pathology.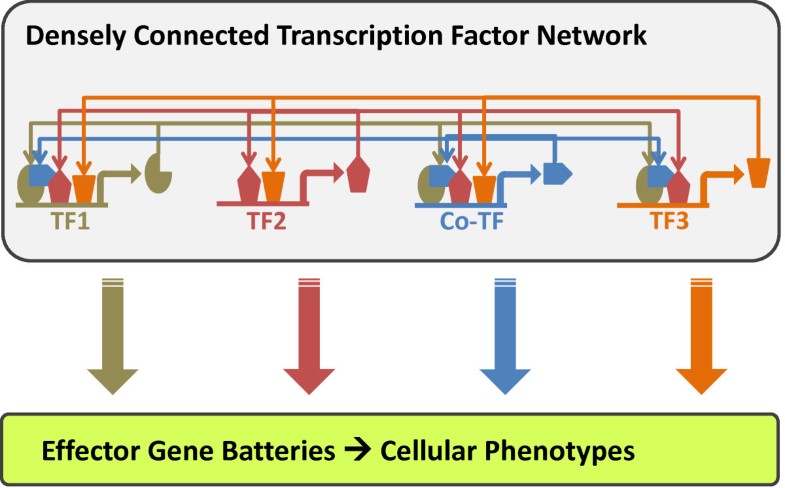 The cis-regulatory regions of a gene locus can be thought of as different modules, each partaking in an important role, such as driving expression of the gene to a specific subset of cells or a specific tissue type. The activity of each regulatory region is controlled by a distinct set of upstream regulators. The individual regulatory regions within a given gene locus may have over-lapping or very distinct upstream regulators, and it is the combined activity of all these regions that ultimately controls gene expression. Comprehensive identification and characterisation of true functional cis-regulatory regions therefore represent an essential prerequisite to integrate important regulatory genes into wider transcriptional networks. Traditionally, DNaseI mapping was performed to identify regions of open/accessible chromatin. More recently, comparative genomic sequence analysis has been used to identify highly conserved sequences, which were taken to represent candidate regulatory elements based on the premise that sequence conservation indicated an important function [5–7]. The most recent development has been that of whole genome re-sequencing, which when coupled with chromatin immunoprecipitation assays allows genome-wide mapping of the chromatin status for a given histone modification [8]. Though more predictive than previous approaches, these techniques still require functional validation of candidate elements, which involves in vivo and in vitro experiments to assess the true function of a given candidate regulatory region.
Several gene loci coding for TFs essential for haematopoiesis have been characterised using a combination of the above techniques. Collectively, these studies provided important insights into TF hierarchies and regulatory network core circuits [9–11]. This review will specifically focus on three haematopoietic loci, encoding the key haematopoietic regulators Scl/Tal1, Lmo2 and Gfi1.
(1)
University of Cambridge Department of Haematology, Cambridge Institute for Medical Research, Hills Road, Cambridge, CB2 0XY, UK
© BioMed Central Ltd 2011