Mesenchymal stem cell effects on T-cell effector pathways
Stem Cell Research & Therapy
2011
2:34
Published: 11 August 2011
Abstract
Mesenchymal stem (stromal) cells (MSCs) are rare, multipotent progenitor cells that can be isolated and expanded from bone marrow and other tissues. Strikingly, MSCs modulate the functions of immune cells, including T cells, B cells, natural killer cells, monocyte/macrophages, dendritic cells, and neutrophils. T cells, activated to perform a range of different effector functions, are the primary mediators of many autoimmune and inflammatory diseases as well as of transplant rejection and graft-versus-host disease. Well-defined T-cell effector phenotypes include the CD4+ (T helper cell) subsets Th1, Th2, and Th17 cells and cytotoxic T lymphocytes derived from antigen-specific activation of naïve CD8+ precursors. In addition, naturally occurring and induced regulatory T cells (Treg) represent CD4+ and CD8+ T-cell phenotypes that potently suppress effector T cells to prevent autoimmunity, maintain self-tolerance, and limit inflammatory tissue injury. Many immune-mediated diseases entail an imbalance between Treg and effector T cells of one or more phenotypes. MSCs broadly suppress T-cell activation and proliferation in vitro via a plethora of soluble and cell contact-dependent mediators. These mediators may act directly upon T cells or indirectly via modulation of antigen-presenting cells and other accessory cells. MSC administration has also been shown to be variably associated with beneficial effects in autoimmune and transplant models as well as in several human clinical trials. In a small number of studies, however, MSC administration has been found to aggravate T cell-mediated tissue injury. The multiple effects of MSCs on cellular immunity may reflect their diverse influences on the different T-cell effector subpopulations and their capacity to specifically protect or induce Treg populations. In this review, we focus on findings from the recent literature in which specific modulatory effects of MSCs on one or more individual effector T-cell subsets and Treg phenotypes have been examined in vitro, in relevant animal models of in vivo immunological disease, and in human subjects. We conclude that MSCs have the potential to directly or indirectly inhibit disease-associated Th1, Th2, and Th17 cells as well as cytotoxic T lymphocytes but that many key questions regarding the potency, specificity, mechanistic basis, and predictable therapeutic value of these modulatory effects remain unanswered.
Keywords
Th17 Cell
Experimental Allergic Encephalomyelitis
Mixed Lymphocyte Culture
Th17 Cell Activity
Treg Phenotype
An introduction to mesenchymal stem cell modulation of T cell-mediated immune responses
T lymphocytes (T cells) are the primary cellular effectors of the adaptive immune system and their functional properties are central to antigen specificity and memory associated with cognate immunity [1–3]. Antigen-specific activation and differentiation of naïve T cells result in the generation of a range of T-cell phenotypes that may be defined by the acquisition of characteristic cytokine secretion profiles, cytolytic mechanisms, or counter-regulatory properties [1–3]. In the wake of antigen-specific adaptive immune responses, a small proportion of activated T cells persist as memory cells and have the capacity to respond more rapidly and potently to secondary encounters with the same antigen [1, 3]. These memory cells may retain the effector phenotype imprinted upon them during primary activation [1]. When these memory cells are appropriately coordinated and regulated, the diversity of T-cell effector phenotypes allows immune protection against a multitude of pathogenic microorganisms while maintaining self-tolerance and homeostasis [2]. On the other hand, overexuberant pro-inflammatory T-cell responses may lead to auto-immune and allergic diseases, including multiple sclerosis, inflammatory bowel disease, type 1 diabetes mellitus, and asthma [4–7]. Furthermore, life-saving treatments such as allogeneic bone marrow (BM) and solid organ transplantation may be complicated by alloantigen-specific T-cell immune responses, resulting in graft-versus-host disease (GvHD) or transplant rejection [8].
Mesenchymal stem (or stromal) cells (MSCs) are a heterogeneous population of fibroblast-like progenitor cells that may be isolated and expanded from BM, umbilical cord, fat, gingiva, and other tissues [9]. They have the capacity to self-renew and differentiate into various mesodermal cell lineages, including adipocytes, osteocytes, and chondrocytes under controlled culture conditions [9]. In the past two decades, MSCs have garnered considerable attention for their potential use as regenerative therapeutic agents in a range of acute and chronic diseases [8–11]. Mechanistically, the beneficial effects of MSC therapies have been more frequently linked to their 'trophic' (paracrine) effects rather than their ability to transdifferentiate [11]. Specifically, MSCs are now viewed as having potent anti-inflammatory and immune-modulating properties that, in many studies, have been shown to be associated with inhibition of effector T-cell activation with or without a concomitant increase in regulatory T cell (Treg) numbers [4, 6, 10–12]. The T-cell suppressive effects of MSCs were initially described over a decade ago [13] and have since been reported consistently for both CD4+ T helper (Th) cells and CD8+ cytotoxic T lymphocytes (CTLs) [8, 11, 14]. Suppression of T cells by MSCs may be direct or may occur indirectly via modulatory effects on antigen-presenting cells such as dendritic cells (DCs), resulting in altered cytokine expression and impaired antigen presentation [15–17]. MSCs themselves demonstrate a lack of stimulatory capacity toward T cells [18, 19]. MSCs isolated from various sources (BM, adipose tissue, and Wharton's jelly) have been reported to equally suppress proliferation of CD4+ and CD8+ T-cell subsets in a dose-dependent fashion [20]. Reported roles for both cell-cell contact and release of soluble factors in MSC-mediated T-cell suppression are evident throughout the literature, and numerous candidate mediators have been reported: prostaglandin E2 (PGE2), indoleamine-2,3-dioxygenase, nitric oxide, interleukin (IL)-27, transforming growth factor-beta (TGF-β), monocyte chemotactic protein 1 (MCP-1/CCL2), human leukocyte antigen G, and intracellular adhesion molecule 1 among others [8, 10–12, 17, 21–24]. The abundance of mediators identified to date suggests that MSCs exploit different immunosuppressive mechanisms under different disease conditions. MSC therapy has been successful in a range of disease models and some clinical conditions known to be associated with damaging effector T-cell responses or failure of Treg-mediated counter-regulation or both [4, 6, 8, 11, 22, 25–28]. Overall, it is now very well established that MSCs exert diverse and potent modulatory effects on the T-cell compartment of the immune system, most of which are suppressive in nature and of potential therapeutic value. Nevertheless, some significant controversies and a basic lack of information regarding the range of effects that MSCs have on individual T-cell effector subsets remain. In the remaining sections of this review, we focus on the most recent data related to MSC modulation of individual well-defined Th cell and CTL effector phenotypes in vitro and in vivo. Where possible, we emphasize the relevance of current knowledge on this topic to diseases for which MSC therapy is perceived to be beneficial. We also highlight key gaps in our understanding and important unanswered questions that may be the subject of future studies.
Mesenchymal stem cell modulation of T helper cell subsets
Th cells are cytokine-producing CD4
+
cells that recognize peptides presented to them by major histocompatibility complex (MHC) class II molecules [
1
–
3
]. Differentiation of Th cells into effector cells depends largely on the cytokine milieu present at the time of antigen presentation and activation [
1
–
3
]. In the context of this article, we will focus on reviewing recent progress (summarized in Figure
1
) in understanding MSC effects on the well-described subsets Th1, Th2, and Th17 cells, T
reg
, and CTLs with emphasis, where possible, on mechanistic and disease-specific
in vivo
studies.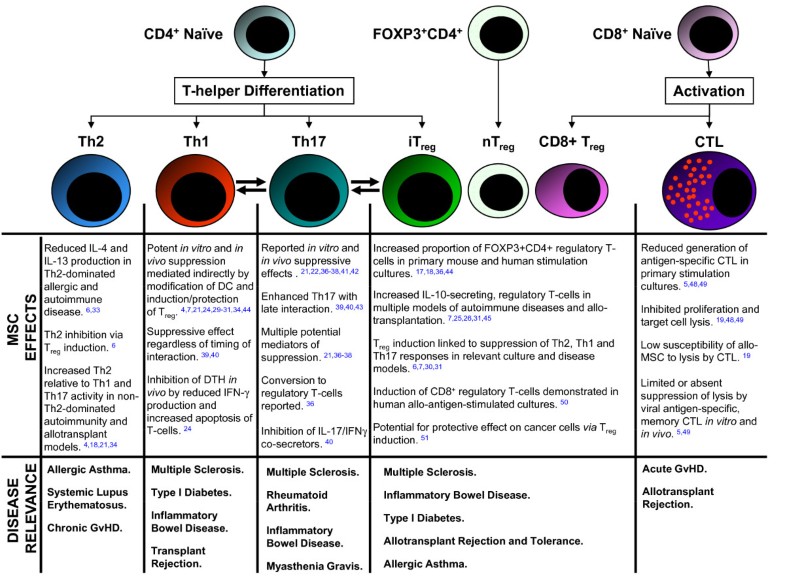 Mesenchymal stem cell modulation of cytotoxic T lymphocytes
CD8+ CTLs recognize cytosolic antigen-derived peptides presented by MHC class I and thus are essential for the destruction of virus-infected cells and tumor cells. Following their primary activation by professional antigen-presenting cells such as DCs, CTLs induce cell death upon secondary encounter of antigen expressed by any cell type via pro-apoptotic surface receptors or targeted release of cytotoxic granules [3, 19]. CTLs also release IFN-γ, TNF, and lymphotoxin-α to inhibit viral replication and to recruit macrophages to the site of infection [3]. Death receptor ligands such as TRAIL (TNF-related apoptosis-inducing ligand) and Fas ligand are upregulated on activated CTLs. In patients receiving allogeneic BM or hematopoietic stem cell transplants, activated CTLs mediate GvHD, causing damage to liver, intestine, skin, and other tissues [19]. Therapeutically administered MSCs have the potential to reduce disease severity in GvHD and other immune-mediated diseases via direct effects on CTLs as well as through inhibition of Th cell responses, which are required for full activation of CTLs [3]. For allogeneic MSC administration, the beneficial effects may also be limited by alloantigen-specific CTL-mediated MSC lysis. In a study by Rasmusson and colleagues [19], however, MSCs were resistant to CTL lysis despite the expression of MHC class I on their surface. MSCs were also unable to induce pro-inflammatory cytokine production or CD25 upregulation by CTLs [19]. This same group and others have also demonstrated that MSCs inhibit the formation of CTLs in mixed lymphocyte cultures and prevent CTL-associated lysis of target cells if added during the primary stimulation phase [49, 50]. In contrast, MSCs were unable to suppress activated CTLs at the cytotoxic effector phase [50]. Such findings were corroborated by Karlsson and colleagues [5], who showed that, while MSCs potently suppressed primary alloantigen-induced proliferation and IFN-γ production by human peripheral blood leukocytes, they had no effect on cytomegalovirus (CMV)-induced proliferation or IFN-γ production. Furthermore, MSCs were unable to suppress proliferation or cytolytic killing in established CMV- or Epstein-Barr virus-specific CTL lines [5]. These observations are of particular clinical relevance to the treatment of GvHD patients who are at high risk from the reactivation of viral infections. However, in this case, administration of MSCs was ineffective toward CMV-mediated CD8+ T-cell effector functions while potently suppressing alloantigen-induced responses [5].
Interestingly, some of the protective effects of MSCs in GvHD may also result from the generation of CD8+ Treg, as demonstrated by Prevosto and colleagues [51]. It is proposed that CD8+ Treg may amplify the immune modulatory effects of MSCs because, when re-purified from peripheral blood leukocytes/MSC co-cultures, these cells potently suppressed subsequent peripheral blood leukocyte proliferation in response to alloantigen and to the non-specific mitogen phytohaemagglutinin [51]. It is also important to note that MSC-associated immune modulation may have detrimental effects in the setting of cancer. In a recent study by Patel and colleagues [52], the addition of MSCs to co-cultures of breast cancer cells and peripheral blood leukocytes resulted in enhanced Treg numbers and Th2 cell-related cytokines as well as inhibited proliferation and release of granzyme B by CTLs, all of which resulted in protection of cancer cells from immune-mediated lysis. In vivo studies to examine this phenomenon are essential to fully understand the complex interaction between MSCs, T cells, and cancer cells and to ensure that MSC administration is not associated with recurrence or rapid metastasis of cancer in some patient groups. Overall, the experimental and clinical evidence to date suggests that MSCs exert both direct and indirect suppressive effects on the generation of antigen-specific CTLs and may foster the emergence of CD8+ Treg but do not significantly inhibit the immune surveillance functions of pre-existing CD8+ memory T cells.
Concluding remarks and future directions
The immune suppressive and anti-inflammatory properties of MSCs are now very well established and clearly encompass potent modulatory influences on the generation and disease-associated activity of multiple T-cell effector phenotypes [
8
–
12
]. Preclinical models provide a strong impetus for translating MSC therapy to wide-spread clinical use for a range of common, T-cell-mediated autoimmune diseases and for prevention or treatment of transplant complications such as rejection and GvHD [
8
,
10
]. Despite this, a critical review of our current understanding of these effects and of recent developments in MSC clinical trials [
28
] indicates that much remains to be learned at both the mechanistic and logistic levels. The dizzying array of potential MSC-associated mediators of T-cell suppression, the many differences between small-animal immunological models and human immune-mediated diseases, and the lack of uniformity in MSC culture and administration protocols suggest that a more focused experimental pipeline will be required for the therapeutic potential to be realized in the near future. Table
1
summarizes a number of key questions that, on the basis of the literature to date, we believe to be important for translational progress in this field. In particular, we would highlight the need to better understand conditions in which MSC administration has been found to be ineffective or even harmful during T cell-mediated disease. Zappia and colleagues [
38
] demonstrated, for example, that the time of administration of MSCs was a critical parameter for successful treatment of EAE since MSC administration prior to or during the early disease course was effective whereas MSC benefit was lost once central nervous system inflammation was fully established. Similarly, in experimental arthritis, the timing of MSC administration, the relative effects of MSCs on different Th cell subsets, and the local joint conditions have been reported to critically determine the balance between therapeutic efficacy, lack of benefit, and detrimental effects [
40
,
42
,
44
,
53
]. These studies should in no way dampen enthusiasm for further preclinical and clinical applications of MSCs in disease conditions in which one or more T-cell effector pathways are known to be the primary cause for acute or chronic tissue damage. Rather, they highlight the complexity of the interactions that occur between stromal cells and cells of the immune system and the wealth of basic and therapeutic insights that can be gained from continued investigation of these interactions.
Table 1
Key unanswered or incompletely answered questions about mesenchymal stem cell effects on T-cell effector functions
| | |
| --- | --- |
| 1 | Is there a true hierarchy of suppressive potency for MSC effects on the three major T helper cell effector pathways (for example, Th1 cells > Th17 cells > Th2 cells)? |
| 2 | Are individual T-cell effector phenotypes susceptible to different MSC mechanisms of suppression, or does suppressive mechanism vary by MSC culture condition or by disease pathogenesis (or by both)? |
| 3 | How important is cell-cell contact for the in vivo direct and indirect suppression by MSCs of harmful T-cell effector functions? |
| 4 | Is the apparent shift from Th1/Th17 to Th2/Treg responses following MSC therapy in some diseases due to true induction and expansion of anti-inflammatory T-cell effector phenotypes or to their preferential survival? |
| 5 | What are the relative effects of MSCs on memory and pre-activated T-cell effectors compared with naïve T cells undergoing primary activation? |
| 6 | Do immunosuppressive potency and mechanism of action vary among the individual cells within heterogenous MSC cultures and can they be enhanced by MSC cloning or modification? |
| 7 | To what extent and under what circumstances are MSCs capable of promoting harmful T-cell effector functions? |
| 8 | How long-lasting is MSC modulation of antigen-specific T-cell effectors following single or multiple in vivo administration? |
| 9 | How can MSC in vivo immune suppressive potency, mechanism of action, and site of migration be better predicted for a given culture preparation prior to therapeutic administration? |
| 10 | Does the in vivo immunogenicity of allogeneic MSCs limit their long-term therapeutic benefit in autoimmune disease and allotransplantation? |
| 11 | What are the combined in vivo effects of MSC and other anti-T-cell therapies? |
Abbreviations
BM:

bone marrow
CMV:

cytomegalovirus
CTL:

cytotoxic T lymphocyte
DC:

dendritic cell
DTH:

delayed-type hypersensitivity
EAE:

experimental allergic encephalomyelitis
FOXP3:

forkhead box P3
GvHD:

graft-versus-host disease
IFN-γ:

interferon-gamma
Ig:

immunoglobulin
IL:

interleukin
MCP-1:

monocyte chemotactic protein 1
MHC:

major histocompatibility complex
MSC:

mesenchymal stem (stromal) cell
NOD:

nonobese diabetic
PGE2:

prostaglandin E2
TGF-β:

transforming growth factor-beta
Th:

T helper
Th1:

T helper type 1
Th2:

T helper type 2
Th17:

T helper type 17
TNF:

tumor necrosis factor
Treg:

regulatory T cell(s).
Declarations
Acknowledgements
The authors are funded by grants from Science Foundation Ireland (grant numbers SFI PI 06/IN.1/B652 to MMD and MDG, SFI PI 07/IN.1/B925 to TR, and SFI SRC 09/SRC/B1794 to MDG, TR, and RC), by a Science Foundation Ireland Stokes Professorship to RC, and by grants from the Health Research Board of Ireland (grant numbers HRA_HSR/2010/63 to MDG and RP/2007/60 to TR).
Authors' Affiliations
(1)
Regenerative Medicine Institute (REMEDI), National Centre for Biomedical Engineering Science (NCBES) and School of Medicine, Nursing and Health Sciences, Orbsen Building, National University of Ireland Galway, Galway, Ireland
Copyright
© BioMed Central Ltd 2011