Stem cell applications in military medicine
Stem Cell Research & Therapy
2011
2:40
Published: 19 October 2011
Abstract
There are many similarities between health issues affecting military and civilian patient populations, with the exception of the relatively small but vital segment of active soldiers who experience high-energy blast injuries during combat. A rising incidence of major injuries from explosive devices in recent campaigns has further complicated treatment and recovery, highlighting the need for tissue regenerative options and intensifying interest in the possible role of stem cells for military medicine. In this review we outline the array of tissue-specific injuries typically seen in modern combat - as well as address a few complications unique to soldiers - and discuss the state of current stem cell research in addressing each area. Embryonic, induced-pluripotent and adult stem cell sources are defined, along with advantages and disadvantages unique to each cell type. More detailed stem cell sources are described in the context of each tissue of interest, including neural, cardiopulmonary, musculoskeletal and sensory tissues, with brief discussion of their potential role in regenerative medicine moving forward. Additional commentary is given to military stem cell applications aside from regenerative medicine, such as blood pharming, immunomodulation and drug screening, with an overview of stem cell banking and the unique opportunity provided by the military and civilian overlap of stem cell research.
Keywords
Stem CellNeural Stem CellHeterotopic OssificationStem Cell TherapyBlast Injury
Introduction
There is a lack of true stem cell therapies and applications [1] in both civilian and military medical populations. Some commercially available bone treatments utilize components of mesenchymal stem cells (MSCs; Cellect [2] and Trinity [3]), and a small number of applications apply hematopoietic stem cells (HSCs) typically harvested from umbilical cord blood [4], but no pure Food and Drug Administration (FDA)-approved stem cell therapies are presently employed [1]. Since there is no large-scale stem cell usage, much of the excitement surrounding stem cell therapies still lies within the promise that these cells hold. This is particularly true for the military, where stem cells have the capacity to revolutionize the therapeutic approach and degree of recovery for soldiers both on and off the battlefield. This review highlights the disparity between military and civilian injuries, with a focus on how stem cells may be utilized in both a regenerative and supportive role. Since stem cell applications are still in such early stages, the majority of work presented projects forward, anticipating how stem cells may help alleviate issues specific to soldiers in modern combat.
Stem cells: definitions and sources
A stem cell is an extraordinary kind of cell that has a unique ability to renew itself indefinitely while retaining the capacity to differentiate into any cell type in the body [
5
]. This cellular plasticity makes them a promising cell source for replacing and/or regenerating destroyed tissue. There are predominantly three classes of stem cells: adult stem cells (ASCs), embryonic stem cells (ESCs) and induced pluripotent stem cells (iPSCs) [
6
], each with its own advantages and disadvantages (Figure
1
). The therapeutic merits of each cell type are widely debated among experts; ASCs are the point of focus here, but likely all stem cell sources will be of future benefit.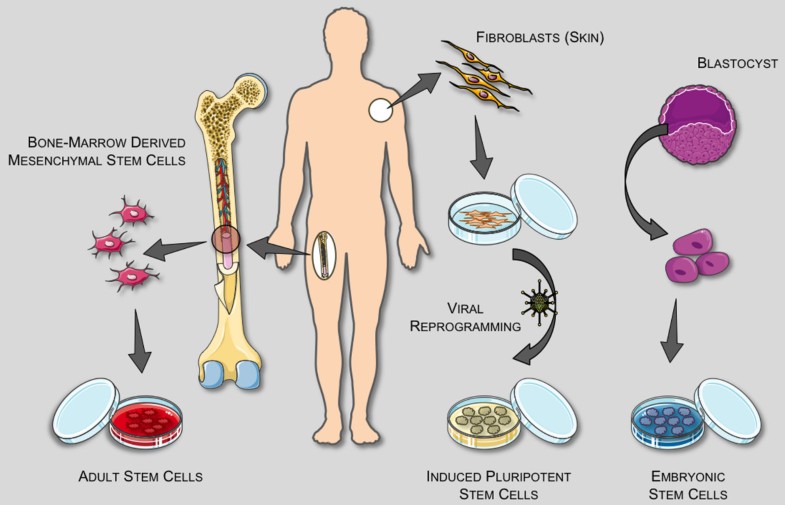 Military versus civilian perspective
In peacetime there are few, if any, differences between military and civilian medical populations; however, wartime combat injuries introduce a novel set of trauma patients into the military medical system, stressing the current treatment paradigms for acute trauma. These injuries - particularly in the modern era of insurgency and improvised explosive devices (IEDs) [7] - are of unusually high energy and they occur in a relatively young, healthy patient population [8]. Although civilian blast injuries are more infrequent, they are occurring at an increasing rate - particularly worldwide, in cases of domestic terrorism - allowing for selective overlap of both research and treatment models typically focused on military casualties [9, 10]. The high degree of tissue loss and destruction associated with these injuries is one of the defining characteristics of modern combat and presents the biggest clinical treatment dilemma. The customary priorities of skeletal stabilization and tissue repair have been replaced with provisional skeletal stabilization and tissue replacement or regeneration. Cell-based treatment options are most desirable, with an end goal of restoring full or partial tissue structure and function. Unfortunately, there are currently no effective options available, primarily due to the limited healing capacity of native (adult) cells.
Because of this, stem cells possess high value as a tissue regenerative source for combat injury applications, particularly ASCs, as age concerns of the native cells are mitigated [11] in a young, healthy patient population. Some of the supportive (trophic) properties of stem cells are also highly desirable, allowing for proper wound healing and recovery without requiring en masse replacement of severely injured tissue, making stem cells increasingly valuable for both in vitro and in vivo applications in regenerative medicine [12]. Stem cells also play a powerful role aside from tissue regeneration, holding promise in alternative applications: emergency/front-line blood supplies; drug/vaccine screening for biowarfare; and immunomodulation to alleviate rejection of transplanted tissues.
We will briefly discuss stem cell potential in both a regenerative and auxiliary capacity here, highlighting the most promising current directions. Emphasis is given to the most-current review literature for reader reference.
Applications in trauma and regenerative medicine
There are promising
in vitro
and
in vivo
approaches for utilizing stem cells in regenerative medicine, defined by the National Institutes of Health as 'the process of creating living, functional tissues to repair or replace tissue or organ function lost due to age, disease, damage, or congenital defects' [
5
]. Nearly all tissues are of military interest, due to the diverse nature of injuries associated with war trauma (Figure
2
). The increase in explosive attacks in current conflicts often results in massive wounds involving multiple organs [
13
], making all realms of tissue reconstitution a primary goal of military stem cell applications. To properly engineer complex tissues, stem cells will likely need to be augmented by biomaterials, which are not discussed in detail here (the authors recommend the following reviews: opinion on importance of synthetic biomaterials in tissue engineering [
14
]; current commercial biomaterials and future perspectives [
15
]; nerve guides [
16
]). It is rare to have localized, singular tissue damage from combat injuries, and there is always a mix of integrated cell types; but for simplicity of presentation to the reader, individual cell types are discussed here.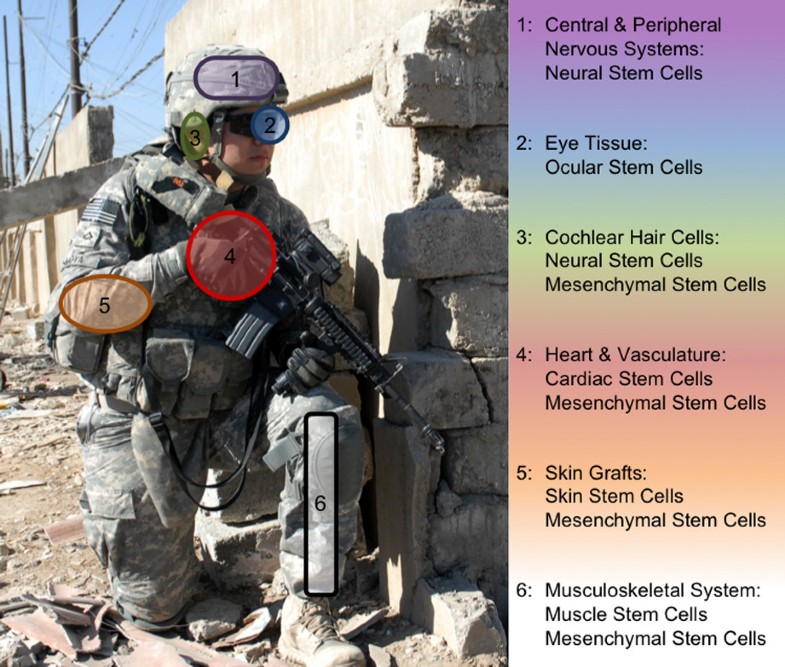 Auxiliary applications
To this point, our commentary has focused almost exclusively on the application of stem cells in regenerative medicine, and this is the most promising aspect of stem cells for military medical purposes; however, a series of other applications harness their unique properties in alternative ways. These are briefly described, to give a more inclusive view of stem cell capabilities.
Conclusion
The vast majority of stem cell excitement has yet to be realized clinically, but the potential impact on regenerative medicine and auxiliary applications, such as blood pharming and immunomodulation, make stem cells an area of great interest to the military. Historically, the most significant advances in military medical research have arisen from investigative efforts focused on problems facing a deployed military force, and many of these advances have led to direct applications in civilian medical care [107, 108]. Medical problems facing the deployed forces in the recent conflicts in Iraq and Afghanistan have spurred a new wave of military medical research, much of which will benefit from stem cell therapies. Only time will tell whether or not researchers are able to capitalize on advancements targeted for diseases in the general population and apply those for purposes beneficial to those in uniform.
Abbreviations
ASC:

adult stem cell
ESC:

embryonic stem cell
HSC:

hematopoietic stem cell
iPSC:

induced pluripotent stem cell
MSC:

mesenchymal stem cell.
Declarations
Acknowledgements
The authors thank LCDR Jared Vogler, MD, and Wesley Jackson, PhD, for their helpful discussion and manuscript review. Work in the Nesti lab is supported by the Military Amputee Research Program (PO5-A011) and the NIH/NIAMS intramural program.
Authors' Affiliations
(1)
The National Institutes of Health, The National Institute of Arthritis and Musculoskeletal and Skin Diseases, Bethesda, USA
(2)
Hand and Upper Extremity Reconstructive Surgery Service, Department of Orthopaedic Surgery, McDonald Army Medical Health Center, Ft Eustis, USA
Copyright
© BioMed Central Ltd 2011