Neural and mesenchymal stem cells in animal models of Huntington's disease: past experiences and future challenges
Stem Cell Research & Therapy
2015
6:232
Published: 14 December 2015
Abstract
Huntington's disease (HD) is an inherited disease that causes progressive nerve cell degeneration. It is triggered by a mutation in the HTT gene that strongly influences functional abilities and usually results in movement, cognitive and psychiatric disorders. HD is incurable, although treatments are available to help manage symptoms and to delay the physical, mental and behavioral declines associated with the condition. Stem cells are the essential building blocks of life, and play a crucial role in the genesis and development of all higher organisms. Ablative surgical procedures and fetal tissue cell transplantation, which are still experimental, demonstrate low rates of recovery in HD patients. Due to neuronal cell death caused by accumulation of the mutated huntingtin (mHTT) protein, it is unlikely that such brain damage can be treated solely by drug-based therapies. Stem cell-based therapies are important in order to reconstruct damaged brain areas in HD patients. These therapies have a dual role: stem cell paracrine action, stimulating local cell survival, and brain tissue regeneration through the production of new neurons from the intrinsic and likely from donor stem cells. This review summarizes current knowledge on neural stem/progenitor cell and mesenchymal stem cell transplantation, which has been carried out in several animal models of HD, discussing cell distribution, survival and differentiation after transplantation, as well as functional recovery and anatomic improvements associated with these approaches. We also discuss the usefulness of this information for future preclinical and clinical studies in HD.
Keywords
Quinolinic AcidMedium Spiny NeuronMesenchymal Stem Cell TransplantationExpress Major Histocompatibility Complex ClassmHTT Protein
Introduction
Huntington's disease (HD) is believed to be due to a significant loss of medium spiny neurons in the brain. Main treatment efforts have, therefore, been focused on obtaining new medium spiny neurons to replace the damaged ones. One single transplantation of human fetal striatal tissue into brains of a small number of HD patients provided short-term improvement in both movement and psychological symptoms [1]. Tissue taken from aborted fetuses, however, offers only a very limited quantity of cells, which cannot be purified or improved. Therefore, alternative valuable sources, such as in vitro cultured, expanded and purified neural stem cells (NSCs)/precursor cells and mesenchymal stem cells (MSCs) are of great interest. In vitro models of HD have been developed and used in HD studies and in drug screening for HD [2]. It is hard to evaluate the effect of cell therapy in vitro, however, since it requires cell interaction of graft with host cells and tissues. The present review will provide a short description of HD degenerative nervous system disorder symptoms, causes, and current treatments, as well as recent achievements in animal studies employing NSCs/progenitor cells or MSCs in chemical and transgenic animal HD models in order to critically evaluate the use of the transplantation of these cells in HD treatment.
Conclusion
The animal studies discussed in this review agree that NSC/progenitor cell and MSC transplantation can be beneficial, with partial functional and anatomical recovery, reduced cell death, reduced brain damage, increased endogenous cell proliferation and even partial differentiation of transplanted cells towards neurons (summarized in Fig.
1
). More importantly, studies have even demonstrated reduced formation of ubiquitin aggregates upon adipose cell-derived MSC transplantation into HD mice [
123
] or when NSC therapy is associated with trehalose administration [
132
]. However, several points still need to be considered and answered using animal models.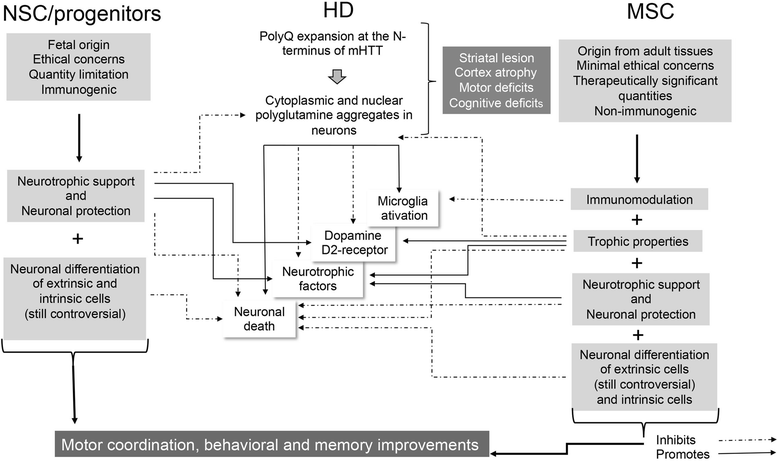 It is worth mentioning that both the design of animal studies and the characterization of transplanted cells are poorly standardized and that this greatly complicates comparative analysis. In the future, an agreement between researchers must be reached in order to standardize marker use to enable study comparison and reproducibility.
It seems that NSCs/progenitor cells and MSCs can be used interchangeably. However, MSCs have an advantage over NSCs/progenitor cells in that there are fewer ethical considerations regarding their extraction and because they are easy to isolate and expand in vitro. Primary cultures of NSCs/progenitor cells are usually heterogeneous, containing many cell types, which makes characterization harder and experiments less reproducible. Moreover, MSCs are non-immunogenic, while neural stem/progenitor cells may require a co-application of an immunosuppression protocol (Fig. 1).
As to cell numbers (best dose) at transplantation, there does not seem to be any consensus. Fewer cells are probably best to avoid tissue damage upon transplantation. On the other hand, the population must be large enough to guarantee that sufficient cells can reach the area of tissue damage and promote recovery. Transplanted cells should be able to reproduce in the recipient organism while still undifferentiated, but their number should not be increased drastically in order to avoid carcinogenesis.
The administration route of stem cell transplantation should be revised, considering that local injections are extremely invasive and that NSCs/progenitor cells and MSCs do not show efficient migratory capacity, as extensively reviewed by Reyes and colleagues [133], among others [61, 87, 123, 126, 127, 133].
In chemical models, the cells are usually administered after HD induction with the drug, while, in transgenic animals, cell administration time depends on disease progression. Administration time should be adequately considered in order to derive the most benefit from the stem cell-based therapy.
So far, all animal and clinical study protocols for HD used only one course of cell transplantation. This is not compatible with the neurodegenerative character of the disease. In HD patients, the degenerative process is progressive and stem cell-based therapies should, therefore, be applied regularly. The point at which the therapy should begin and the time intervals between cell transplantations can vary significantly and are questions to be answered in future studies.
It is still unclear from animal studies how transplanted cells regulate the expression pattern of inflammatory cytokines and chemokines, as well as that of neurotrophic factors, which are also concerns that should be addressed before clinical trials.
Finally, HD therapy protocols using stem cells should be developed not only for treating the clinical onset of HD but also to prevent HD development [134]. The establishment of new methods to quantify mHTT in cerebrospinal fluid may facilitate the study of HD, since mHTT could potentially serve as a biomarker for the development and testing of experimental mHTT-lowering cell therapies for HD [135].
Abbreviations
3-NP:

3-Nitropropionic acid
BBB:

Blood–brain barrier
BDNF:

Brain-derived neurotrophic factor
CNS:

Central nervous system
CNTF:

Ciliary neurotrophic factor
DARPP-32:

Dopamine- and cAMP-regulated phosphoprotein, Mr 32 kDa
GABA:

Gamma aminobutyric acid
GAD:

Glutamate decarboxylase
GFAP:

Glial fibrillary acidic protein
HD:

Huntington's disease
HTT:

Huntingtin
IL:

Interleukin
IV:

Intravenous
MHC:

Major histocompatibility complex
mHTT:

Mutant huntingtin
MSC:

Mesenchymal stem cell
mUCB:

Mouse umbilical cord blood
NFKB:

Nuclear factor kappa B
NSC:

Neural stem cell
QA:

Quinolinic acid
TNF:

Tumor necrosis factor
Declarations
Open AccessThis article is distributed under the terms of the Creative Commons Attribution 4.0 International License (http://creativecommons.org/licenses/by/4.0/), which permits unrestricted use, distribution, and reproduction in any medium, provided you give appropriate credit to the original author(s) and the source, provide a link to the Creative Commons license, and indicate if changes were made. The Creative Commons Public Domain Dedication waiver (http://creativecommons.org/publicdomain/zero/1.0/) applies to the data made available in this article, unless otherwise stated.
Authors' Affiliations
(1)
Laboratório de Genética, Instituto Butantan, São Paulo, Brazil
(2)
Hospital das Clínicas da Faculdade de Medicina da Universidade de São Paulo, São Paulo, Brazil
(3)
CellAvita Ltd, São Paulo, Brazil
(4)
SoluBest Ltd, Weizmann Science Park, Ness Ziona, Israel