The combination of stem cells and tissue engineering: an advanced strategy for blood vessels regeneration and vascular disease treatment
Stem Cell Research & Therapy
2017
8:194
Published: 15 September 2017
Abstract
Over the past years, vascular diseases have continued to threaten human health and increase financial burdens worldwide. Transplantation of allogeneic and autologous blood vessels is the most convenient treatment. However, it could not be applied generally due to the scarcity of donors and the patient's condition. Developments in tissue engineering are contributing greatly with regard to this urgent need for blood vessels. Tissue engineering-derived blood vessels are promising alternatives for patients with aortic dissection/aneurysm. The aim of this review is to show the importance of advances in biomaterials development for the treatment of vascular disease. We also provide a comprehensive overview of the current status of tissue reconstruction from stem cells and transplantable cellular scaffold constructs, focusing on the combination of stem cells and tissue engineering for blood vessel regeneration and vascular disease treatment.
Keywords
Stem cellsVascular tissue engineeringScaffold materialRegeneration
Background
Annually, thousands of people die of aortic aneurysm, thoracic aortic dissection, and other vascular diseases. As administered drugs cause a number of chemical reactions in the body and can even lead to autoimmune complications, advances in regenerative medicine and tissue engineering are extremely beneficial. Tissue engineering and regenerative medicine not only offer fast recovery but also lessen the medical and economic burden among patients suffering from vascular diseases. We have accumulated a lot of information on and developed techniques for biofabrication and stem cell biology, but the effectiveness of clinical applications of these techniques remains to be elucidated. This review highlights advances in the regenerative medicine and tissue engineering fields with respect to vascular diseases. In particular, we discuss scaffold-free cell therapies for blood vessel defects as well as the various stem cells used for blood vessel engineering.
Tissue engineering for vascularized tissues
Vascular diseases are pivotal causes of mortality and morbidity in developed countries. As reviewed by Zaragosa et al. [1], both genetic and environmental factors are associated with cardiac and vascular complications; therefore, these complex multifactorial pathologies are very difficult to prevent [1]. Although prior studies have emphasized that new drugs and innovative devices have improved the quality of life for patients inflicted with vascular diseases, these have not necessarily reduced the mortality and morbidity rate [2]. Transplantation has provided a new therapeutic path as it offers an immediate "cure" by replacing the damaged tissues or organs with normally functional substitutes.
Successful treatment of vascular diseases has been limited, however, due to a lack of suitable autologous tissue to restore injured vessels or to serve as vascular conduits to replace or bypass diseased or occluded vessels. On the other hand, although immunosuppressive agents have reduced the mortality and morbidity associated with organ failure, they increase the risk of infection, cancer, and cardiovascular diseases [2]. Hence, tissue engineering has been proposed as an alternative treatment that might overcome these problems by replacing the damaged tissue or organ function with constructs which are biofabricated based on the required tissue or organ features [2]. In particular, vascular tissue engineering plays an important role in increasing life expectancy and preservation of extremities [3]. In addition, tissue engineering is designed to produce biomimetic constructs resembling normal tissues to replace damaged tissues. Moreover, the main objective of tissue engineering is the restoration of function through the delivery of living elements which become integrated in the patient [4].
Vascular tissue engineering technology
Tissue engineering strategies have three basic components: firstly, the cells or source which must express the appropriate genes and maintain the appropriate phenotype in order to preserve the specific function of the tissue [5]; secondly, the bioreactive agents or signals that induce cells to function; and thirdly, the scaffolds that house the cells and act as a substitute for the damaged tissue [6]. The source may be either embryonic stem cells (ESC) or adult stem cells (ASC), the scaffolds may be categorized as synthetic, biological, or composite, and the signals may include growth factors/cytokines, adhesion factors, and bioreactors [7].
Currently, downstream and upstream approaches (Fig.
1
) in tissue engineering have been continuously investigated by many groups as the most promising tissue engineering approaches. The downstream approach usually employs implantation of precultured cells and synthetic scaffold complexes into the defect area. The cells or source, generally isolated from host target tissues, are expanded in vitro and preseeded into the scaffold to provide a porous three-dimensional structure that accommodates the seeded cells and forms the extracellular matrix (ECM) [
8
,
9
]. Subsequently, multiple methods such as cell aggregation, micro-fabrication, cell sheeting, and cell printing are utilized to generate modular tissues. These are then assembled through random assembly, stacking of cell sheets, or directed assembly into engineered tissues with specific micro-architectural features. Thereafter, the engineered tissue is transplanted into the defective area. This approach allows scientists to finely transform the nanostructure of materials by balancing polymer degradation rates with ECM production and cellular infiltration which results in increased cell binding sequences, enzymatic cleavage sites, and tethering of chemoattractant molecules [
10
,
11
].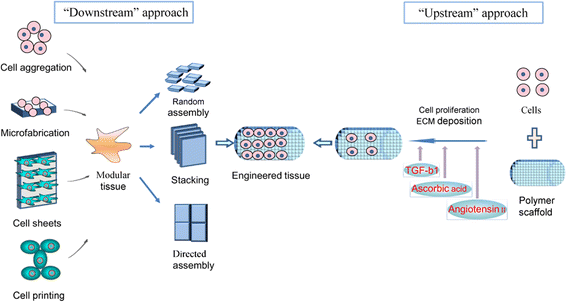 Conversely, in the upstream approach, there are two ways to manufacture the engineered tissue: (1) cells and biomaterial scaffolds are combined and cultured until the cells fill the support structure to create an engineered tissue [10]; or (2) acellular scaffolds with incorporated biomolecules are delivered immediately after injury. The biomolecules are released from the scaffolds in a controlled manner, and they may recruit progenitor cells in the injured area and promote their proliferation and differentiation, eventually repairing the injured tissues [8, 9].
Stem cell sources for vascular tissue engineering
Vascular cells used for tissue engineering are derived from different types of adult stem cells and progenitor cells. Adult stem cells are isolated from different sources, including bone marrow (BM), adipose tissue, hair follicle (HF), umbilical cord (UC), and so on (Table
1
).
Table 1
In vitro studies of vascular lineage differentiation from multipotent stem cells
| Stem cell source | Vascular lineage | Cell origin | Differentiation factors | Scaffold | Selection and characterization | Implant site | Implant/culturing duration | Patency | Reference |
| --- | --- | --- | --- | --- | --- | --- | --- | --- | --- |
| BM-MSCs | SMC/EC | Rabbit | FBS; L-glutamine; L-ascorbic-acid-2-phosphate | 2-mm diameter mandrel | Suture-holding; strength; platelet counts | CA | 4 weeks | 100% | [19] |
| BM-MSCs | SMC/EC | Ovine | FBS; VEGF; bFGF; ascorbic acid; TGF-b1 | CA decellularized | SM a-actin; PKH26; vWF | CA | 5 months | 100% | [20] |
| AD-SCs | SMC | Human | Media-199; FBS; angiotensin II; TGF-b1; phingosylphosphorylcholine | Decellularized; greater saphenous vein | SMC; calponin; caldesmon; MHC; ANG; APC; TGFb1 | Bioreactor system | - | - | [21] |
| AD-SCs | SMC | Human | TGF-b1; BMP4; FBS; penicillin-streptomycin | PGA | Smooth muscle alpha actin; a-SMA; calponin; SM-MHC; | Bioreactor system | 8 weeks | - | [22] |
| HF-SCs | SMC | Human | FBS; isobutyl-methylxanthine; dexamethasone; insulin; indomethacin | Mandrel of poly(di-methylsiloxane) | bFGF; TGF-b1; a-SMA; calponin | - | 2 weeks | - | [23] |
| HF-SCs | SMC | Newbon lamb | DMEM; FBS | SIS | EGFP; a-SMA; calponin; MHC | - | 2 weeks | - | [24] |
| ESCs | SMC | Nude mice | All-trans-retinoid acid (RA); DMSO | 3D macro-porous NF scaffolds | α-SM; SM-MHC; OCT4 | Subcutaneous pockets on nude mice | 2 weeks | - | [25] |
| hiPSCs | SMC | Human | EB; FBS; NEAA; glutamine; mercaptoethanol | PGA | a-SMA; SM-MHC; calponin; SM22a | Nude rats AA | 2 weeks | 100% | [26] |
| HUVECs | HAF-HUVEC | Human | FCS; EGM2 | Bioreactor system | Collagen IV; VEGF; a-SMA; Ki67 | - | 2 weeks | - | [27] |
| PB-EPC | PB-EPC | Ovine | FBS; medium with low glucose; L-glutamine | Decell porcine CA | Actin; MHC | Arterial interposition | 4 months | 100% | [28] |
Conclusions and future directions
At present, although the previously established treatments for vascular disorders, such as transplantation, surgical reconstruction, use of mechanical and synthetic devices, or administration of metabolic products, are effective, they still have several constraints and complications. Hence, the development of in vitro and in vivo biomimetic constructs for specific target organs or tissues are more suitable for regeneration of damaged vessels.
Throughout recent years many advances have been made toward using adult stem cells clinically, and this includes the development of tissue engineered vascular grafts. By incorporating various progenitor cells such as bone marrow-derived mononuclear cells, mesenchymal stem cells, or endothelial precursor cells into biodegradable materials, vascular grafts can be created that address limitations currently seen with other treatment approaches. Some of these cells have also shown the ability to initiate regenerative processes within the graft to develop tissue mimicking native arteries.
Another intriguing trend is using 3D bio-printing technology to create a vascular channel and perfuse open lumen with cells and matrix. This approach is very promising because the vascular channel is simultaneously printed with cells and matrix in desired 3D patterns. Using different stem cells, or some gene-modified stem cells, various functions will be conferred on the 3D-printed vascularized tissues, such as what growth factors they secrete and the nature of the inflammatory microenvironment. Vascularized tissue fabrication is still a nascent field, but it is an exciting one that holds promise for the creation of clinically viable vascular grafts.
Abbreviations
AD-SC:

Adipose-derived stem cell
BM:

Bone marrow
CB:

Cord blood
DP:

Dermal papilla
DS:

Dermal sheath
EB:

Embryoid body
EC:

Endothelial cell
EPC:

Endothelial progenitor cell
ESC:

Embryonic stem cell
FBS:

Fetal bovine serum
GFP:

Green fluorescent protein
hESC:

Human embryonic stem cell
HF:

Hair follicle
MSC:

Mesenchymal stem cell
PB:

Peripheral blood
PGA:

Phosphoglyceric acid
SIS:

Small intestinal submucosa
SMC:

Smooth muscle cell
SVF:

Stromo-vascular fraction
UC:

Umbilical cord.
Declarations
Acknowledgements
We acknowledge the help from Prof. Zhang in vascular tissue engineering.
Funding
This work is supported by National Clinical Key Specialty of cardiovascular surgery, Jiangsu clinical research center for cardiovascular surgery (number BL201451).
Authors' contributions
YW, HH, PY, and ZS designed the manuscript and analyzed the literature. YW, GB, HS, ZY, and JY wrote the manuscript and prepared the figure and table. All authors reviewed and approved the final manuscript.
Ethical approval and consent to participate
Not applicable.
Consent for publication
All authors consent to the publication of this manuscript.
Competing interests
The authors have declared that no competing interests exist.
Publisher's Note
Springer Nature remains neutral with regard to jurisdictional claims in published maps and institutional affiliations.
Open AccessThis article is distributed under the terms of the Creative Commons Attribution 4.0 International License (http://creativecommons.org/licenses/by/4.0/), which permits unrestricted use, distribution, and reproduction in any medium, provided you give appropriate credit to the original author(s) and the source, provide a link to the Creative Commons license, and indicate if changes were made. The Creative Commons Public Domain Dedication waiver (http://creativecommons.org/publicdomain/zero/1.0/) applies to the data made available in this article, unless otherwise stated.
Authors' Affiliations
(1)
Department of Cardiovascular Surgery & Institute of Cardiovascular Science, First Affiliated Hospital of Soochow University, Suzhou, China
(2)
Department of Cardio-Thoracic Surgery, Taixing People's Hospital, Taixing, China
(3)
Department of Cardio-Thoracic Surgery, Jingjiang People's Hospital, Jingjiang, China