Short review on human umbilical cord lining epithelial cells and their potential clinical applications
Stem Cell Research & Therapy
2017
8:222
Published: 10 October 2017
Abstract
Background
The human umbilical cord has been studied extensively in the past two decades. It is free of ethical dilemmas, non-tumorigenic, and less immunogenic and thus provides a significant advantage over other stem cell sources. The cord lining yields both mesenchymal and epithelial stem cells. The mesenchymal cells have been appraised at length by many researchers, which led to the current review focusing on the cord lining epithelial cells (CLECs). These cells have high proliferative capacity and their superior harvest and multiplication, using the revolutionary CellOptimaTM technology, makes them better candidates in comparison to contemporary adult stem cells. Following 30 replication cycles these cells have been observed to retain their stemness, with their phenotype and karyotype intact. However, their remarkable immunosuppressant properties, protecting self as well as co-transplanted allografts from rejection, are what truly define their transplantation potential. They have been successfully applied to many chronic conditions, using animal models, including type 1 diabetes, limbal stem cell deficiency, burn injuries, and wound healing, etc. with encouraging results.
Conclusions
This review first discusses some of the advantages afforded by CLECs over other stem cell lines and then delineates their potential use in various clinical applications. Clinical trials using CLECs are currently underway in the US in collaboration with CellResearch Corp. and their potential positive findings will help garner an FDA approval, likely leading to the eventual commercialization of this promising technology.
Keywords
Cord lining cellsMesenchymal stem cellEpithelial stem cellWound healingOcular therapy
Background
Regenerative medicine focuses on the use of stem cells for the repair and replacement of damaged tissues and organs with the future prospect of curing chronic disorders. This involves the use of stem cells from different sources to generate specific cellular lineages through directed differentiation which can be applied to damaged environments for a speedy recovery [1]. Regeneration aims not only to restore fully functional tissues but also to counter congenital abnormalities where, to begin with, normal physiological functioning was absent [2].
Embryonic stem cells were first considered as a viable source for research [3]. However, several obstacles, including the ethical objections and possible generation of teratomas or imprinting disabilities, have prompted researchers to explore alternative sources of stem cells [4]. One practicable source to be considered is the umbilical cord lining. Stem cells from the umbilical cord lining are multipoint, possess high proliferative capacity, and have also been discovered to be immunologically naïve, making them ideal candidates for regenerative therapy [5].
Hematopoietic, epithelial, and mesenchymal cells have been isolated from umbilical cord blood, while both epithelial and mesenchymal cells have been collected from the Wharton's jelly [6], amniotic fluid [7], amniotic membrane [8], and cord lining [5] using various techniques. Although the umbilical cord lining cells have been known to express both mesenchymal and epithelial stem cell markers, they have also demonstrated positive expression of certain embryonic stem cell markers, placing their differentiation capabilities somewhere in between embryonic and adult stem cells [9].
This review is directed at describing the various advantages the umbilical cord lining-derived epithelial cells have over other promising stem cell types and also explores their potential clinical applications.
Cord lining epithelial stem cells
The richest source for umbilical cord-derived stem cells is the cord lining. Umbilical cords are collected from healthy women undergoing surgery and who have not been diagnosed with any infectious diseases like hepatitis, HIV, etc. The tissue is then cut into 2-cm segments, washed, disinfected with antibiotic mixture, and further cut into small squares of 0.5 cm for cell isolation by explant culture using specific media. The cord contains both mesenchymal and epithelial cells [
5
,
9
]. The epithelial cells are currently under investigation for their use in a wide range of applications from wound healing to ocular surface regeneration and much research is currently underway to explore the full potential of this multipotent cell population. Another unique cell type, coined mucin-expressing cord lining epithelial cells (CLECs-muc), has been isolated by Reza et al. [
9
]. These display higher colony-forming efficiency, proliferative potential, and passaging ability and express both embryonic and adult stem cell-specific genes. Similar to embryonic stem cells, they express OCT-4, NANOG, SSEA-4, REX1, and SOX2, to which their stem cell like properties can be attributed. While predominantly expressing the epithelial MUCIN1 and cytokeratins, they also express the mesenchymal stem cell surface marker CD166. Furthermore, they possess distinctive p63 expression profiles. Treatment of CLEC-muc cells with BMP4 results in their differentiation into precursor non-keratinized epithelial cell types via regulation of nuclear p63 gene expression. This novel cell type is likely to play a critical role in future clinical trials, namely in ocular surface regeneration therapy [
10
]. Immunological characterization further detected both the classic human leukocyte antigen molecules HLA-A, B, and C and the non-classic MHC class I molecules HLA-G and HLA-E in CLECs. These non-classic molecules are key contributors to immunosupression via modulation of T cells, dendritic cells, and natural killer cells, observed through responses to mixed leukocyte reaction (MLR) assays and the use of anti-HLA-G and E antibodies [
14
]. This immunoregulatory response also contributes to CLECs' ability to prolong the survival of co-transplanted cells such as keratinocytes [
14
]. The differentiation capability of CLECs is shown in Fig.
1
.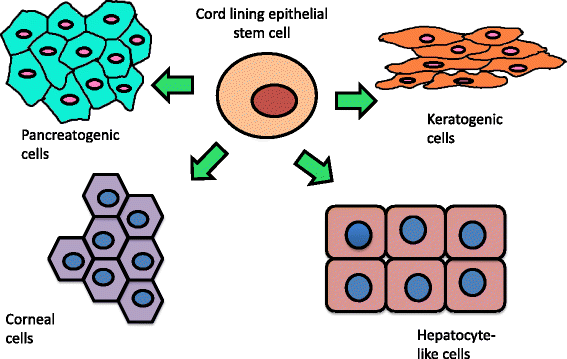 Certain embryonic and induced pluripotent stem cell properties have impeded their widespread clinical acceptance. The properties of umbilical cord lining cells are better in some regards compared to these pluripotent cell types (elaborated in Table
1
); a comparison with other extra-embryonic tissue is provided in Table
2
.
Table 1
Comparison of umbilical cord lining epithelial cells with other contemporary stem cell sources
ESCs

Induced pluripotent stem cells (iPSCs)

Bone marrow-derived stem cells (adult stem cells)

Umbilical cord lining epithelial stem cells

Source

• Pluripotent stem cell source

• Controversial sourcing

• Requires invasive procedure

• Pluripotent cells

• Reprogrammed adult blood or dermal fibroblast cells

• Inefficient generation procedure (0.01–1%)

• Relatively expensive autologous transplantation procedure

• Multipotent stem cells

• Derived using an invasive procedure

• Potential risks and significant discomfort to the donor

• Limited proliferative capacity

• Aging at each doubling

• Multipotent stem cells

• Source is medical waste and inexpensive

• Devoid of maternal or fetal morbidity

• Billions of cells can be isolated from the primary cell source.

• Stemness retained after 30 replication cycles with their phenotype and karyotype intact

Tumorigenicity

• Characteristically produce teratomas

• Aneuploidy and accumulation of oncogenic mutations over multiple replication cycles produce aggressive teratocarcinomas

• MYC used in cell line generation is oncogenic

• Cell line generation through viral vectors can activate integration site-adjacent oncogenes or suppress the tumor suppressor genes

• Possible precursor adult cell epigenetic memory retention

• Teratomas from undifferentiated cell contamination in the final product

• Genetically modified cells can generate teratomas through proto-oncogenic activation

• Highly proliferative but do not produce tumors

• Acquiescent to transgene integration sans tumorigenesis

Immunogenecity

In undifferentiated state:

• Low immunogenicity

• No expression of immunomodulatory molecules such as CD95 and IL-10

In differentiated state :

• Immunogenicity is similar to adult fibroblasts

• Mouse ESCs acquiescent to syngenic but not allogenic transplantations

Initially, T-cell-mediated autoimmune rejection observed in:

• iPSC-derived myocardial, endothelial cells

• Teratoma formation models

Recently, successful allogenic transplantation of iPSC derived retinal pigment epithelial cells in immune-matched monkeys observed

• Clinical study to observe iPSCs' ability to arrest macular degeneration approved in Japan

• Long history of safety in clinical trials

• Possible immunomodulatory properties Possible applications in:

• Hematological malignancies and severe aplastic anemia

• Autoimmune disorders

• Express MHC class I molecules HLA- A, B, and C as well as the non-classic HLA-G and -E

• HLA-G and -E modulate maternal immune response, suppressing T cells, NK cells and dendritic cells

• No expression of the co-stimulatory cell surface markers

• Ideal for allogenic transplantation

• Prolong co-transplanted cell survival
Table 2
Comparison of umbilical cord lining cells against other extra-embryonic tissue derived stem cells
Source

Cell types

Yield

GVHD

Ease of isolation

Immunomodulation by HLA–G and E

Proliferation and expansion

Umbilical cord blood

HSCs, MSCs, EpSCs,

Low yield of MSCs and ESCs, high yield of HSCs

Lower incidence of chronic GVHD

Low MSC level requires highly refined isolation techniques

No expression

Slow expansion and engraftment

Wharton's Jelly

MSCs

High

Improvement with acute steroid-resistant GVHD

Possible heterogeneous cell contamination

No expression

Easily and rapidly expanded

Cord lining

CLECs, CLMSCs

Highest yield (potentially six billion MSCs and six billion EpSCs per lining)

Dramatic improvements with MSCs without additional immunosuppressant use

Time-consuming isolation process

CLECs express HLA-G and E

CLMSCs express insignificant amounts

Highest proliferation and migration capacity

Placenta

AMSCs, AECs, DSCs

Low

Placental DSCs relatively effective against acute and chronic GVHD

Longer isolation process compared to cord-derived cells

Expresses HLA-G and E

Limited proliferation capacity of hAECs
Conclusions
This review briefly introduces the currently available therapies for various chronic conditions followed by their treatment limitations and possible avenues for subsequent cell-based therapies which can be explored for their potential clinical applications. It delineates the various prospective stem cell sources examined thus far and makes a comparison with the CLEC-centered approach. This includes providing evidence-based implications for the future of CLECs in the treatment of ocular disorders, insulin-dependent diabetes, liver failure, wound regeneration, and various other conditions for which other stem cell sources have presented different limitations in their applicability. These cells are ethically acceptable, easily accessible, immunologically naive, and non-tumorigenic and a considerable amount of resources have been directed in many countries for the long-term storage of their source material.
Abbreviations
ABCG2:

ATP-binding cassette sub-family G
BMI1:

B lymphoma Mo-MLV insertion region 1 homolog
BMP4:

Bone morphogenetic protein 4
CD:

Cluster of differentiation
CK:

Cytokine
CLEC:

Cord lining epithelial stem cell
CLEC-muc:

Mucin-expressing cord lining epithelial cell
CLMC:

Cord lining mesenchymal stem cell
CT:

Computed tomography
CYP3A4:

Cytochrome P450 3A4
eGFP:

Enhanced green fluorescent protein
HAE:

Human amniotic epithelial cells
HAM:

Human amniotic membrane
HES1:

Hairy and enhancer of split-1
hESC:

Human embryonic stem cell
HGF:

Hepatocyte growth factor
HLA:

Human leukocyte antigen
HMM:

Hepatic maintenance medium
HNF1B:

Hepatocyte nuclear factor 1 homebox B
HNF4A:

Hepatocyte nuclear factor 4 alpha
IL:

Interleukin
KLF4:

Krupple like factor 4
MESC:

Mouse embryonic stem cell
MHC:

Major histocompatibility complex
MYC:

Mitomycin c
OCT-4:

Octamer binding transcription factor 4
REX-1:

Reduced expression 1
SOX2:

Sex determining region Y box 2
SSEA-4:

Stage-specific embryonic antigen
TNF-β1:

Tumor necrosis factor beta-1
VEGF:

Vascular endothelial growth factor
ZFN:

Zinc finger nuclease
Declarations
Acknowledgements
We thank Dr. Phan Toan Thang for his valuable suggestions.
Funding
No funding to declare.
Availability of data and materials
Not applicable.
Authors' contributions
RS drafted the manuscript and HMR contributed to conception, design, and final revision of the manuscript. Both authors read and approved the final manuscript.
Ethics approval and consent to participate
Not applicable.
Consent for publication
Not applicable.
Competing interests
The authors declare that they have no competing interests.
Publisher's Note
Springer Nature remains neutral with regard to jurisdictional claims in published maps and institutional affiliations.
Open AccessThis article is distributed under the terms of the Creative Commons Attribution 4.0 International License (http://creativecommons.org/licenses/by/4.0/), which permits unrestricted use, distribution, and reproduction in any medium, provided you give appropriate credit to the original author(s) and the source, provide a link to the Creative Commons license, and indicate if changes were made. The Creative Commons Public Domain Dedication waiver (http://creativecommons.org/publicdomain/zero/1.0/) applies to the data made available in this article, unless otherwise stated.
Authors' Affiliations
(1)
Department of Pharmaceutical Sciences, North South University, Dhaka, Bangladesh