Mesenchymal stem cell-based therapy for radiation-induced lung injury
Stem Cell Research & Therapy
2018
9:18
Published: 31 January 2018
Abstract
Since radiotherapy is widely used in managing thoracic tumors, physicians have begun to realize that radiation-induced lung injury (RILI) seriously limits the effects of radiotherapy. Unfortunately, there are still no effective methods for controlling RILI. Over the last few decades numerous studies have reported the beneficial effects of mesenchymal stem cells (MSCs) on tissue repair and regeneration. MSCs can not only differentiate into lung alveolar epithelial cells and secrete anti-inflammatory factors, but they also deliver some vehicles for gene therapy in repairing the injured lung, which provides new ideas for managing RILI. Thus, many scientists have attempted to manage RILI using MSC-based therapy. However, as a novel therapy MSCs still face various limitations. Herein, we shed light on the current understanding of MSC-based therapy for RILI, including the feasibility, molecular mechanisms, animal studies, and clinical research of MSC-based therapy for RILI. We also present an overview of RILI and MSCs.
Keywords
Mesenchymal stem cells (MSCs)Radiation-induced lung injury (RILI)Stem cell therapy
Background
Over the last few decades, radiotherapy has become one of the most important treatment modalities for thoracic tumors [1]. Even though more localized dose delivery to patients with tumors via advanced radiation techniques can increase the survival rate and lessen radiation-related toxicity, the occurrence of radiation-induced lung injury (RILI) is still inevitable and limits dose escalation for thoracic radiotherapy [2]. The molecular events underlying the development of RILI remain poorly understood. Furthermore, effective treatments for RILI are still lacking [1]. Due to this lack of effective treatment, the prognosis for patients with RILI is poor. Fortunately, regenerative medicine provides a potential strategy to solve this problem. Since mesenchymal stem cells (MSCs) have effective immune-modulatory features, inhibit T-lymphocyte proliferation, and have a high regenerative capacity, they can play a vital role in the reconstruction of injured tissues, including bronchioles, in pulmonary diseases. A variety of studies have also illustrated the potent immune-modulatory effects of MSCs on immune lung diseases and the inflammatory response. Therefore, many scientists have attempted to treat radiation sickness with MSCs. In 2007, human bone marrow-derived MSCs (hBM-MSCs) were reported to migrate to radiation-damaged tissues in mice, providing potential evidence for restorative therapy outside of the bone marrow [3]. Since then, an increasing number of research advances have made MSCs a viable therapy for RILI; this is the focus of this review.
RILI
When lung tissue is irradiated by x-ray cells are injured by the direct or indirect action of radiation. Once the radiation dose exceeds the radiation threshold, radiation damage may extend beyond the intrinsic repair capacity of the human body, and radiation-induced lung injury occurs (Fig.
1
). RILI can be divided into two phases—radiation pneumonitis (RP) and radiation-induced pulmonary fibrosis (RIPF)—which represent acute and late phases in the development of RILI, respectively.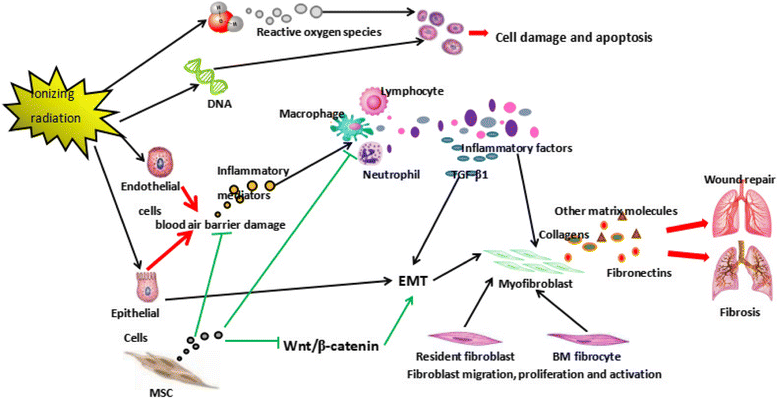 The exact mechanisms of RILI are largely unknown. The consensus of researchers studying RILI is that ionizing radiation could induce damage to epithelial cells and endothelial cells, dysfunction of the blood-air barrier, and increase vascular permeability. The ionizing radiation further activates alveolar macrophages and upregulates transforming growth factor (TGF)-β1, tumor necrosis factor (TNF)-α, interleukin (IL)-1β, IL-6, and IL-12 (especially the key factor TGF-β1) [4]. The immune response of human the body can amplify the process, increasing the local inflammation response and giving rise to the development of interstitial pneumonia. The persistence of chronic inflammation eventually causes lung fibrosis. In normal wound healing, this inflammation response may subside and induce a vicious cycle of further inflammation once radiation pneumonitis happens, finally leading to the poor prognosis. Alveolar epithelial cells participate in the pathogenesis of fibrosis, producing pro-inflammatory mediators, and undergoing epithelial-to-mesenchymal transition (EMT). TGF-β1, a necessary cytokine to induce EMT, promotes EMT of pulmonary epithelial cells and plays an important role in lung fibrosis [5]. In the early stage of injury, due to the chemotactic action of cytokines, bone marrow fibroblasts migrate to the lung and there promote fibrosis progression. In addition, the lung fibroblasts will also excessively proliferate after exposure to irradiation.
While a few pharmacological treatment strategies can mitigate the adverse effects of irradiation, regenerative medicine provides possible opportunities for restoring functionality to the irradiated tissue bed.
MSCs
Among the stem cell populations, MSCs are the most extensively studied and may have the optimal outcome for regenerative medical research [6]. MSCs are commonly found in several adult tissues, including bone marrow, umbilical cord, and adipose tissue. Adipose tissue is of special interest since it represents an abundant and easily accessible source of MSCs. Friedenstein et al. first showed the existence of MSCs in the late 1960s [7]. Later, several other scholars further demonstrated that MSCs have the potential for proliferation, self-renewal, and differentiation. The superiorities of MSCs are summarized as the following five aspects [8–10]: 1) MSCs are easily obtained from multiple sources; 2) MSCs can home and engraft to injured tissues; 3) MSCs possess extensive proliferation potential and can differentiate into a wide variety of cell types; 4) MSCs have low immunogenicity and so can be transplanted successfully across immune barriers; and 5) the application of MSCs to patients has no ethical controversy.
In numerous animal studies, the physiological functions of MSCs have been well studied, especially the chemotaxis of MSCs. MSCs can selectively migrate to sites of tissue injury and exert an immunosuppressive activity by the secretion of anti-apoptotic, anti-inflammatory, and angiogenic factors, such as monocyte chemoattractant protein (MCP)-3, stromal-derived factor-1 (SDF-1), TGF-β1, vascular endothelial growth factor (VEGF), platelet derived growth factor (PDGF), and hepatocyte growth factor (HGF). This stimulates angiogenesis, building a protective environment for host cell recovery and thus preserving or even rescuing injured tissue from destruction [11–13]. Experimental studies have revealed that MSCs may have great therapeutic potential in several clinical diseases, including myocardial infarction, acute lung injury (ALI), acute respiratory distress syndrome (ARDS), and hepatic failure [14–16]. In 2012, MSC product approval was gained for the treatment of pediatric graft-versus host disease (GVHD) in New Zealand and Canada (Prochymal®; Osiris Therapeutics) [17]. Three years later in Japan, Temcell HS Injection, the same MSC product for treatment of acute GVHD, was the first allogeneic product to receive full approval [18]. In 2016, MSCs were even recommended as third-line treatment for grade II–IV acute GVHD in guidelines from the British Committee for standards in hematology [19]. With this great progress it is certain that MSC therapy will have a bright future.
MSC-based therapy for RILI
Conclusion
RILI is a major and deadly clinical complication of radiotherapy in thoracic malignancies. The quality of life and overall survival in patients with RILI is reduced. In the clinic, steroids are still the treatment mainstay for RILI. As increased academic research has produced more papers on MSCs, some scholars have attempted to treat RILI using MSCs, and have demonstrated that MSCs could alleviate radiation pneumonitis and RILF. In addition, since MSCs can migrate to the injured lungs, they can also act as cell therapy vehicles for treating RILI.
However, it is difficult to gather enough MSCs and to keep enough time of them at the injury site. MSC senescence could impair their proliferation and differentiation potential [50]. In terms of RILI, we still need to evaluate the safety of MSC therapy, and a considerable number of studies are needed to evaluate the optimal dosage, time, and route of administration. Furthermore, the therapeutic effect of MSCs in experimental animals does not always show satisfying results. Treatment effects enhanced with therapeutic genes modified by MSCs are becoming the future trend of development. Thus, seeking out a powerful therapeutic gene is a key point. In addition to this, MSCs from different sources have different characteristics. Which one is more appropriate in cell therapy? In conclusion, MSC therapy has great potential for managing RILI; however, there is still a long way to go before it will be used in clinical practice.
Abbreviations
AD-MSC:

Adipose tissue-derived mesenchymal stem cell
ALI:

Acute lung injury
ARDS:

Acute respiratory distress syndrome
EMT:

Epithelial-to-mesenchymal transition
GVHD:

Graft-versus-host disease
hBM-MSC:

Human bone marrow-derived mesenchymal stem cell
HGF:

Hepatocyte growth factor
IL:

Interleukin
KGF:

Keratinocyte growth factor
MSC:

Mesenchymal stem cell
RILF:

Radiation-induced lung fibrosis
RILI:

Radiation-induced lung injury
RIPF:

Radiation-induced pulmonary fibrosis
ROS:

Reactive oxygen species
SOD:

Superoxide dismutase
TGF:

Transforming growth factor
TNF:

Tumor necrosis factor
UC-MSC:

Umbilical cord-derived mesenchymal stem cell
VEGF:

Vascular endothelial growth factor
Declarations
Acknowledgements
The authors thank Dr. Hongwei Lv, Eastern Hepatobiliary Surgery Institute, Second Military Medical University, for help with the review.
Funding
This review was supported by the China National Natural Science Foundation (no. 81502751) and the Jilin Province Science and Technology Development Plan (item 20150101141JC).
Availability of data and materials
Not applicable.
Authors' contributions
TX was responsible for writing the first draft of the manuscript. YZ, PC, and SG were responsible for a critical review of the manuscript. LS and LD were responsible for the concept of the review. All authors read and approved the final manuscript.
Authors' information
Not applicable.
Ethical approval and consent to participate
Not applicable.
Consent for publication
Not applicable.
Competing interests
The authors declare that they have no competing interests.
Publisher's Note
Springer Nature remains neutral with regard to jurisdictional claims in published maps and institutional affiliations.
Open AccessThis article is distributed under the terms of the Creative Commons Attribution 4.0 International License (http://creativecommons.org/licenses/by/4.0/), which permits unrestricted use, distribution, and reproduction in any medium, provided you give appropriate credit to the original author(s) and the source, provide a link to the Creative Commons license, and indicate if changes were made. The Creative Commons Public Domain Dedication waiver (http://creativecommons.org/publicdomain/zero/1.0/) applies to the data made available in this article, unless otherwise stated.
Authors' Affiliations
(1)
Department of Radiation Oncology, The First Bethune Hospital of Jilin University, Changchun, China
(2)
Key Laboratory of Radiobiology, Ministry of health, School of Public Health, Jilin University, Changchun, China