Bone tissue engineering with human stem cells
Stem Cell Research & Therapy
2010
1:10
Abstract
Treatment of extensive bone defects requires autologous bone grafting or implantation of bone substitute materials. An attractive alternative has been to engineer fully viable, biological bone grafts in vitro by culturing osteogenic cells within three-dimensional scaffolds, under conditions supporting bone formation. Such grafts could be used for implantation, but also as physiologically relevant models in basic and translational studies of bone development, disease and drug discovery. A source of human cells that can be derived in large numbers from a small initial harvest and predictably differentiated into bone forming cells is critically important for engineering human bone grafts. We discuss the characteristics and limitations of various types of human embryonic and adult stem cells, and their utility for bone tissue engineering.
Keywords
Adult Stem CellEmbryoid BodyBone Tissue EngineeringPorous ScaffoldOsteogenic Cell
Clinical need for bone grafting
Bones are organs of the skeletal system, providing shape, mechanical support and protection to the body, and facilitating movement. In addition, bones contribute to the mineral homeostasis of the body and have recently been found to participate in endocrine regulation of energy metabolism [1]. During development, bones form by two distinct processes [2]: intramembraneous and endochondral ossification. In intramembanous ossification, cells of the condensed mesenchymal tissue differentiate into osteoblasts and directly form bone. In contrast, endochondral ossification involves the formation of cartilaginous anlage, which then undergoes calcification and invasion by blood vessels, resulting in the formation of new bone by mesenchymal stem cells [3].
Adult bones are supplied by blood and constantly undergo remodeling, which allows adaptation to mechanical stresses, maintenance of bone health, and repair of small injuries. A recent study demonstrated very elegantly that the coupling between osteoclastic bone resorption and osteoblastic bone formation is needed to maintain bone health, and that both processes are mediated by tumor growth factor-β [4]. Similarly, coordinated responses of bone tissue, bone marrow, periosteum and surrounding soft tissues are needed for bone repair, which involves elements of both endochondral and intramembranous ossification [5]. A tight control of the balance between bone formation and resorption determines normal turnover of bone tissue throughout the lifetime.
Frequently, clinical situations arise where extensive injury, congenital malformations or diseases cause large bone defects, and reconstruction with tissue grafting is needed. Autologous grafts contain the essential components of bone regeneration - osteogenic cells, osteoinductive growth factors and bone-supporting matrix - but are not readily available in every situation. Other limitations include morbidity at the donor site (which often heals more slowly than the repair site) and difficulties in preparing anatomically shaped grafts from the harvested bone. Alternatives, including allogeneic bone transplantation, have their own limitations, such as tissue matching, disease transmission, batch variability, and an inability to survive and integrate following implantation [6]. Additionally, the large variability in bone defects, the huge complexity of bone architecture, and the high metabolic activity of bone, necessitating immediate blood supply, motivate the development of new treatment strategies [7].
Engineering viable human bone in vitro
Current models of bone formation
in vitro
are based on the paradigm that cellular differentiation and function can be modulated by the same factors known to play a role during embryonic development [
8
]. In order to engineer an environment supporting bone formation, combinations of biochemical and biophysical signals need to be presented to the cells in a three-dimensional setting in a way that allows cellular interactions with the surrounding cells and extracellular matrix (Figure
1
, left). The complexity of signaling - with temporal and spatial gradients of molecular and physical factors affecting bone morphogenesis - presents significant challenges to engineering fully viable, functional bone.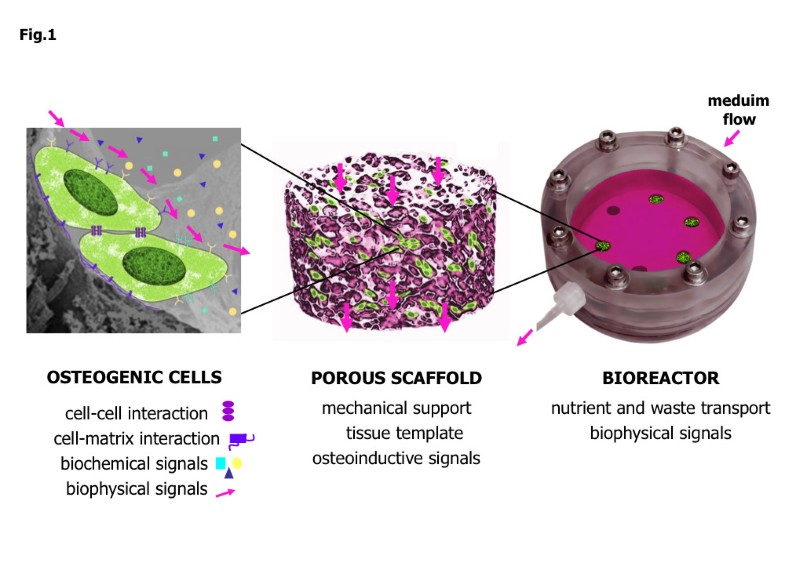 One key component of the in vitro bone model is the scaffold, which provides a structural and logistic template for the developing tissue, and can markedly affect cell behavior (Figure 1, middle). Several types of porous scaffolds have been shown to support in vitro bone formation by human cells, including those made of ceramics [9, 10], native and synthetic polymers [11, 12] and composite materials [13].
Scaffold properties important for bone formation include: the size, distribution and shape of the pores [14]; surface roughness [15]; the presence of cell attachment sites [16]; and the biomechanics of both the material [17] and the scaffold structure. In general, the most suitable scaffolds for bone formation are those with large and interconnected pores (which facilitate cell infiltration and matrix deposition) and rough inner surfaces (which facilitate cell attachment), made of osteoconductive materials (such as bone protein and hydroxyapatite), and with mechanical properties similar to those of native bone (both to enable load-bearing and stimulate osteogenesis). Additional features of interest include anisotropic structure, capacity for vascularization, and processability into anatomically correct shapes. Scaffolds can also incorporate and modulate delivery of molecular signals controlling cellular functions [18].
Another key component of bone tissue engineering is the culture system or bioreactor. Bioreactor systems can be designed to control transport of nutrients and oxygen to cells in clinically sized constructs and provide lineage-specific biological stimuli in various regions of the graft [19]. Additionally, the development of functional, load-bearing characteristics of the graft would be enhanced by the application of biophysical stimulation in order to attain mechanical competence in both the cartilage and bone regions.
Advanced bioreactor designs maintain the physiological milieu in the cell microenvironment (pH, temperature, oxygen and nutrient delivery) by perfusion and conditioning of culture medium (Figure 1, right). Bioreactors can also be designed to recapitulate one or more of the developmentally relevant biophysical signals in a time-controlled manner. For example, increased mass transport and fluid shear by medium perfusion [20–22], and cyclic loading [23] have been shown to improve osteogenesis and enable formation of homogenous bone constructs. Ideally, a bioreactor system should be capable of coordinating biological, physiological and mechanical stimuli, and applying them in a spatially and temporally controlled manner to provide lineage-specific stimulation within clinically sized grafts.
The clinical and scientific utility of tissue engineering largely depends on our ability to predictably direct cells to differentiate into the right phenotypes in a spatially and temporally defined pattern. The control of environmental conditions provided through the design of bioreactors - in conjunction with scaffolds - can help gain more insight into the interplay of molecular and physical factors that guide the development of bone from various types of osteogenic cells. Understanding of the developmental process may then serve as feedback to the optimization of engineering parameters toward better graft designs, and towards the use of engineered grafts as models of development and disease.
Sources of human osteogenic cells
There are several basic considerations when choosing a cell source for bone tissue engineering: the choice between the patient's own (autologous) cells or the use of another person's (allogeneic) cells; the availability and ease of tissue harvesting with minimal donor site morbidity; the efficiency of cell isolation and cell yield; the use of primary osteogenic cells with limited potential for proliferation, or self-renewing stem cells; the use of cells that have both osteogenic and vasculogenic potential, to support the formation of vascularized bone; the homogeneity of the obtained cell population and controllable induction of the osteogenic phenotype; phenotype stability and cell safety after implantation; and the possibility of automation and the development of quality control measures for the generation of cells and grafts.
In most cases, cells are isolated from a tissue harvest and expanded
in vitro
prior to bone construct preparation. An expansion step increases the number of osteogenic cells (approximately 70 × 10
6
osteoblasts are needed to form 1 cm3 of new bone) [
24
], but could also be used for selection and enrichment of the appropriate cell population(s). Cells with high biosynthetic activity are desirable for enhanced bone formation
in vitro
and subsequent integration with the host tissue. Stable expression of the osteogenic phenotype could aid bone regeneration, and is critical in order to avoid non-specific tissue development. Several clinical reports of cell-based tissue engineering approaches for bone regeneration are summarized in Table
1
.
Table 1
Overview of clinical studies in which tissue engineered grafts were applied for bone regeneration
Bone defect

Tissue-engineered graft preparation

Clinical evaluation

Reference

Segmental defects of long bones (3 patients)

Cultured bone marrow osteoprogenitors; seeding on hydroxyapatite scaffolds

Callus formation and integration 2 months after surgery

[91]

Large calvarial defect (1 patient)

Adipose stem cells in fibrin glue, with autologous cancellous bone

New bone formation and calvarial continuity 3 months after surgery

[92]

Maxillary sinus augmentation (2 patients)

Cultured mandibular periosteal cells; seeding and culture on polymer fleece under osteogenic conditions

Tight interface of bone and dental implant, new mineralized trabecular bone and remnants of biomaterial 4 months after surgery

[93]

Maxillary sinus augmentation (27 patients)

Cultured mandibular periosteal cells; seeding and culture on polymer fleece in osteogenic conditions

18 patients: presence of mineralized trabecular bone, remnants of biomaterial and no resorption 3 months after surgery

8 patients: absence of bone formation, resorption, connective tissue 3 months after surgery

1 patient: infection after surgery, removal of the graft

[94]

Posterior mandible augmentation (1 patient)

Mandibular periosteal cells on polymer fleece

Enhanced transverse ridge dimensions, dense lamellar bone 6 months after surgery

[95]

Maxillary sinus augmentation (13 patients)

Group 1: cultured mandibular periosteal cells; seeding and culture on collagen scaffold in osteogenic conditions (8 patients)

Group 1: vital woven and partially mature lamellar bone 6 months after surgery, little remaining biomaterial

[96]

Group 2a: cultured maxillary osteoblasts; seeding and culture on natural bone mineral scaffold (2 patients)

Group 2a: new bone and remnants of biomaterial at former sinus floor 8 months after surgery, poorly vascularized connective tissue, remnants of biomaterial

Group 2b: natural bone mineral scaffold alone (3 patients)

Group 2b: new bone and remnants of biomaterial 8 months after surgery; significantly lower bone density than in groups 1 and 2a

Maxillary sinus augmentation (20 patients)

Group 1: autologous iliac crest bone (10 patients)

Group 1: 29% bone resorption rate 3 months after surgery

[97]

Group 2: cultured mandibular periosteal cells; seeding and culture on polymer fleece in osteogenic conditions (10 patients)

Group 2: 90% graft resorption rate 3 months after surgery, graft density corresponding to connective tissue in all but one augmentation

Maxillary sinus augmentation (3 patients)

Cultured mandibular periosteal cells; seeding and culture on polymer fleece in osteogenic conditions; implanted with xenograft bone

New fibrous bone and remnants of xenograft bone 4 months after surgery; some maturation into lamellar bone; presence of osteoclasts 6 months after surgery; increased bone height 18 months after surgery

[98]

Maxillary sinus augmentation (7 patients)

Cultured bone marrow stem cells seeding and 1-day culture on calcium phosphate ceramic scaffold

New bone formation and remnants of biomaterial 3 months after surgery; increased bone height 3 and 12 months after surgery

[99]

Lumbar segmental fusion (24 patients)

Group 1: autologous iliac crest cancellous bone (11 patients)

Group 2: cultured mandibular periosteal cells; seeding and culture on polymer fleece in osteogenic conditions (13 patients)

Lower donor site morbidity in group 2; higher fusion rate in group 2 compared to group 1 in the period 3 to 9 months after surgery; comparable clinical and radiological results (80% fusion in group 1, 90% fusion in group 2) 12 months after surgery

[100]
Future prospects, clinical translation and regulation
In addition to scientific challenges, several manufacturing, safety and regulatory issues need to be addressed before cell-based therapies can become routine clinical practice for the treatment of bone defects. Recently, the conditions allowing clinical scale production of cells for therapeutic purposes have been evaluated, including the possibility of automated culture [84, 85]. Functional and structural criteria for bone grafts are not yet fully established, and might vary depending on the therapeutic purpose. In pre-clinical studies, load-bearing large animal models should generally be used to assess graft functionality, as research on small animals does not give relevant results due to major differences in graft size and healing properties.
Cell-based products are those requiring cell isolation, proliferation and differentiation, as well as application of supporting scaffolding materials. Under European Union regulations, cell-based products need to be manufactured in good manufacturing practice facilities under classic pharmaceutical standards [86, 87]. The regulation of cell-based products falls under the categories of 'human cell, tissue, and cellular and tissue based products' [88, 89] in the USA, and 'advanced cell therapies' in Europe as defined in [86]. In addition, the International Society for Stem Cell Research published Guidelines for the Clinical Translation of Stem Cells[90], which highlight the scientific, clinical, regulatory, ethical, and social issues to be addressed for cell-based products and services. These documents address the safety and use of therapeutic cells, and regulate the necessary evaluations and permissions for the sourcing of material, especially for cells of allogeneic origin (patient information, genetic and infection screening, written informed consent for donors).
As a general principle, stem cell-based approaches should be clinically competitive or superior to existing therapies. The risks of using cell-based products should be carefully evaluated with respect to the benefits of enhanced functional outcome, application of one single procedure, reduction of cost, and improved quality of life. Clinical trials should be based on a clear rationale and justification of the procedure (with supporting preclinical data and comparisons to existing treatments), and should include characterization of the product, description of administration (including drugs and surgery) and plans for clinical follow-up and adverse events reporting.
Conclusions
Tissue-engineered bone constructs have the potential to alleviate the demand arising from the shortage of suitable autograft and allograft materials for augmenting bone healing. They also can serve as controllable in vitro models of high biological fidelity for studies of bone development, disease or regeneration. Each of the sources of osteogenic human cells - primary cells, MSCs, ESCs and induced pluripotent stem cells - has distinct advantages when used for bone tissue engineering, and the quest for an 'ideal' cell source is still in progress.
Technologies are critical for unlocking the full biological potential of any cell type. To this end, advanced scaffolds (with molecular, structural and mechanical properties designed to mimic bone) and bioreactors (with environmental control and biophysical signaling for enhanced osteogenesis) are being developed to engineer bone grafts and to test the osteogenic capacity of stem cells. Because bone is a vascularized tissue that is actively remodeled through coordinated sequences of bone growth and resorbtion, the requirements are much more complex than 'just' the formation of mineralized bone matrix. The need for a vascular compartment, as well as for coordinated activity of osteoblasts and osteoclasts, pose major challenges to directed differentiation of stem cells. Ongoing research is advancing from the ability to engineer centimeter-size bone tissue constructs containing viable cells and mineralized matrix to engineering more complex tissue constructs that more closely resemble native bone. It remains to be seen how much can be done (and needs to be done) in vitro to obtain bone grafts for implantation, and to study disease and screen cells and therapeutic agents.
Abbreviations
ASC:

adipose stem cell
BMSC:

bone marrow mesenchymal stem cell
ESC:

embryonic stem cell
MSC:

mesenchymal stem cell.
Declarations
Acknowledgements
We would like to thank Nebojsa Mirkovic for helping with the figures. This work was supported by the New York Stem Cell Foundation (Darja Marolt is a NYSCF - Stanley and Fiona Druckenmiller fellow), National Institutes of Health (DE16525-01 and EB002520 to Gordana Vunjak Novakovic), and the Ministry of Higher Education, Science and Technology Republic of Slovenia (ARRS-SLO L4-6325-0106-06, 3211-06-000539, P3-0371 to Miomir Knezevic).
Authors' Affiliations
(1)
Department of Biomedical Engineering, Columbia University, New York, USA
(2)
Bloood Transfusion Centre of Slovenia, Ljubljana, Slovenia
Copyright
© BioMed Central Ltd 2010