Force-dependent cell signaling in stem cell differentiation
Stem Cell Research & Therapy
2012
3:41
Published: 31 October 2012
In the stem cell niche, stem cells receive biochemical and biophysical signals, which dictate the cell fate in development or regeneration. These cues have been demonstrated to be crucial in directing stem cell differentiation in numerous studies. Stem cell differentiation using biochemical cues, such as growth factors or small molecule inhibitors, has been extensively studied. Mean-while, inducing stem cell differentiation using biophysical signals is not well understood and has recently been attracting attention. Breakthroughs in research have highlighted the significance of mechanotransduction in stem cell differentiation. Biophysical signals can be transduced into changes in cell biochemistry through mechanotransduction of interactions with the extra-cellular matrix (ECM) substrate, or interactions with neighboring cells; in specific cases, fluid flow forces are also involved in altering cell biochemistry. Examples of these biophysical cues are illustrated in Figure
1
. Biophysical cues can be controlled by manipulating substrate stiffness [
1
], by ECM patterning techniques to confine cell shape [
2
], by modifying surface topography [
3
,
4
], or by applying external forces (compressive, tensile or shear force) [
5
].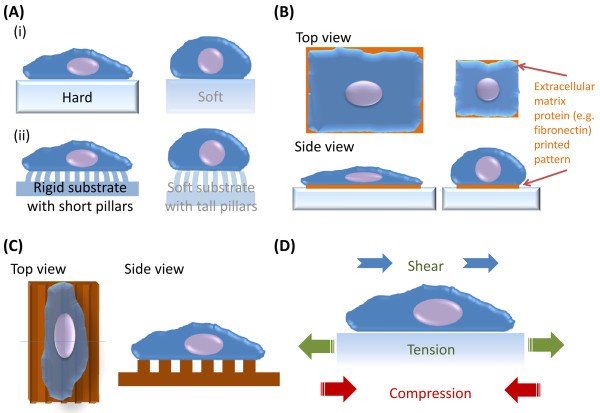 Mechanotransduction involves a complex interplay of different cellular organelles and components, which by themselves are highly dynamic in vivo [6]. However, advancement in experimental techniques has helped to provide increasing evidence about the mechanisms and the cellular components such as the integrins, focal adhesions (FAs) and cytoskeleton organization that collectively play important roles in biophysically induced cellular behaviors [6–8].
Nonetheless, the underlying mechanism of biophysically induced stem cell differentiation remains unclear. Collective research efforts have revealed several key signaling components involved in mechanically induced differentiation. While various indirect and physiochemical mechanisms such as calcium signaling [9] and mechanosensitive ion channels [10] have been studied, in this review we will focus on FAs and cytoskeletal contractility, Rho GTPase signaling and nuclear regulation. We will briefly introduce the important components of the mechanotransduction machinery, and the recent discoveries in force-dependent stem cell differentiation. The general overview of mechanical control of stem cell differentiation has been discussed in a few excellent reviews [5, 11–13]. For details of mechanotransduction in cell regulation, readers can refer to reviews by Vogel and Sheetz [14, 15].
(1)
Mechanobiology Institute Singapore, National University of Singapore, T-Lab, #05-01, 5A Engineering Drive 1, Singapore, 117411, Singapore
(2)
Department of Bioengineering, National University of Singapore, EA-03-12, 9 Engineering Drive 1, 117576, Singapore
(3)
Department of Surgery, National University of Singapore, NUHS Tower Block, Level 8, 1E Kent Ridge Road, Singapore, 119228
(4)
Department of Biological Sciences, Columbia University, 1212 Amsterdam Ave, New York, NY 10027, USA
© BioMed Central Ltd 2012