Recreating the female reproductive tract in vitro using iPSC technology in a linked microfluidics environment
Stem Cell Research & Therapy
2013
4(Suppl 1):S13
Published: 20 December 2013
Abstract
The female reproductive tract produces hormones for reproductive function and cardiovascular, bone and sexual health; the tract supplies a finite number of gametes, and it supports fetal development. Diseases that affect each of the female reproductive tract organs, along with treatments that have direct, deleterious effects on the reproductive tract (for example, chemotherapeutics), are understudied due to the lack of model systems that phenocopy in vivo function. This review describes a path toward developing female reproductive tract mimics. The models use isolated primary support cells cultured onto a biological scaffold and within a microfluidic system to create a niche and support the desired differentiation of epithelia, germ and somatic cells from patient-derived induced pluripotent stem cells. Improving our fund of knowledge about reproductive tract biology and creating reproductive organs for patients who have lost gonadal, uterine or vaginal/ cervical function is a major step forward in women's health and an important advancement in personalized medicine.
Keywords
Fallopian TubeReproductive TractMicrofluidic SystemiPSCPrimordial Germ Cell
Introduction
The female reproductive tract produces hormones, supplies gametes and supports embryos through fetal development. Understudied and poorly understood diseases, including those contracted through sexual transmission, benign tumors and cancers, develop in or affect each of the female reproductive tract organs [1–4]. Advances in bioengineered tissue mimetics, including three-dimensional ovarian follicle culture, represent an important new avenue of investigation in the study of normal reproductive function and the regeneration of diseased tissues [5]. Great headway has been made in induced pluripotent stem cell (iPSC) derivation from human somatic cells for many organs, and new methods have been employed to derive these cells without integration of viral vector or transgene sequences [6–8]. Utilizing iPSCs to create the reproductive tract organ mimics would allow for new drug testing, and could provide personalized regenerative treatment options that restore fertility and/or endocrine function.
Recreating the female reproductive tract
The female reproductive tract organs are dynamic and require synchronization of movement and differentiation to guide ovulated oocytes, prepare for implantation and nurture a fetus to develop as an independent organism. It is necessary not only to see these organs as unique entities, but also as one cohesive system (Figure
1
). Recently developed high-throughput drug screens utilize three-dimensional systems-level models that incorporate microfluidics to create a microenvironment that chemically and physically imitates the desired system (reviewed in [
9
]). Likewise, it is important to develop reproductive organs in a connected microfluidic system in order to provide the sequence of hormones that control biological function in a dynamic manner. Additionally, nonreproductive tract effects of the endocrine hormones produced by the ovaries are important to program into other organ systems in order to ensure normal function. Thus, while we have focused on the role of female sex hormones on the adjacent reproductive tissues, it is important to keep in mind the impact of the overall influence of estrogens and progesterones on all tissues of the body [
10
].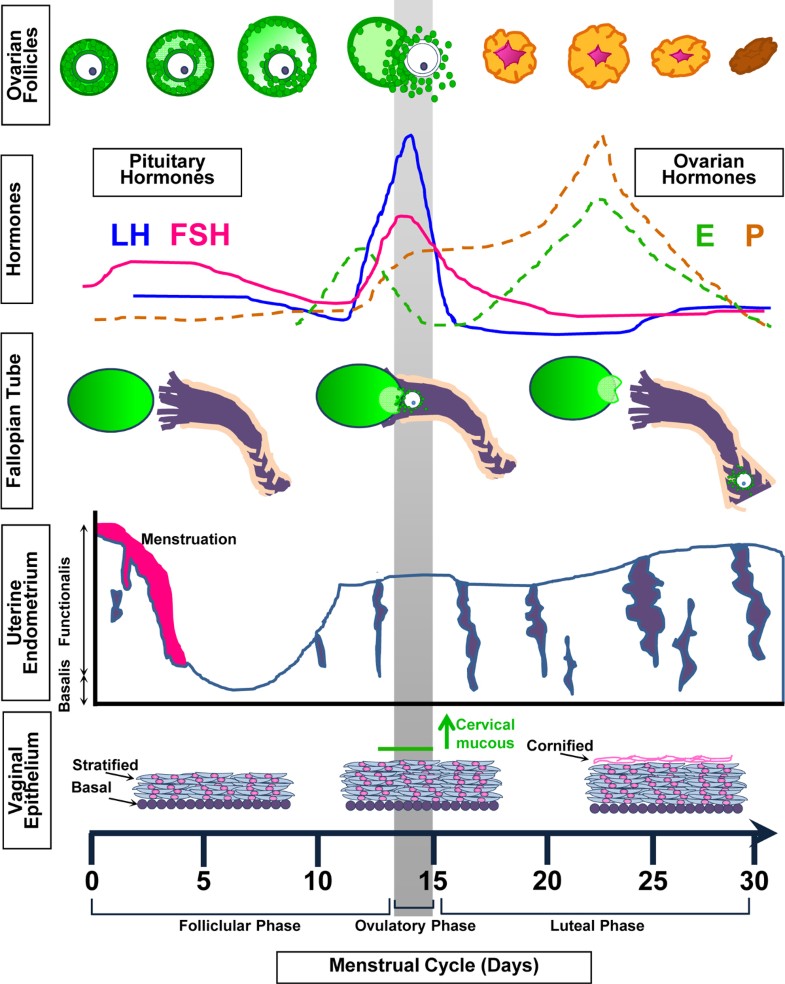 Each section below describes how the dynamic cell type within each female reproductive tract tissue could be replaced by patient-derived iPSCs that have been differentiated by the paracrine factors and cytokines of the supportive cell type or niche. A representative schematic is shown in Figure
2
.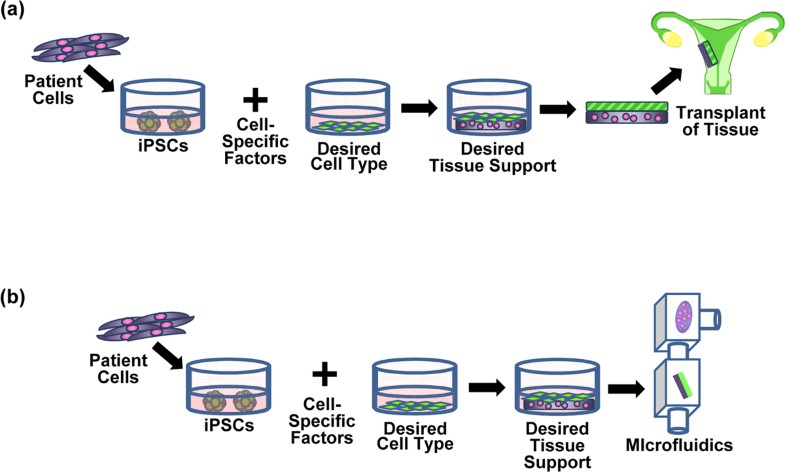 Female reproductive tract organ mimics
Significance
The studies and concepts described here support the rationale for developing reproductive tract mimics. To create an ideal reproductive tract mimic, each tissue niche needs to be developed in order to support iPSC differentiation into the appropriate cell type. Given the hormonal response profile of these tissues, a microfluidic system is warranted. Establishing tissue banks of biopsies collected from both healthy and diseased patient tissues at various points in the menstrual cycle will provide a wide range of biological/fertility/infertility mimics.
The future of medical technology for the female reproductive tract will rely on the ability to accurately mimic these dynamic tissues in a system that can be adapted for genetic variations and diseased models, and can be replicated for high-throughput screens. While this concept may seem futuristic, recent advances in iPSC and microfluidic technologies indicate that organ mimic development is on the horizon to satisfy the urgent unmet needs of patients.
Abbreviations
iPSC:

induced pluripotent stem cell.
Declarations
Acknowledgements
Funding for this review, and the costs of its publication, is supported by UH2 ES022920. A full version of this manuscript (length of review limited to 1,500 words) can be found at http://www.woodrufflab.org.
Declarations
Publication of this supplement has not been supported by sponsorship. Articles have undergone the journal's standard review process. The Editors declare that they have no competing interests.
This article has been published as part of Stem Cell Research & Therapy Volume 4 Supplement 1, 2013: Stem cells on bioengineered microphysiological platforms for disease modeling and drug testing. The full contents of the supplement are available online at http://www.stemcellres.com/supplements/4/S1.
Authors' Affiliations
(1)
Division of Reproductive Biology, Department of Obstetrics and Gynecology, Feinberg School of Medicine, Northwestern University,, Chicago, USA
(2)
Department of Medicinal Chemistry and Pharmacognosy, College of Pharmacy, University of Illinois at Chicago,, Chicago, USA
Copyright
© BioMed Central Ltd 2013