Cancer stem-like cell: a novel target for nasopharyngeal carcinoma therapy
Stem Cell Research & Therapy
2014
5:44
Abstract
Nasopharyngeal carcinoma (NPC) is the most common cancer originating in the nasopharynx, and is extremely common in southern regions of China. Although the standard combination of radiotherapy and chemotherapy has improved the efficiency in patients with NPC, relapse and early metastasis are still the common causes of mortality. Cancer stem-like cells (CSCs) or tumor initial cells are hypothesized to be involved in cancer metastasis and recurrence. Over the past decade, increasing numbers of studies have been carried out to identify CSCs from human NPC cells and tissues. The present paper will summarize the investigations on nasopharyngeal CSCs, including isolation, characteristics, and therapeutic approaches. Although there are still numerous challenges to translate basic research into clinical applications, understanding the molecular details of CSCs is essential for developing effective strategies to prevent the recurrence and metastasis of NPC.
Keywords
Epidermal Growth Factor ReceptorCancer Stem CellSide PopulationSide Population CellCyclopamine
Introduction
Nasopharyngeal carcinoma (NPC) is a distinct malignancy of the nasopharynx, the uppermost region of the pharynx. NPC is highly prevalent in southern China and southeastern Asia (incidence is between 25 and 50/100,000), but is rare in the United States and most other nations (incidence < 1/100,000) [1]. More than 90% of NPC patients are initially diagnosed as type II or type III undifferentiated and nonkeratinizing carcinoma [2]. Epstein–Barr virus (EBV) infection, environment and diet, and genetic factors all contribute to the development of NPC [3].
Radiotherapy or combined chemoradiotherapy shows a cure rate >90% in patients with early-stage NPC [4], but significant rates of distant relapse and metastasis still occur in patients after radiotherapy or chemoradiotherapy. Although much progress has been gained in recent years, the 5-year survival rate is only 50 to 60% [5]. The leading cause of mortality is attributed to local recurrence and metastasis. Although numerous molecular targeting agents have been developed due to deeper understanding of the disease progression, local recurrence still occurs in 15 to 58% [6], and the rate of nasopharynx and cervical lymph node recurrence is between 12.0 and 22.0% of patients who underwent standard chemotherapy and radiotherapy treatment during 5 years [7]. Thus it is crucial to develop effective strategies to attack cancer cells that become resistant to current chemotherapy.
In recent years, one of the major mechanisms for post-therapeutic recurrence of NPC has been suggested by the cancer stem-like cell (CSC) proposition [8–10]. According to the CSC model, cancers are hierarchically organized similar to normal tissues and cancer growth and progression are driven by a small subpopulation of tumor cells with stem cell-like properties, the CSCs. This rare cell subpopulation is responsible for tumor initiation, maintenance and regeneration. CSCs have been identified in various human malignancies such as brain cancer [11], breast cancer [12], colon cancer [13, 14], pancreatic cancer [15, 16], and so forth.
In this paper we will summarize the studies on NPC CSCs, including isolation, characteristics, and therapeutic approaches.
Experimental evidence for nasopharyngeal carcinoma cancer stem-like cells
Recent investigations into NPC CSCs are summarized in Table
1
.
Table 1
Reports of expression/functional profiles recently found to identify putative human nasopharyngeal cancer stem-like cells
Expression/functional profile

Cells/tissues studied

Characteristics of cancer stem cell identity

Label-retaining cells

5-8 F, 6-10B and TMNE

Increased clonogenicity, tumor formation in mice at low titers [16, 17]

Label-retaining cells (PKH26+)

CNE1, CNE2, SUNE1, and HONE1

Longevity, sphere formation, side population cells, and resistance to radiotherapy [18]

Side population cells

CNE-2

Strong tumorigenesis ability, more resistant to chemotherapy and radiotherapy, cytokine 19 positive [24]

Side population cells (ABCG2+)

5-8 F

ABCG2 alone is not sufficient, PSCA, ABCG2 and ALP were expressed in ABCG2+ cells, and K19, integrin α6, integrin β4, CD44 and K14 were expressed in ABCG2− cells [25]

ALDH1high cells or ALDH1A1

5-8 F and CNE2

High ALDH1 activity, higher clone formation efficiency, differentiation capability and higher migration, enhanced capacities of growth, proliferation, and tumorigenesis,5 to 103 ALDH1high NPC cells required to induce tumors, vimentin+, and E-cadherin−,OCT4, SOX2 and Nanog+[27, 28]

C666-1

Significantly greater ability to proliferate, be clonogenic, resist chemotherapy drugs and radiation, and express pluripotent markers, tumor formation at a higher rate [29–31]

CD44+

5-8 F, C666-1

CD133+

CNE2 and primarily cultured NPC cells

Nanog+ and Sox2+, a strong potential for self-renewal, sphere formation, proliferation and differentiation and a greater potential for in vivo tumor formation in nude mice [39]

Sphere-forming cells

C666-1

CD44+ and SOX2+, higher spheroid formation efficiency, resistant to chemotherapeutic agents, CCR7+ associated recurrent disease and distant metastasis [48]
Model on origin of nasopharyngeal carcinoma cancer stem-like cells
The origin of CSCs is still controversial. Several hypotheses indicate that their origin may be heterogenic (Figure
1
).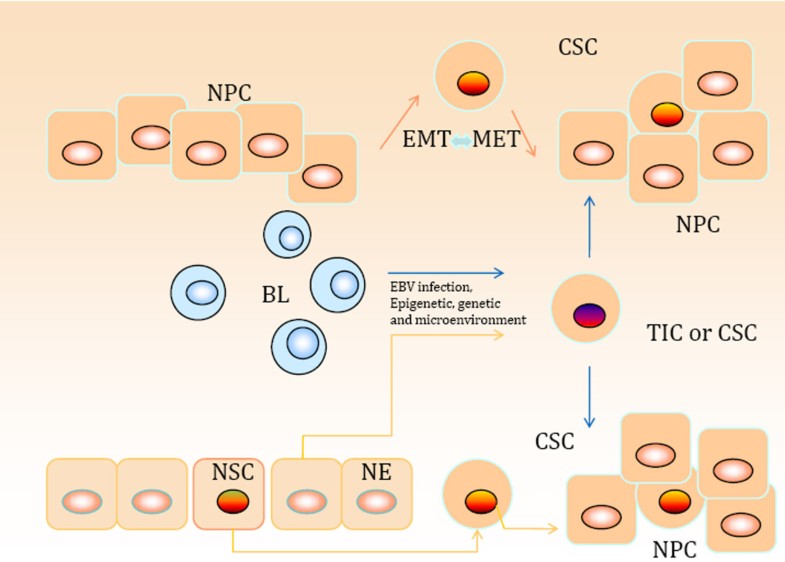 Loss of differentiation of nasopharyngeal mucosa B lymphocytes or epithelial cells
NPC is predominantly undifferentiated and nonkeratinizing. The vast majority of cases of this cancer reveal not only varying degrees of squamous differentiation, but also more or less preserved traces of the columnar cell differentiation under electron microscopy. In other words, NPC is a kind of biphasic malignant tumor with squamous differentiation with a slight advantage [50]. EBV genome analysis in the tumor cells shows that only one fusion terminal fragment exists, suggesting that viral DNA of all NPC cells is homologous and originates from the same clone proliferation [51]. Viral DNA present in the EBV-infected lymphocytes infiltrated inside the tumor can be easily traced by polymerase chain reaction amplification [52, 53]. One may therefore suggest a hypothesis: B lymphocytes are not terminally differentiated cells or the B-cell terminal differentiation capacity can be reversed by the role of a certain factor, and then by the nasopharyngeal mucosa. B lymphocytes may be the progenitor cells of NPC. However, there is still no evidence to support this hypothesis.
EBV-encoded small RNA signals were also recently detected in the nuclei of NPC cells, and occasionally in a limited number of infiltrating lymphocytes by quantum-dot fluorescent in situ hybridization [54]. In fact, the nasopharyngeal epithelial cells with some prior genetic changes are prone to transformation, and then premalignant lesions and the concurrent detection of dysplasia and invasive carcinoma of epithelial cells occur. The viral episome is maintained in the infected epithelial cell, which continues to proliferate and does not differentiate [50]. This means that the transformation of nasopharyngeal epithelial cells with genetic modifications attacked by EBV may also be the origin of NPC CSCs.
Epithelial–mesenchymal transition induces cancer stem/progenitor-like cells
Evidence has been found that the principal oncoprotein of EBV, latent membrane protein 1 (LMP1) [55] – which is associated with human malignancies, especially NPC – promotes tumor cell invasion and metastasis, as well as the EMT. Horikawa and colleagues [55] reported that LMP1 induces the CD44highCD24low CSC/CPC-like phenotype as well as self-renewal abilities in LMP1-expressing epithelial NPC cell lines. LMP1 increased the expression of several CPC markers as well as producing increased levels of EMT markers. These findings indicate that LMP1 can induce CPC-like properties in epithelial cells and suggest that LMP1-induced phenotypic changes contribute to the development of NPC. At the apex of the hierarchy are primitive rare CSCs, which possess extended self-renewal capabilities that allow the cells to perpetuate themselves and develop into CPCs. These CPCs have only limited self-renewal abilities and can, in turn, differentiate into various types of cancer cells. In vivo, the primitive rare CSCs rarely divide, whereas CPCs proliferate rapidly. In addition, latent membrane protein 2a also has similar roles in inducing EMT [56, 57].
Induction of EMT in tumor cells not only promotes tumor cell invasion and metastasis, but also contributes to drug resistance [25, 58–61]. These processes are consistent with the acquisition of a CSC phenotype that is also known as stemness characteristics [62]. Although CSCs may form in such a way, EMT acts as part of the process and mesenchymal cells partly have the properties of cancer stem cells.
Originating from normal stem cells
CSCs share similar properties with normal stem cells, such as a long lifespan, induction of angiogenesis, resistance to apoptosis, ability for self-renewal and differentiation, expression of stem cell markers, and so forth [46]. Normal nasopharyngeal stem reserve cells of columnar epithelium and the basal cells of squamous epithelium stem cells, especially basal cell foci of squamous metaplasia, have been considered the origin of NPC cells. Zhang and coworkers first described the identification of stem-like cells in normal mouse nasopharyngeal epithelium with the well-established LRC approach [17]. EBV infection, environment and diet, and genetic factors can promote the transformation and abnormal differentiation of normal stem cells, which may be a derivative of NPC CSCs.
Therapeutic approaches targeting nasopharyngeal cancer stem-like cells
Ongoing studies show that targeting CSCs may be a quite promising strategy. Based on the properties of NPC CSCs, many attempts have been developed to target NPC CSCs specifically (Figure
2
).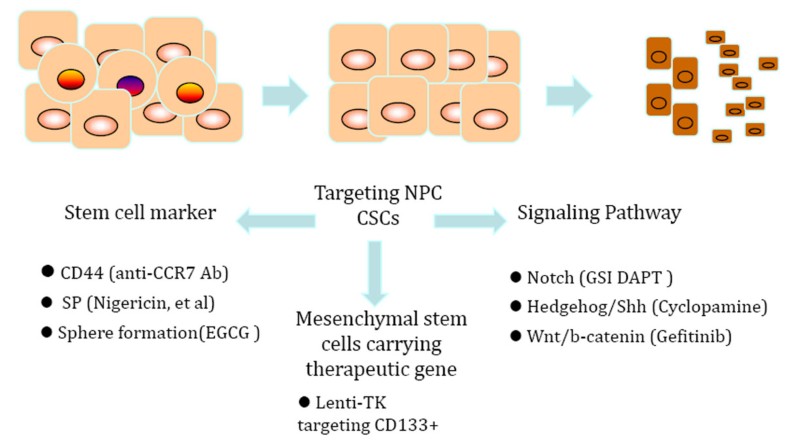 Nigericin was recently reported to target CSCs selectively and to sensitize CSCs in NPC to the widely used clinical drug cisplatin both in vitro and in vivo. Nigericin decreased the SP percentages in S18 cells (higher metastatic ability) and S26 cells (much lower metastatic ability) derived from the NPC cell line CNE-2. The downregulation of the polycomb group protein Bmi-1 was found to contribute to the inhibitory effect of nigericin on CSCs [41]. Blocking of CCR7 with anti-CCR7 antibody abolished the sphere-forming ability of C666-1 in vitro[49].
Shen and colleagues found that resveratrol impeded CSC properties through the activation of p53 and this effect could be reversed by knockdown of p53. Furthermore, resveratrol suppressed the stemness and EMT through reactivating p53 and inducing miR-145 and miR-200c, which were downregulated in NPC CSCs [63]. Epigallocathechin gallate, the most abundant catechin in green tea, has been reported to regulate NPC CSCs and their self-renewal capacity, and inhibited their invasive characteristics [64]. Smac mimetics in combination with TRAIL selectively target cancer stem cells, reduce the percentage of SP cells, inhibit colony-forming and sphere-forming abilities, and eliminate NPC stem cells in xenograft mice [65].
Notch signaling is important for the self-renewal and maintenance of stem cells. In cancer stem cells, the signaling pathway commonly is activated. Yu and colleagues reported that the Notch inhibitor, (N-((3,5-difluorophenyl)acetyl)-l-alanyl-2-phenyl)glycine-1,1-dimethylethyl ester, could reduce the proportion of SP cells from the NPC cell line CNE1,2 [66] . This ester inhibited NPC cell proliferation, depleted SP cells, reduced colony formation, and tumor formation of xenograft in immune-deficient nude mice, and induced apoptosis of NPC cells. This study shows that Notch pathway inhibition may be a promising clinical approach in CSC-targeting therapy for NPC.
The epidermal growth factor receptor pathway plays a critical role in regulating CSCs [67]. The effects of epidermal growth factor receptor on maintaining CSCs are mainly mediated by AKT signaling, and β-catenin is responsible for governing CSC properties in response to epidermal growth factor receptor/AKT activation. Tumor cells derived from cisplatin-treated mice grew rapidly, whereas regrowth of tumor cells from gefitinib-treated mice was severely diminished. Expression of epidermal growth factor receptor correlates with expression of β-catenin and nanog in primary tumor specimens from NPC patients. These findings provide mechanistic and preclinical evidence supporting the use of gefitinib alone or in combination with a chemotherapeutic agent in the therapy for patients with NPC. Targeting β-catenin is suggested to represent a rational clinical strategy for CSCs harboring activated epidermal growth factor receptor or AKT.
The hedgehog pathway, a pathway implicated in the maintenance of stem cells, is activated by the binding of a hedgehog ligand (Sonic hedgehog) to the transmembrane protein receptor Patched, releasing the inhibition of Smoothened and then activating downstream signaling components and Gli-mediated transcription of target genes. EBV activates the hedgehog signaling pathway through autocrine induction of Sonic hedgehog ligand [68, 69]. Blocking the pathway with cyclopamine, a specific inhibitor of the Sonic hedgehog signaling pathway, reduced the proliferation of NPC epithelia cell lines and induced the apoptosis of NPC cells.
Conclusion and future perspectives
From the biological behavior of the EBV and nasopharyngeal cancer-specific cell surface markers, we hypothesized that the generation of NPC may be derived from undifferentiated clonal expansion of B lymphocytes or dedifferentiation of epithelial nasopharynx by EMT reprogramming or mutation of normal nasopharyngeal epithelial cells. These assumptions still require further experimental evidence. Similar to the heterogeneous nature of solid cancers, the origin of cancer stem cells in different individuals with the same type may vary due to epigenetic, genetic and tumor microenvironment factors.
Although many of the studies showed that these compounds have considerable promise, few provided comprehensive evidence showing that the proposed agents were specific to NPC CSCs and were considerably more effective than conventional therapy (radiation, cisplatin, and so forth). These proposed treatments still require further investigation, especially through rigorous in vivo experimentation, before they can be considered true potential CSC inhibitors and considered for use in clinical trials.
The investigations into the specific NPC CSCs and clinical therapeutic trials have been ongoing. However, there remains much to do in improving the therapeutic target specific for NPC CSCs. Several factors should be considered; first, the reliability of using cell surface markers or functional screening as a method to isolate CSCs remains controversial. Golebiewska and colleagues have reported that SP cells in human glioblastoma are non-neoplastic and are exclusively stroma derived [70]. ABCG2+ and ALDH1high cannot act alone as cancer stem cells biomarkers [26, 71, 72]. A second factor is that the heterogeneous nature of NPC cells and NPC CSCs requires obtaining an individualized treatment plan. More investigations are therefore required to acquire the primary characteristics and the molecular regulation expression profile in cancer stem cells.
CSCs from various tissues appear to be more resistant to chemotherapeutic reagents than do mature cell types and characteristically express drug-resistance proteins. If this was true of NPC CSCs, therapies targeting CSCs directly should result in more reliable responses for primary as well as metastatic disease. The sensitivity of CSCs to the different strategies requires more experimental evidence confirmed both in vitro and in vivo. With these targets known, this fraction of cancer cells that can rapidly develop the critical tumor cell mass can be eliminated (Figure 2). Consequently, defining the unique properties of NPC CSCs remains a high priority for developing early diagnostic and effective therapeutic strategies against NPC.
Abbreviations
ABCG2:

ATP-binding cassette sub-family G member 2
ALDH1:

Aldehyde dehydrogenase 1
Bmi-1:

B-lymphoma Mo-MLV insertion region 1 homolog
CPC:

Cancer progenitor cell
CSC:

Cancer stem-like cell
EBV:

Epstein–Barr virus
EMT:

Epithelial–mesenchymal transition
LMP1:

Latent membrane protein 1
LRC:

Label-retaining cell
NPC:

Nasopharyngeal carcinoma
SP:

Side population.
Declarations
Acknowledgements
This work was supported by the Natural Science Foundation of China (81372366, 81000972), the Foundation for the Author of Hunan Province Excellent Doctoral Dissertation of China, the Program for New Century Excellent Talents in University (NCET-12-0544), the Fundamental Research Funds for the Central Universities (2011JQ020, 2013JSJJ046), the Shenghua Yuying talents program of central South University (7601110185), and the Open-End Fund for the Valuable and Precision Instruments of Central South University.
Authors' Affiliations
(1)
Hunan Provincial Tumor Hospital and the Affiliated Tumor Hospital of Xiangya School of Medicine, Central South University, Hunan, China
(2)
Cancer Research Institute of Xiangya Medical School, Central South University, Hunan, China
(3)
Guandong Provincial Yuebei People's Hospital, Guangdong, China
(4)
State Key Laboratory of High Performance Complex Manufacturing, Central South University, Hunan, China
Copyright
© Wei et al.; licensee BioMed Central Ltd. 2014
This article is published under license to BioMed Central Ltd. The licensee has exclusive rights to distribute this article, in any medium, for 12 months following its publication. After this time, the article is available under the terms of the Creative Commons Attribution License (http://creativecommons.org/licenses/by/2.0), which permits unrestricted use, distribution, and reproduction in any medium, provided the original work is properly cited.