Amnion cell-mediated immune modulation following bleomycin challenge: controlling the regulatory T cell response
Stem Cell Research & Therapy
2015
6:8
Received: 22 October 2014
Accepted: 16 January 2015
Published: 29 January 2015
Abstract
Introduction
The immunomodulatory properties of human amnion epithelial cells (hAECs) have been previously described in several disease models. We previously reported on the ability of hAECs to influence macrophage phenotype and chemotaxis. In this study, we aim to elucidate the contribution of regulatory T cells (Tregs) to macrophage polarisation and downstream effects on inflammation and fibrosis in a bleomycin model of lung injury.
Methods
Either CD45+/FoxP3+ Tregs or CD45+/FoxP3 - non-Tregs were adoptively transferred into Rag1 -/- mice immediately prior to bleomycin challenge. Four million hAECs were administered 24 hours later. Outcomes were measured 7 or 14 days later.
Results
Mitigation of lung inflammation and fibrosis was observed only in animals that received both hAECs and Tregs. hAEC treatment also induced the maturation of non-Tregs into FoxP3-expressing Tregs. This event was found to be transforming growth factor-beta (TGFβ)-dependent. Furthermore, polarisation of macrophages from M1 to M2 occurred only in animals that received hAECs and Tregs.
Conclusions
This study provides the first evidence that Tregs are required for hAEC-mediated macrophage polarisation and consequential mitigation of bleomycin-induced lung injury. Uncovering the interactions between hAECs, macrophages, and T-cell subsets is central to understanding the mechanisms by which hAECs elicit lung repair.
Keywords
BleomycinAdoptive TransferC57Bl6 MouseOnline Data SupplementTreg Expansion
Introduction
Gestational tissues, including the placenta and fetal membranes, are abundant sources of stem cells and stem-like cells. Possibly reflective of the maternal status, these cells also bear potent immunomodulatory properties. Fetal derived mesenchymal stromal cells (MSCs) have a greater ability to suppress antigen-specific T-cell proliferation compared with maternal MSCs [1]. Both amniotic membrane-derived MSCs and human amnion epithelial cells (hAECs) are able to inhibit dendritic cell differentiation [2] We, and others, have previously reported that hAECs exert protective and pro-reparative effects in the settings of lung [3–7], liver [8, 9], and neurological [10–12] diseases. Unlike many stem cells and stem-like cells, hAECs can be isolated from amniotic membranes in numbers sufficient for clinical use (approximately 150 to 200 million) within 6 hours without the need for serial passaging [13, 14]. This may be an advantageous attribute given the recent reports that serial passaging can result in epigenetic changes [15–17] and genomic mutations [18] as well as compromise immunomodulatory capabilities [2].
Although there have been some reports of hAEC engraftment [4, 9], this may not be a major mechanism of hAEC action. Similar to recent reports in the field of MSC research, hAECs appear to exert their effects primarily via paracrine signaling rather than functional cell engraftment. There are now reports describing the biological effects of hAEC-conditioned media, such as the ability to influence the phagocytic ability and polarity of macrophages [10] and the fibrogenic/fibrolytic balance in hepatic stellate cells [19]. Indeed, it appears that hAECs are only able to exert their protective/reparative effects in the presence of functional macrophages [20]. This is perhaps not surprising since endogenous lung macrophages play a central role in the regulation of the immune response to injury. For example, macrophages are able to induce the generation of regulatory T cells (Tregs) from naïve CD4+ T cells [21]. Reciprocally, Tregs have been reported to induce a phenotypic and functional switch in macrophage polarity [22].
Given that Tregs have also been shown to be important in resolving lung inflammation and fibrosis by reducing fibrocyte recruitment, we set out to explore whether hAEC treatment altered the Treg population and whether hAEC polarisation of macrophages is dependent on Treg activity. Furthermore, we asked which cytokines were key to the reparative events that we had previously observed. Using transgenic FoxP3-GFP mice and Rag1 -/- mice, we performed a series of adoptive transfer studies and in vitro co-culture studies to answer these questions. In the recent National Institutes of Health (NIH) workshop on Cell Therapy for Lung Disease, understanding the mechanism of action and identifying cellular targets were listed as research priorities [23]. Furthermore, guidelines from the Therapeutic Goods Administration (Australia) on biologicals, including cell therapies, state that "even where the mechanism of action is not understood in detail, the main effects of the biological should be known" [24]. With these considerations, further delineating immunological events following hAEC administration represents an important step in translating this research to the clinic.
Discussion
Regenerative medicine—in particular, cell-based therapies—is gaining momentum at a remarkable pace. Over 27,700 clinical trials involving cell therapy were registered on the ClinicalTrials.gov database when this article was under preparation. Clearly, as the potential of cell therapy becomes realised and as research translates from discovery to clinical testing, there is an increasing need to clearly define the mechanisms of stem cell action. In this study, we used a well-established mouse model of lung injury to assess the effect of hAECs on key cellular events that are central to the resolution of inflammation and fibrosis.
We showed that the administration of hAECs increased Treg expansion in the lungs of C57Bl6 mice and this event was coincident with reduced lung injury. Using Rag1 -/- mice, we determined that the presence of Tregs is central to the reparative effects of hAECs in vivo. The increase in pulmonary Tregs may be partly attributed to induction of FoxP3 transcription in naïve T cells by hAECs, which we showed to be directed mainly by hAEC-derived TGF-β. Consistent with the limited lung repair observed in Rag1 -/- mice, hAECs were also unable to polarise macrophages from M1 to M2 in the absence of adoptively transferred Tregs. Since macrophage polarisation is a key event in hAEC-mediated lung repair [10, 20], the findings from the present study suggest that Treg expansion/induction is a crucial requirement for hAEC-mediated macrophage polarisation. Collectively, these data indicate that Treg induction/expansion is central to hAEC-mediated lung repair, serving as a major driver for macrophage polarisation.
hAECs induced the expansion of endogenous Tregs in FoxP3-GFP C57Bl6 mice as well as adoptively transferred Tregs in Rag1 -/- mice. A small proportion of the adoptively transferred non-Tregs differentiated into Tregs in vivo when hAECs were co-administered. The likely mechanism for this is via hAEC-derived TGFβ. That transcription of TGFβ was increased following exposure to IFNγ and TNFα is worth noting since TGFβ has been shown to be a potent inducer of FoxP3 transcription in naïve CD4+ T cells [28]. Another consideration is the process of trogocytosis, where cell-to-cell transfer of HLA-G from hAECs to effector T cells may account for the acquisition of a Treg phenotype independent of FoxP3 transcription [29]. These events may explain the minor improvements in tissue-to-airspace ratio and increase in M2 polarisation in the non-Treg + hAEC group. That adoptively transferred non-Tregs did not wholly restore hAEC-mediated lung repair is likely due to the criteria by which we selected the non-Treg cells. For this study, we selected for CD45+FoxP3- cells by flow sorting. One limitation of such a gating strategy is that non-T cells are also included. This includes neutrophils, macrophages, and dendritic cells, which are unable to acquire a FoxP3+ phenotype or transdifferentiate into Tregs. The outcomes observed in the present study are likely a reflection of this.
The reduction in macrophage infiltration and polarisation of macrophages from M1 to M2 was observed only in the cohort of
Rag1
-/-
animals that received hAECs after adoptive transfer of Tregs (hAEC + Treg). This was surprising because we have previously shown that hAECs can directly influence macrophage polarity and phagocytic activity, at least
in vitro
, without the presence of Tregs [
10
]. We believe that the different prevailing cytokine environments explain the apparent inconsistency between
in vitro
and
in vivo
observations.
In vivo
in the absence of Treg-released IL-10, the predominant cytokines in the lungs are Th1 cytokines such as TNFα and IL-6 [
30
] and IFNγ [
31
]. These promote a Th1 inflammatory environment where M1 macrophages will predominate. The presence of Tregs would then alter the Th 1-Th 2 balance in favour of M2 macrophages. Mature Tregs then release IL-10, which helps to polarise macrophages from M1 to M2 and thus promote lung repair. This suggests that hAEC repair of pulmonary fibrosis may begin with the expansion of the local Treg population, which triggers macrophage polarisation, rather than acting through the direct actions of hAECs. Our proposed model of cellular crosstalk is detailed in Figure
6
.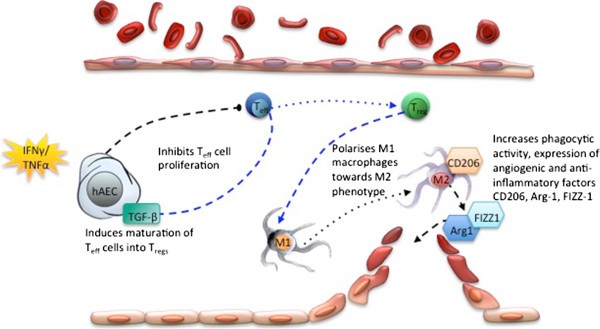 In addition to their effects on macrophage polarisation, Tregs have been reported to play a role in modulating the alveolar inflammatory milieu following lipopolysaccharide (LPS)-induced acute lung injury, in which adoptive transfer of Tregs reduced inflammatory cytokines, including TNFα, monocyte chemoattractant protein-1 (MCP-1), RANTES (regulated on activation, normal T cell expressed and secreted), and IL-6 [32]. In LPS-induced acute lung injury, the adoptive transfer of Tregs resolved fibrosis by reducing fibrocyte recruitment along the CXCL12-CXCR4 axis [25].
With regard to potential cell therapies for lung disease, there are some similarities between hAEC- and MSC-mediated Treg induction. For example, both rely on TGFβ and involve M2 polarised macrophages [33]. However, unlike MSCs, hAECs do not appear to require monocytes as accessory cells [33]. Interestingly, a study by Liu and colleagues [11] using a mouse model of multiple sclerosis showed that the therapeutic effects of hAEC treatment did not correspond to Treg numbers despite increased TGFβ by hAECs. This finding, taken together with the observations in the present study, suggests that the therapeutic mechanisms of hAEC action may be specific to the underlying injury.
The effective clinical translation of bench observations relating to protective or therapeutic benefit of stem cells and stem-like cells will require better understanding of their mechanisms of action. The importance of understanding the mechanism of action of cell-based therapies was highlighted at the NIH-National Heart, Lung, and Blood Institute workshop in November 2012 [23]. Cell-based therapy has been touted as 'the next pillar of medicine' [34], given capabilities that extend beyond small molecules and biologics. Understanding the mechanisms by which hAECs exert their reparative or protective effects will aid the development of hAEC-based therapies. Indeed, the elucidation of critical immunological events will aid the design of informative clinical trials.
Conclusions
hAECs require Tregs for polarisation of macrophage from M1 to M2. In the process of mediating lung repair, hAECs induced Treg expansion and differentiation of T cells to FoxP3+ Tregs. Understanding how hAECs, and other stem cells, exert immunomodulatory and reparative effects is important in the clinical translation pipeline.
Abbreviations
DAPI:

4′,6-diamidino-2-phenylindole
GFP:

green fluorescent protein
hAEC:

human amnion epithelial cell
IFNγ:

interferon-gamma
IL:

interleukin
IN:

intranasal
IP:

intraperitoneal
IV:

intravenous
LPS:

lipopolysaccharide
MSC:

mesenchymal stromal cell
NIH:

National Institutes of Health
OCT:

optimal cutting temperature
PGE2:

prostaglandin E2
TGFβ:

transforming growth factor-beta
TNFα:

tumour necrosis factor-alpha
Treg:

regulatory T cell.
Declarations
Acknowledgements
We would like to thank our research midwife, Joanne Mockler, for acquiring consent from women undergoing cesarean section and thereafter collection of human placentae used for the isolation of hAECs in this study.
Authors' Affiliations
(1)
The Ritchie Centre, Monash Institute of Medical Research, Monash University, Clayton, Australia
(2)
Monash Micro Imaging, Monash University, Clayton, Australia
(3)
Department of Obstetrics and Gynecology, Monash University, Clayton, Australia
(4)
Australian Regenerative Medicine Institute, Clayton, Australia
Copyright
© Tan et al.; licensee BioMed Central. 2015
This article is published under license to BioMed Central Ltd. This is an Open Access article distributed under the terms of the Creative Commons Attribution License (http://creativecommons.org/licenses/by/4.0), which permits unrestricted use, distribution, and reproduction in any medium, provided the original work is properly credited. The Creative Commons Public Domain Dedication waiver (http://creativecommons.org/publicdomain/zero/1.0/) applies to the data made available in this article, unless otherwise stated.