Neural tissue engineering using embryonic and induced pluripotent stem cells
Stem Cell Research & Therapy
2011
2:17
Abstract
With the recent start of the first clinical trial evaluating a human embryonic stem cell-derived therapy for the treatment of acute spinal cord injury, it is important to review the current literature examining the use of embryonic stem cells for neural tissue engineering applications with a focus on diseases and disorders that affect the central nervous system. Embryonic stem cells exhibit pluripotency and thus can differentiate into any cell type found in the body, including those found in the nervous system. A range of studies have investigated how to direct the differentiation of embryonic cells into specific neural phenotypes using a variety of cues to achieve the goal of replacing diseased or damaged neural tissue. Additionally, the recent development of induced pluripotent stem cells provides an intriguing alternative to the use of human embryonic stem cell lines for these applications. This review will discuss relevant studies that have used embryonic stem cells to replicate the tissue found in the central nervous system as well as evaluate the potential of induced pluripotent stem cells for the aforementioned applications.
Keywords
Traumatic Brain Injury
Spinal Cord Injury
Embryonic Stem Cell
Pluripotent Stem Cell
Neural Progenitor
Introduction
The human nervous system can be divided into two major components: the central nervous system (CNS) and the peripheral nervous system [1]. The CNS consists of the brain and the spinal cord with the blood-brain barrier restricting the types of biomolecules that can reach these organs [2]. The majority of neural tissue found in the CNS consists of two cell types: neuronal cells and glial cells. Neurons serve as the main information transmitting unit of the nervous system, which can be classified as either sensory, allowing them to detect stimuli from the environment, or motor, responsible for the generation of movement through signaling with muscle tissue [3]. Glial cells encompass a number of different types of support cells, including astrocytes and oligodendrocytes found in the CNS [4, 5]. This review will discuss the use of embryonic stem (ES) cell therapy as a method of treating injuries and diseases that inflict damage to the CNS. These studies are particularly relevant now as the first human ES-cell-derived therapy is currently being evaluated in clinical trials as a potential method for treating spinal cord injury (SCI) [6].
ES cells possess two hallmark characteristics: the ability to self-renew and pluripotency [
7
]. The pluripotent nature of ES cells allows them to generate the cells found in neural tissue, including neurons and glia. As a result, ES-cell-based regeneration strategies have been investigated for a number of diseases as well as for repairing mechanically damaged nerve tissue. While many other types of stem cells have been evaluated for their potential to promote neural repair, this review will focus specifically on the attempts made with ES cells as this work will be most applicable to developing therapies using induced pluripotent stem (iPS) cells. First generated in 2006, iPS cells are produced from adult somatic cells, such as skin cells, by inducing specific factors that restore pluripotency [
8
–
10
] (Figure
1
). The recent generation of these cell lines serves as an exciting alternative to traditional ES cell lines and recent research using iPS cells will also be critically examined in terms of the future of stem-cell-based therapies for repairing neural tissue.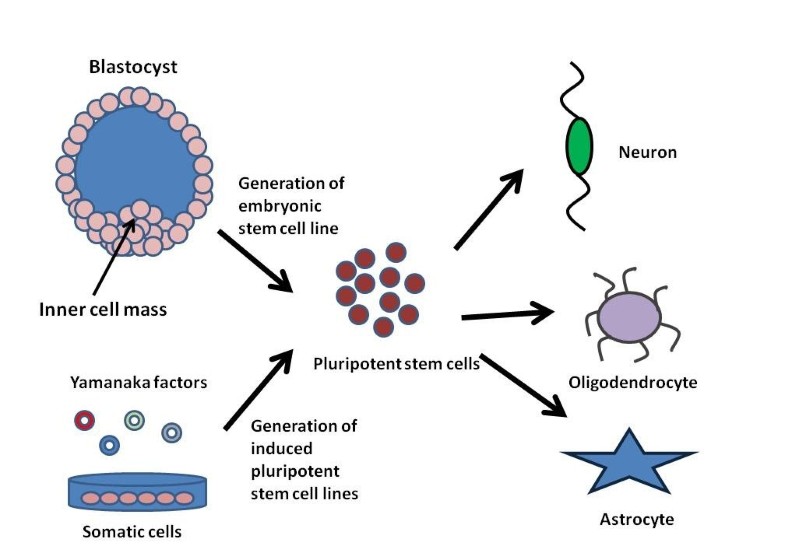 Many of the studies detailed in this review use mouse ES cells as a model system for studying cell behavior with the goal of translating this knowledge to human ES cells. While this approach does have merit, it is important to note some of the differences between mouse and human ES cell lines. One of the major differences is that mouse ES cells can be maintained in the presence of leukemia inhibitory factor (LIF) on gelatin substrates in a relatively cost effective manner while human ES cells are cultured either on a feeder layer of cells or on a Matrigel surface in the presence of defined media [11]. Mouse and human ES cells differ in protein expression patterns, including the signaling pathways that regulate differentiation and the markers that indicate pluripotency [12]. For example, undifferentiated mouse ES cells express stage-specific embryonic antigen (SSEA)-1 while undifferentiated human ES cells express the SSEA-3 and SSEA-4 markers [13]. Thus, the information gained in mouse ES cell studies does not always directly translate to human ES cell lines due to these intrinsic differences.
Both human ES and iPS cells exhibit high variability between different cell lines as illustrated by a recent study published in Cell that mapped the genome-wide DNA methylation patterns and gene expression for 20 ES and 12 iPS cell lines [14]. They used the information obtained from the ES cell lines as a reference to evaluate the expression patterns of the iPS cell lines to see if they fell within an acceptable range of 'stemness'. Another study used transcriptional profiling analysis to show that the iPS cell lines have residual gene expression from the donor cells after reprogramming, with certain donor cells being reprogrammed more efficiently [15]. Both of these studies illustrate the need for defined standards to use for evaluating newly derived ES and iPS cell lines to determine their suitability for clinical applications.
Embryonic stem-cell-based therapies for neural tissue replacement
Many different studies have used ES cells to generate replacement neural tissue for a variety of diseases and disorders (Table
1
). One of the major considerations when working with ES cells is how to induce them to differentiate into the specific neural phenotypes necessary for treating the particular application. Regeneration-promoting strategies can include directly deriving the desired cell type to be replaced or generating supporting glial cells that secrete factors to help restore lost functionality. In terms of differentiation protocols, the most desirable methods would produce a highly purified population of specific cellular phenotypes for transplantation as any undifferentiated ES cell clusters remaining can proliferate in an uncontrolled fashion, leading to teratoma formation [
16
]. To avoid teratoma formation, many different methods have been investigated to minimize the transplantation and survival of undifferentiated ES cells [
17
]. These methods include using cell sorting to isolate a specific progenitor population and performing extensive differentiation protocols to ensure only mature cells are transplanted. Other ways to eliminate the undifferentiated ES cell populations after transplantation include the development of an ES cell line modified with an inducible suicide gene expressed under a promoter element used to maintain 'stemness' and the use of targeted anti-human ES cell antibodies that induce apotosis of undifferentiated ES cells [
18
–
20
].
Table 1
The use of embryonic stem and induced pluripotent stem cell derived therapies for neural tissue engineering applications
| Disease/disorder | Cell lines | References |
| --- | --- | --- |
| Traumatic brain injury | Mouse embryonic stem cells | |
| Parkinson's disease | Mouse embryonic stem cells | |
| | Human embryonic stem cells | |
| | Mouse induced pluripotent cells | [88] |
| Huntington's disease | Human embryonic stem cells | |
| Alzheimer's disease | Mouse embryonic stem cells | |
| Spinal cord injury | Mouse embryonic stem cells | |
| | Human embryonic stem cells | |
| | Mouse induced pluripotent cells | |
While specific protocols for directing stem cell differentiation into neural lineages will not be reviewed in depth here, several reviews on the subject describe these processes in more detail [21, 22]. When developing ES-cell-based treatments for neural diseases and disorders, it is important to consider what specific cell populations could potentially restore lost function. For certain neuro-degenerative disorders that affect specific neuronal populations, the goal is to transplant a highly differentiated mature population of neurons to replace the lost cells. For promoting recovery after traumatic CNS injury, a variety of ES-cell-based therapies have been explored as neural progenitors could potentially secrete regeneration-promoting factors while the transplantation of ES-cell-derived neurons and oligodendrocytes to restore the lost mature cellular populations has also been studied. The method of transplanting the cells in the desired location in the CNS should also be carefully evaluated to ensure cell viability and prevent unwanted differentiation. Other relevant issues relating to ES-cell-based therapies include the potential of the transplanted cells to induce an immune response. These issues will be discussed along with the relevant studies for each of the following diseases and disorders.
Reprogramming somatic cells and the potential for engineering neural tissue
As mentioned in the Introduction, the recent development of iPS cells provides an exciting alternative to the use of ES cells. These cells are generated from somatic cells, such as fibroblasts, by upregulating the expression of specific genes (Oct3/4, Sox2, c-Myc, and Klf4) that restore pluripotency [9, 10]. Unlike traditional ES cell lines, the use of iPS cells allows for generation of pluripotent cell lines without the use of embryos as well as for the production of patient-specific iPS cell lines, which should reduce the risk of rejection after transplantation.
Several studies have investigated iPS cells and their potential for differentiating into neural phenotypes. A recent study demonstrated that neural differentiation in human iPS cells uses the same transcription networks as traditional human ES cell lines [
86
]. They also observed lower differentiation efficiency and increased variability compared to ES cells, suggesting that more efficient differentiation protocols may need to be developed to fully utilize the potential of iPS cells (Figure
2
). In work also done by the Yamanaka lab [
87
], 36 mouse iPS cell lines were evaluated to determine their potential for generating neural phenotypes after secondary neurosphere formation as well as their potential safety for transplantation as indicated by teratoma formation in an
in vivo
setting. After an induction period using retinoic acid, these cell lines demonstrated the ability to differentiate into the three cell types found in the CNS (neurons, oligodendrocytes, and astrocytes) and certain iPS cell lines did not form teratomas after implantation, leading them to be classified as a 'safe' cell line. In a follow-up study, neural progenitor cells derived from 'safe' iPS cell lines were implanted into both uninjured spinal cord tissue and a pre-clinical model of SCI in mice [
88
]. In the uninjured mice, the cells differentiated into neurons and glia, while in the injured animals, these cells differentiated into mature oligodendrocytes and promoted functional recovery in the hind limbs of mice. Other work has derived neurons from iPS cells, which were shown to promote functional recovery in a rat model of PD [
89
]. These studies indicate the ability of iPS cells to differentiate into neural phenotypes, illustrating their potential as an alternative to the use of traditional ES cell lines. The generation of 'safe', non-teratoma-forming cell lines serves as an added potential benefit of using iPS cells.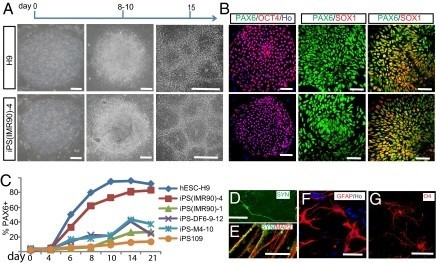 An alternative approach to differentiating pluripotent stem cells is to directly convert one mature cell type into the desired cell type by manipulating cell signaling pathways. The Wernig group [90] recently demonstrated that mouse embryonic fibroblasts can be directly converted to neurons if the appropriate factors were expressed, offering a potential method of engineering neural tissue without the use of pluripotent stem cells. Much work remains to be done to determine the feasibility of such an approach for clinical applications.
Conclusion
Overall, a large body of work exists showing the potential of using pluripotent stem cells to produce replacement tissue for the CNS as discussed in this review. The current evaluation of oligodendrocytes derived from human ES cells shows the promise of this technology for the treatment of SCI and other neurological disorders and diseases while the generation of iPS cell lines now allows for generation of patient-specific neural tissue derived from pluripotent stem cells. Additionally, the recent work from the Wernig group showing the direct conversion of somatic cells into neurons provides an intriguing alternative to differentiating pluripotent stem cells as a means of replacing lost neural tissue.
Abbreviations
AD:

Alzheimer's disease
CNS:

central nervous system
ES:

embryonic stem
HD:

Huntington's disease
iPS:

induced pluripotent stem
PD:

Parkinson's disease
SCI:

spinal cord injury
Shh:

sonic hedgehog
TBI:

traumatic brain injury.
Authors' Affiliations
(1)
Department of Mechanical Engineering, University of Victoria, Canada
(2)
Division of Medical Sciences, University of Victoria, Canada
(3)
International Collaboration on Repair Discoveries (iCORD), Vancouver, Canada
Copyright
© BioMed Central Ltd 2011