Mesenchymal stem cells and cutaneous wound healing: novel methods to increase cell delivery and therapeutic efficacy
Stem Cell Research & Therapy
2016
7:37
Abstract
Mesenchymal stem cells (MSCs) (also known as multipotent mesenchymal stromal cells) possess the capacity for self-renewal and multi-lineage differentiation, and their ability to enhance cutaneous wound healing has been well characterized. Acting via paracrine interactions, MSCs accelerate wound closure, increase angiogenesis, promote resolution of wound inflammation, favorably regulate extracellular matrix remodeling, and encourage regeneration of skin with normal architecture and function. A number of studies have employed novel methods to amplify the delivery and efficacy of MSCs. Non-traditional sources of MSCs, including Wharton's jelly and medical waste material, have shown efficacy comparable to that of traditional sources, such as bone marrow and adipose tissue. The potential of alternative methods to both introduce MSCs into wounds and increase migration of MSCs into wound areas has also been demonstrated. Taking advantage of the associations between MSCs with M2 macrophages and microRNA, methods to enhance the immunomodulatory capacity of MSCs have shown success. New measures to enhance angiogenic capabilities have also exhibited effectiveness, often demonstrated by increased levels of proangiogenic vascular endothelial growth factor. Finally, hypoxia has been shown to have strong wound-healing potential in terms of increasing MSC efficacy. We have critically reviewed the results of the novel studies that show promise for the continued development of MSC-based wound-healing therapies and provide direction for continued research in this field.
Keywords
Vascular Endothelial Growth Factor
Bone Marrow MSCs
Vascular Endothelial Growth Factor Secretion
Cutaneous Wound Healing
Cutaneous Wind Healing
Background
Mesenchymal stem cells (MSCs) are characterized by the ability to self-renew and exhibit differentiation into multiple tissue-forming cell lineages, such as osteoblasts, adipocytes, chondrocytes, tenocytes, and myocytes [1]. Obtainable from a number of tissues, including bone marrow, adipose tissue, and the umbilical cord, MSCs are also characterized by the expression of surface CD markers, including CD44+, CD73+, CD90+, and CD105+, and are distinguished from hematopoietic cells by a lack of CD34, CD45, CD14, and HLA-DR [1]. MSCs have also been shown to exhibit immunomodulatory, reparative, and regenerative effects through paracrine signaling, suggesting great therapeutic potential [2, 3].
Wound healing is a complex process requiring cell migration, inflammation, angiogenesis, granulation tissue formation, re-epithelialization, and extracellular matrix (ECM) remodeling. MSCs have an active role through this process, and therapeutic application of MSCs has been shown to enhance and improve wound-healing outcomes. Here, we critically reviewed the ability of MSCs to enhance cutaneous wound healing and discussed the novel methods used to increase MSC delivery and efficacy.
Mesenchymal stem cells enhance wound healing
By accelerating wound closure, enhancing re-epithelialization, increasing angiogenesis, promoting granulation tissue formation, modulating inflammation, and regulating ECM remodeling, administration of MSCs has demonstrated a beneficial effect on cutaneous wound healing and skin regeneration (Fig.
1
). Importantly, this beneficial effect appears to be mediated by paracrine signaling [
2
,
3
].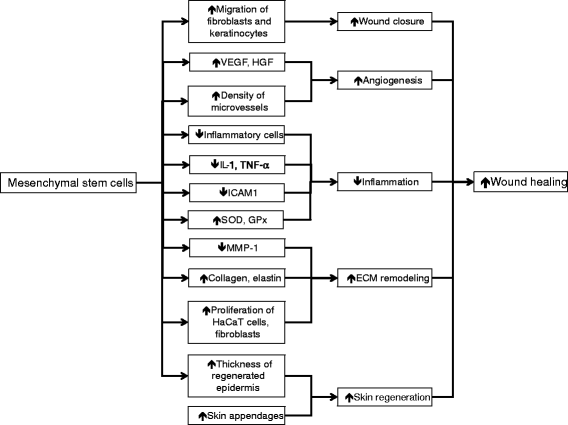 Novel methods to increase mesenchymal stem cell delivery and efficacy
The strong therapeutic potential of MSCs in cutaneous wound healing has led to efforts to determine the optimal sources and delivery methods for MSCs. Recent studies have also evaluated the ability of novel methods to maximize the migratory, immunomodulatory, angiogenic, and reparative abilities of MSCs (Table
1
).
Table 1
Summary of the key findings on the therapeutic effects of MSCs
| Therapeutic effect on MSCs | Method/finding | Source of MSCs | Wound-healing model | Reference |
| --- | --- | --- | --- | --- |
| Increased delivery | Three-dimensional collagen allograft | Rat bone marrow | Rat | [29] |
| | Microsphere-based engineered skin loaded with EGF | Mouse bone marrow | Mouse | [31] |
| Increased migration | CXCL12/CXCR4 axis | Mouse bone marrow | Mouse | [32] |
| | Platelet-rich plasma | Human amniotic fluid | Human | [34] |
| | EMPB | Mouse | Mouse | [35] |
| Increased survival | Biomimetic pullulan-based hydrogel | Mouse | Mouse | [36] |
| Increased immunomodulation | Polarization of macrophages to M2 phenotype | Human gingival tissue | Mouse | [37] |
| | Increased miRNA-146a | Mouse bone marrow | Mouse | [16] |
| | MSC-derived TSG-6 | Human bone marrow | Mouse | [42] |
| Increased angiogenesis | Biomimetic hydrogel scaffold | Mouse bone marrow | Mouse | [43] |
| | LLLT | Dog adipose tissue | Mouse | [44] |
| | 14S,21R-diHDHA | Mouse | Mouse | [45] |
| | v-myc introduction | Human adipose tissue | Mouse | [47] |
| Increased wound-healing efficacy | Hypoxia | Human amniotic fluid | Mouse | [49] |
| | Hypoxia | Human adipose tissue | Mouse | [50] |
| | Hypoxia | Human bone marrow | Mouse | [51] |
Conclusions
The beneficial effect of MSCs on cutaneous wound healing has been well established. Through paracrine interactions, MSCs increase wound closure rates, promote angiogenesis, decrease wound inflammation, regulate ECM healing events, and enhance regeneration of proper skin structure and function. Recent studies have evaluated novel methods to increase the therapeutic capability of MSCs. These measures have been shown to increase MSC migration and survival, enhance immunomodulation, promote angiogenic capacity, and improve overall efficacy. These results show promise for the further development of MSC-based therapeutic strategies. Future studies can further establish this research and provide insight into how these findings can be applied in the clinical arena. More work is also needed to determine the ideal source of MSCs, taking into account therapeutic efficacy as well as availability, ethical issues, and necessary procedures.
The therapeutic effects discussed in this review also support a potential role for MSCs in recognized clinical wound treatment models. For example, the wound bed preparation model published by Sibbald et al. recognizes prolonged inflammation as a principal component of local wound care that requires clinical optimization [53]. This model discusses the fact that inflammation contributes to total wound pain and is a driving factor in the persistence of chronic wounds (diabetic foot ulcers, pressure ulcers, venous ulcers, and so on), which represent a substantial burden on a patient's activities of daily living as well as health-care systems worldwide. Because of their immunomodulatory and angiogenic properties, MSCs could be inserted into this model. A therapeutic strategy employing MSCs could be added as a biologic agent or advanced therapy option (or both) used specifically to decrease inflammation, optimize wound bed preparation, and promote cutaneous healing.
Abbreviations
14S,21R-diHDHA:

14S,21R-dihydroxydocosa-4Z,7Z,10Z,12E,16Z,19Z-hexaenoic acid
bFGF:

basic fibroblast growth factor
CD:

cluster of differentiation
ECM:

extracellular matrix
EGF:

epidermal growth factor
EMPB:

Mallotus philippinensis bark
GPx:

glutathione peroxidase
ICAM1:

intercellular adhesion molecule 1
IL:

interleukin
LLLT:

low-level laser therapy
MMP:

matrix metalloproteinase
MSC:

mesenchymal stem cell/multipotential mesenchymal stromal cell
TGF-β:

transforming growth factor-beta
TLR:

toll-like receptor
TNF-α:

tumor necrosis factor-alpha
TSG-6:

tumor necrosis factor-alpha-stimulated protein 6
VEGF:

vascular endothelial growth factor
Declarations
Acknowledgments
This work was supported by research grants R01HL104516, R01HL112597, R01HL116042, and R01HL128063 to DKA from the Office of the Director, National Institutes of Health (NIH), and the National Heart, Lung and Blood Institute, NIH. The content of this review is solely the responsibility of the authors and does not necessarily represent the official views of the NIH.
Open AccessThis article is distributed under the terms of the Creative Commons Attribution 4.0 International License (http://creativecommons.org/licenses/by/4.0/), which permits unrestricted use, distribution, and reproduction in any medium, provided you give appropriate credit to the original author(s) and the source, provide a link to the Creative Commons license, and indicate if changes were made. The Creative Commons Public Domain Dedication waiver (http://creativecommons.org/publicdomain/zero/1.0/) applies to the data made available in this article, unless otherwise stated.
Authors' Affiliations
(1)
Department of Clinical & Translational Science, Creighton University School of Medicine, Omaha, USA