Mesenchymal stem cells in cardiac regeneration: a detailed progress report of the last 6 years (2010–2015)
Stem Cell Research & Therapy
2016
7:82
Abstract
Mesenchymal stem cells have been used for cardiovascular regenerative therapy for decades. These cells have been established as one of the potential therapeutic agents, following several tests in animal models and clinical trials. In the process, various sources of mesenchymal stem cells have been identified which help in cardiac regeneration by either revitalizing the cardiac stem cells or revascularizing the arteries and veins of the heart. Although mesenchymal cell therapy has achieved considerable admiration, some challenges still remain that need to be overcome in order to establish it as a successful technique. This in-depth review is an attempt to summarize the major sources of mesenchymal stem cells involved in myocardial regeneration, the significant mechanisms involved in the process with a focus on studies (human and animal) conducted in the last 6 years and the challenges that remain to be addressed.
Keywords
Mesenchymal stem cellsCardiac regenerationNiche hypothesisCell therapyCell transplantation
Background
Stem cells are capable of differentiating into cells of the same type, which in turn give rise to other kinds of cells [1]. Stem cells can be classified on the basis of their origin and potential to differentiate. Based on origin, these cells are of two types: embryonic stem cells (ESCs) and non-ESCs. The non-ESCs are present in two forms: haematopoietic stem cells (HSCs) that differentiate into different blood cells and are CD34+; and the less differentiated mesenchymal stem cells (MSCs). Under the second classification system, stem cells can be categorized as totipotent, pluripotent and multipotent, based on their potential to differentiate into different cell types. All stem cells have three common features, namely boundless self-renewal capacity, potential for asymmetric divisions and an irreversible differentiation process [2].
Cardiovascular diseases account for the highest mortality in the western countries of the world [3]. Unlike lower vertebrates like zebrafish [4], adult mammals do not possess the capacity for natural heart regeneration throughout their lifetime [5] and hence several therapeutic measures have been investigated for myocardial regeneration and repair. Out of these numerous approaches, the first clinical trials about a decade ago bolstered stem cell therapy as one of the potential strategies utilized in the cure of these disorders. The current research in the field of cardiac regenerative medicine thus attempts to stimulate the endogenous regenerative mechanisms via cell therapy for conditions such as myocardial infarction (MI). This is achieved by intermingling of two components: a cardiomyocyte source as the target for regeneration; and a non-myocardial tissue acting as a source for regeneration in an effective cardiac environment [5].
This review focuses on summarizing all studies concerning MSCs in terms of in-vivo and clinical observations in the last 6 years (2010–2015), following a critical evaluation of its cardiomyogenic potential as well as the clinical trials.
Conclusion
To evaluate the safety of MSCs in regenerative medicine, 41 clinical trials and more than 120 animal model studies have been performed since 2010 and these studies have shown MSCs to have the potential to differentiate into various mesodermal (e.g. osteoblast, adipocyte and chondrocyte) [
43
] and myeloid lineages [
44
]. The immunomodulatory characteristic of MSCs makes them a worthy competitor in the field of regenerative therapeutics. However, many pathways and underlying processes concerning MSCs still exist that remain unexplored in the field of reparative medicine (Fig.
2
). Despite the therapeutic effects of MSCs, Dayan et al. [
321
] observed no improvements in cardiac function in a chronic ischaemic heart failure model, with no difference in the scar area, fractional shortening and so forth. A study illustrated induced and spontaneous transformation of MSCs into sarcomas in mouse, whereas in humans only induced transformation of MSCs has been observed [
322
]. The spontaneous transformation of hMSCs in vitro was found to be caused by the contamination of the cells by tumour cell lines [
323
], and studies have negated the idea of MSC transformation into tumours, even after long-term culturing of cells [
324
]. In contrast, in-vivo spontaneous transformation has been shown to lead to osteosarcoma genesis in patients with infused BM-MSCs for some other disease [
325
].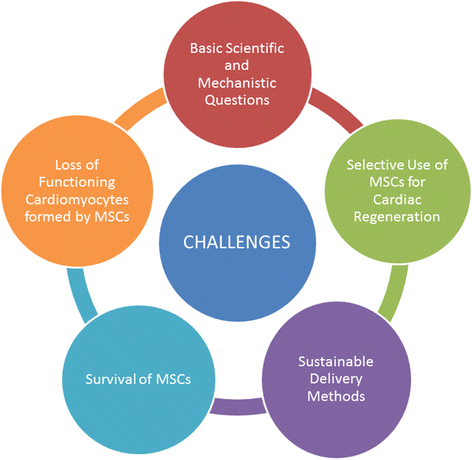 This brings us to the prospective studies in relation to the therapeutic competency of MSCs. These cells after transplantation have been shown to demonstrate paracrine effects which can prove to be of great advantage in future medical therapies (Fig. 2). Liang et al. [326] evaluated, for the first time, pigment epithelium-derived factor (PEDF), a paracrine factor, as a target for modifying and improving the impaired aged MSCs and thereby enhancing the cellular profile. The same is possible by overexpressing silent mating type information regulation 2 homolog 1 (SIRT1) in aged MSCs to restore pro-angiogenic factors, bFGF and so forth [327]. The regeneration process can be severely compromised by the lack of suitable MSC delivery methods to the intended site of regeneration and reduced survival of transplanted MSCs. The delivery methods for specific MSCs to the specific site of injury have yet not been established, although several delivery systems such as engineered tissue constructs and biomaterials have been explored for the same in order to gain maximum efficiency. For improving the survival of MSCs, researchers have been scrutinizing various methods which have proved beneficial under different conditions. For instance, the use of alginate-encapsulated MSCs secreting paracrine factors [328], miRNA [279] and CCs [269] has increased the survival rate of these cells. Hence, in future, the major areas of focus should involve figuring out more sustainable/evolved solutions to the afore-mentioned challenge than those under current implementation and more investigation is required in order to corroborate the efficacy of the therapies (Fig. 2).
MSCs can also be obtained from different sources in the body, but the studies in cardiac regeneration are mainly done using only a few of them. Referring to information presented in Table
2
, the bone marrow has been established as one of the most promising sources of MSCs, but there have been studies indicating a higher MSC production and proliferation capacity in other parts of the body such as the umbilical cord, placenta and peripheral blood. Similarly hUC-MSCs have been found to improve motor function, reduce abnormal levels of the concerned enzymes such as lactate dehydrogenase (
LDH
), creatine kinase (
CK
), and so forth, and increase the muscle strength (ClinicalTrials.gov NCT01610440). Thus, hUC-MSCs become an important source of treatment for genetic conditions like Duchenne muscular dystrophy (DMD). A very important aspect that plays a crucial role in the treatment of cardiac disorders is the ability of any treatment strategy to compensate for the loss of the functioning cardiomyocytes [
329
]. Thus, one of the future challenges of cardiovascular therapies is to strategize the functional regeneration of myocardial contractility using tissue engineering, cell-based therapy or reprogramming of scar fibroblasts [
330
,
331
].
Table 2
Frequency of MSC production, proliferation potential and delivery methods for therapeutic targets in different body organs, as compared with BM-MSCs
| Different sources of MSCs | Frequency of productiona | Potential of proliferationa | Delivery methods for regeneration | References |
| --- | --- | --- | --- | --- |
| Bone marrow | 1 in 3.4 × 104 cells | – | Intravenously | [332] |
| Umbilical cord matrix | Low | High | Not specified | |
| Amnion | High | Low | Not specified | [334] |
| Placenta | High | High | Not specified | [128] |
| Adipose tissue | High | High | Not specified | |
| Peripheral blood | High | High | Intravenously | |
| Cord blood | Low | High | Intramyocardial, intravenous, intracoronary | |
Throughout this review we came across compounds such as pioglitazone [288], rosuvastatin [289] and so forth that were studied in the initial years of the developmental era of MSCs but have not received much attention in recent years, despite the promising results obtained in cardiac therapy. There thus needs to be more research carried out on such compounds in order to not lose out on some extremely propitious therapeutic agents. Cell therapy has been adopted as a novel therapeutic strategy for treatment of cardiac disorders such as severe heart failure and CAD. Unfortunately, although these approaches have led to advancements in the field of safety and efficacy of these cell therapies, the mediocre success rates in terms of functional improvement serve as a disappointment in the field [3]. Thus we need to further investigate the sources of MSCs that can help benefit the treatment of any disorder accordingly with 'true' reparative potential, in order to help focus on the field of regenerative medicine.
Abbreviations
AMC, amniotic mesenchymal cell; AngII, angiotensin II; ASC, adipose tissue-derived mesenchymal stem cell; Aza, azacytidine; BM-MSC, bone marrow-derived mesenchymal stem cell; CAD, coronary artery disease; CC, CardioChimera; CFU-F, colony-forming unit fibroblast; CPC, cardiac progenitor cell; CSC, cardiac stem cell; cTnT, Cardiac troponin T; Cx, Connexin; DCM, dilated cardiomyopathy; DM, diabetes mellitus; Drp, dynamin-related protein; EC, endothelial cell; ECM, extracellular matrix; ESC, embryonic stem cell; FGF, fibroblast growth factor; GCP, granulocyte chemotactic protein; HGF, hepatocyte growth factor; HIF, hypoxia-inducible factor; HSC, haematopoietic stem cell; i.m., intramyocardial; i.v., intravenous; LPS, lipopolysaccharide; LV, left ventricular; LVEF, left ventricular ejection fraction; MDSC, muscle-derived stem cell; MI, myocardial infarction; MMP, matrix metalloproteinase; MSC, mesenchymal stem cell; PEDF, pigment epithelium-derived factor; PLGA, poly(lactic–co-glycolic acid); PLGF, platelet-derived growth factor; PPAR-γ, peroxisome proliferator-activated receptor gamma; p-SC, placenta-derived stem cell; SDF, stromal cell-derived factor; SIRT1, silent mating type information regulation 2 homolog 1; TGF-β, tumour growth factor beta; TK, tissue kallikrein; TLR, Toll-like receptor; TMZ, trimetazidine; UCB-MSC, umbilical cord blood-derived mesenchymal stem cell; UC-MSC, umbilical cord-derived mesenchymal stem cell; VEGF, vascular endothelial growth factor; WJ-MSC, Wharton's Jelly-derived mesenchymal stem cell.
Declarations
Acknowledgements
The authors would like to thank Ms Erfath Thanjeem Begum, Dr Venkat Katari and Mr Vinod Reddy for their enduring help throughout the period of the completion of this review article.
Funding
DS is supported by a 'Fast Track Young Scientist' grant (YSS/2014/000027) from the Department of Science and Technology (DST), Government of India and an investigator initiated grant (H15-27983) from Baxalta, USA. The funding sources did not play any role in the research and/or preparation of the article, study design, data collection, analysis/interpretation of data, writing of the report and decision to submit the article for publication.
Authors' contributions
AaS and AbS prepared the outline and wrote the manuscript. DS conceptualized, wrote and edited the manuscript. All authors read and approved the final manuscript.
Competing interests
The authors declare that they have no competing interests.
Open AccessThis article is distributed under the terms of the Creative Commons Attribution 4.0 International License (http://creativecommons.org/licenses/by/4.0/), which permits unrestricted use, distribution, and reproduction in any medium, provided you give appropriate credit to the original author(s) and the source, provide a link to the Creative Commons license, and indicate if changes were made. The Creative Commons Public Domain Dedication waiver (http://creativecommons.org/publicdomain/zero/1.0/) applies to the data made available in this article, unless otherwise stated.
Authors' Affiliations
(1)
School of Bio Sciences and Technology, VIT University, Vellore, India
(2)
Cellular and Molecular Therapeutics Laboratory, Centre for Biomaterials, Cellular and Molecular Theranostics (CBCMT), VIT University, Vellore, India