Strategies for enrichment and selection of stem cell-derived tissue precursors
Stem Cell Research & Therapy
2012
3:17
Abstract
Human embryonic stem cells have the capacity for self-renewal and pluripotency and thus are a primary candidate for tissue engineering and regenerative therapies. These cells also provide an opportunity to study the development of human tissues ex vivo. To date, numerous human embryonic stem cell lines have been derived and characterized. In this review, we will detail the strategies used to direct tissue-specific differentiation of embryonic stem cells. We also will discuss how these strategies have produced new sources of tissue-specific progenitor cells. Finally, we will describe the next generation of methods being developed to identify and select stem cell-derived tissue precursors for experimental study and clinical use.
Keywords
Pluripotent Stem Cell
Activin
Definitive Endoderm
MES1 Cell
Cardiomyocyte Differentiation
Introduction
Stem cells have the ability to maintain long-term proliferation and self-renewal. Under specific conditions, stem cells can differentiate into a diverse population of mature and functionally specialized cell types. There are two main types of human stem cells classified according to their source and developmental potential: embryonic and adult, or tissue-specific, stem cells. Human embryonic stem cells (hESCs) are pluripotent cells that can differentiate into all types of somatic - and, in some cases, extraembryonic - tissues. Human adult stem cells are derived from non-embryonic tissues and are capable of generating specific cells from the organ or tissue of origin. Because of the unrestricted potential of hESCs, these cells have become a highly desirable experimental tool for understanding human development and are especially attractive for therapeutic applications. In addition, methods for inducing a pluripotent state in human somatic cells have created the opportunity to study and use patient-specific stem cells, or induced pluripotent stem cells (iPSCs), and their derivatives. For these reasons, methods for directing the differentiation of pluripotent stem cells and selecting these for analysis and clinical use have become an area of intense investigation.
Enrichment of tissue-specific precursors
Pluripotency is defined as the potential of a stem cell to differentiate into tissues originating from all of the three embryonic germ layers: endoderm (for example, gastrointestinal tract and lung), mesoderm (for example, heart, muscle, bone, blood, and urogenital), and ectoderm (for example, nervous system and epidermis). At the molecular level, highly regulated transcriptional circuitry as well as extrinsic factors control the pluripotent state [
1
,
2
]. In addition, chromatin remodeling and small non-coding RNAs have been implicated in the regulation of pluripotency [
2
,
3
]. Pluripotency can be tested by using
in
vivo
and
in vitro
methods. A test of pluripotency
in vitro
involves determining the ability of hESCs and iPSCs to form human embryoid bodies (hEBs) when cultured in a non-adherent cell suspension in the absence of feeder cell layers. hEBs are spherical colonies of differentiating stem cells that contain cell types representative of all three embryonic germ layers [
4
]. The most commonly used
in
vivo
method to test pluripotency involves the transplantation of undifferentiated stem cells into immunodeficient mice to induce the formation of teratomas [
4
–
6
]. Teratomas are benign tumors composed of disorganized tissue structures characteristic of the three embryonic germ layers. Analysis of embryonic tissues found in teratomas from engrafted stem cells can be used to test their differentiation potential (Figure
1
).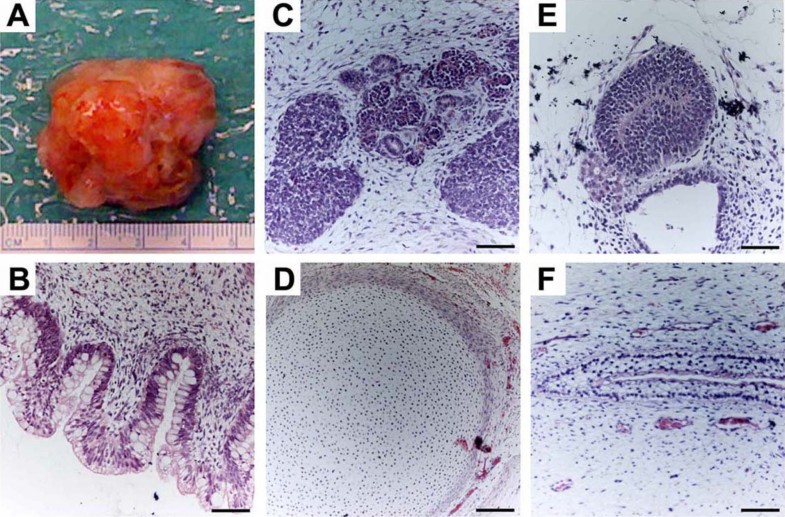 The ability of hESCs and iPSCs to mimic in vitro and in vivo the events occurring during human development makes them not only valuable tools for understanding the mechanisms involved in developmental processes but also stepping stones toward the generation of desired cell types suitable for cell therapies. Recent studies have shown that it is possible to generate lineage-restricted progenitors that are capable of differentiating into specialized post-mitotic cell types such as cardiomyocytes, pancreatic islet cells, chondrocytes, hematopoietic cells, endothelial cells, and neurons. Furthermore, the ability of pluripotent stem cells to divide indefinitely makes these a potential large-scale source of specific progenitors. In the following sections, we will provide examples of how stem cell differentiation can be directed toward specific cell/tissue types.
Selection of tissue-specific precursors
As discussed earlier in this review, enrichment of specific cell types can be achieved by using molecules introduced at specific time points during culture. However, many of these methods yield only moderate enrichment that is not yet scalable for clinical application. In addition, it may be desirable to enrich first for partially differentiated, proliferative stem cell intermediates with specific fates. These could then be expanded before further differentiation into cells for therapy. In the following sections, we will discuss the variety of methods used to select tissuespecific precursors and their derivatives.
Use of cell surface markers
Even before the tools of genetic engineering were employed to manipulate stem cells, proteins expressed on the cell surface were used to identify distinct populations of stem cells and their ontogeny. Perhaps the best-known application of this approach is to the intermediates of hematopoiesis [
63
]. Over the past 10 years, similar attempts to create lineage maps of other tissues have focused on the identification of lineage-specific cell surface markers (Table
2
). For example, pluripotent stem cells can be identified by the expression of stage-specific embryonic antigen (SSEA) 3 and 4 and the embryonal carcinoma marker Tra-1-60 on their surface [
4
]. The expression of the cell surface antigen CD133 on proliferating hESCs identifies cells predestined toward a neuroectodermal fate [
4
]. Hemangioblasts that ultimately give rise to hematopoietic stem cells, smooth muscle progenitors, and endothelial progenitors can be selected on the basis of the surface expression of CD143, E-cadherin, VE-cadherin, platelet endothelial cell adhesion molecule 1 (PECAM-1), and vascular endothelial growth factor receptor 2 (VEGFR2) [
64
]. Mesenchymal stem/stromal cells that differentiate into muscle, fat, cartilage, and bone cells can be identified by the expression of the cell surface proteins CD105/endoglin, CD73, and CD90/Thy-1 in the absence of surface expression of CD45, CD34, CD14 or CD11b, CD79α or CD19, and HLA-DR [
65
]. Recently, cardiomyocytes that have, until now, eluded detection by specific surface protein expression were shown to express signal-regulatory protein alpha (SIRPA) [
66
].
Table 2
Examples of surface markers expressed on stem, progenitor, and differentiated cells
Stem cell

Progenitor cell

Differentiated cell

Pluripotent stem cell

SSEA-3/4, TRA-1-60

Ectoderm

Neural stem cell

Neuron-restricted progenitor

NCAM [108]

Neuronal cell

PSD-95, Synaptophysin [109]

Glial-restricted progenitor

Oligodendrocyte

Type 2 astrocyte

Type 1 astrocyt

Motor neuron progenitor

Motor neuron

Surface ectoderm

Epidermal stem cell

α6-integrinhigh, CD71low [115]

Epithelial cell

CEACAM-1, EpCAM

Mesoderm

Hemangioblast

Hematopoietic stem cell

CD143, E-cadherin, VE-cadherin, PECAM-1, VEGFR2 [64]

CD34, CD44, CD150, VEGFR2, Sca-1 [63]

Myeloid/lymphoid lineages [118]

Smooth muscle progenitor

VE-cadherin [119]

Smooth muscle cell

VE-cadherin [119]

Endothelial progenitor

CD31, CD105, CD144, CD146, VEGFR2, VWF [120]

Endothelial cell

CD31 [120]

Mesenchymal stem cell

CD105/endoglin, CD73, CD90/Thy-1 [65]

Myogenic precursor

α7-integrin, M-cadherin [121]

Cardiac muscle

SIRPA [66]

Skeletal muscle

α7β1-integrin [122]

Pre-adipocyte

Adipocyte

Glut4 [123]

Chondrocyte precursor

Chondrocyte

CD44 [124]

Osteoblast

Osteocyte

Endoderm

Primitive endoderm

Definitive endoderm

Hepatic progenitor

c-Met, CD49f [125]

Hepatocyte

Il-6 [126]

Pancreatic progenitor

α cell

β cell

Glut2 [127]

PPγ cell

δ cell

ε cell
Two main approaches have been used to identify lineage-specific surface markers. One employs labeled cell fate mapping to assess the tissue-specific fate of subpopulations of pluripotent stem cells expressing specific surface proteins [4], whereas the other uses a high-throughput flow cytometry screen of available antibodies against stem cell derivatives [66]. Although there are still large gaps in our ability to identify and select derivatives of all three germ layers on the basis of surface marker expression, progress continues to be made.
Biochemical purification
Although detection of lineage-specific genes underlies most methods for selecting specific cell types from differentiating stem cell cultures, a few cell types, such as cardiac muscle cells, bear unique biochemical properties that aid in their isolation. For example, Percoll gradient centrifugation has been reported to purify hESC-derived cardiomyocytes [36, 67], based on their buoyancy characteristics. Differentiating hESCs are applied to a discontinuous Percoll gradient consisting of 40.5% Percoll layered over 58.5% Percoll. After centrifugation, the majority of cardiomyocytes reside within the 58.5% Percoll layer and express cardiac troponin I, sarcomeric MHC, αMHC, βMHC, and N-cadherin. hESC-derived cardiomyocytes of almost 70% purity have been obtained by using this approach.
A second purification strategy is based on the observation that cardiomyocytes have high mitochondrial content compared with that of non-myocytes [68]. Using the fluorescent dye tetramethylrhodamine methyl ester (TMRM), which freely diffuses into the mitochondrial matrix, Hattori and colleagues [68] found that TMRM fluorescence in embryonic rat hearts increases with developmental stage, suggesting that mitochondrial biogenesis is linked to myocardiogenesis. In whole rat embryos, TMRM fluorescence in the heart is more robust than in other tissues, and when analyzed by flow cytometry, flow-sorted populations with the highest TMRM fluorescence are observed to express cardiac α-actinin. TMRM-labeled cardiomyocytes derived from mESCs are positive for both Nkx2-5 and α-actinin. The cardiomyocyte content in cultured cells sorted from day-12 to day-25 mEBs is greater than 99% as determined by Nkx2-5 and α-actinin expression. Most notably, greater than 99% cardiomyocyte purity is also obtained in cultured cells sorted from differentiating hEBs.
Conclusions
Research on pluripotent stem cells has progressed significantly since the first derivation of hESCs from discarded blastocysts in 1998 [98] and the discovery that somatic cells can be reprogrammed to a pluripotent stem-like state in 2006 [99]. The international scientific community has discovered the enormous potential of pluripotent stem cells as newly derived lines continue to be developed and differentiation methods into various types of cells are optimized. The ability to select and isolate stem cell-derived precursors and differentiated cells with tissue-specific properties holds the key to fully exploiting these cell lines and differentiation methods for scientific investigation and clinical use.
Abbreviations
bFGF:

basic fibroblast growth factor
BMP4:

bone morphogenetic protein 4
dbcAMP:

dibutyryl cyclic adenosine monophosphate
EGF:

epidermal growth factor
eGFP:

enhanced green fluorescent protein
ESC:

embryonic stem cell
FGF:

fibroblast growth factor
FRET:

fluorescence resonance energy transfer
GCV:

gancyclovir
hEB:

human embryoid body
hESC:

human embryonic stem cell
HTK:

herpes thymidine kinase
iPSC:

induced pluripotent stem cell
mEB:

mouse embryoid body
mESC:

mouse embryonic stem cell
MHC:

myosin heavy chain
miRNA:

microRNA
PMT:

photomultiplier tube
TGFβ:

transforming growth factor-beta
TMRM:

tetramethylrhodamine methyl ester
VEGF:

vascular endothelial growth factor.
Declarations
Acknowledgements
HSB is supported by grants from the National Heart, Lung, and Blood Institute; the California Institute for Regenerative Medicine; and the Muscular Dystrophy Association. WCH is supported by funds from the UCSF Helen Diller Family Comprehensive Cancer Center Laboratory for Cell Analysis and the National Cancer Institute.
Authors' Affiliations
(1)
Department of Pediatrics (Cardiology), University of California San Francisco, San Francisco, USA
(2)
Eli and Edythe Broad Center of Regeneration Medicine and Stem Cell Research, University of California San Francisco, San Francisco, USA
(3)
Cardiovascular Research Institute, University of California San Francisco, San Francisco, USA
(4)
Helen Diller Family Comprehensive Cancer Center, University of California San Francisco, San Francisco, USA
Copyright
© BioMed Central Ltd 2012