Mechanical regulation of chondrogenesis
Stem Cell Research & Therapy
2013
4:61
Abstract
Mechanical factors play a crucial role in the development of articular cartilage in vivo. In this regard, tissue engineers have sought to leverage native mechanotransduction pathways to enhance in vitro stem cell-based cartilage repair strategies. However, a thorough understanding of how individual mechanical factors influence stem cell fate is needed to predictably and effectively utilize this strategy of mechanically-induced chondrogenesis. This article summarizes some of the latest findings on mechanically stimulated chondrogenesis, highlighting several new areas of interest, such as the effects of mechanical stimulation on matrix maintenance and terminal differentiation, as well as the use of multifactorial bioreactors. Additionally, the roles of individual biophysical factors, such as hydrostatic or osmotic pressure, are examined in light of their potential to induce mesenchymal stem cell chondrogenesis. An improved understanding of biomechanically-driven tissue development and maturation of stem cell-based cartilage replacements will hopefully lead to the development of cell-based therapies for cartilage degeneration and disease.
Keywords
OsteoarthritisCartilage defectScaffoldTissue engineeringMesenchymal stem cellAdipose stem cellRegenerationSynovial jointIon channelMechanical signal transduction
Introduction
Musculoskeletal tissues are highly sensitive to their mechanical environment, allowing them to adapt to the physical demands of their environment. Mechanical factors can influence the structure and function of these tissues at all stages of life, including development, growth, remodeling, injury and disease, and repair [1–4]. In particular, chondrocytes and chondroprogenitors have been shown to transduce and respond to a wide array of mechanical stimuli both during development as well as throughout adulthood, including deformation, shear, fluid flow, streaming potentials, hydrostatic pressure, and osmotic pressure [1, 2, 5–7].
Similarly, there is growing interest in understanding the mechanobiology of multipotent stem cells, which are abundant, expandable, and available from various tissue depots including bone marrow, fat, and synovium [8–10]. The cells are capable of chondrogenic differentiation, and provide a potential cell source for the regeneration and replacement of damaged articular cartilage resulting from injury or diseases such as osteoarthritis [11–14]. However, an effective cell-based tissue replacement requires a stably differentiated cell population capable of producing and maintaining a functional neo-tissue. There is great interest in leveraging these native mechanical and biophysical cues to enhance the current strategies for stem cell-based cartilage tissue repair. This review summarizes recent progress on the use of mechanical and biophysical signals to influence the chondrogenic differentiation of stem cell-based cartilage replacements. Furthermore, we discuss several candidate transduction mechanisms that may play a role in the process of biomechanically-induced chondrogenesis, in the hope that a better understanding of the pathways behind the mechanosensitivity of stem cells will lead to more practical, reliable, and effective methods of leveraging these pathways for cartilage tissue engineering [15].
Mechanical stimulation of chondrogenesis
The current literature on
in vitro
mechanical stimulation of chondrogenesis encompasses a broad variety of scaffolds, cell types, and bioreactors, making it challenging to draw definitive conclusions across studies. This section focuses primarily on the most common model system of dynamic compressive loading of bone marrow-derived mesenchymal stem cells (MSCs) supported by synthetic foam and/or hydrogel scaffolds (summarized in Table
1
). Of course, future comparative analyses of studies involving other bioreactors and scaffold systems will probably be needed to further understand the mechanisms behind mechanical signals and chondrogenesis. Furthermore, investigations into the mechanical responses of stem cells sourced from other tissues of interest (adipose, synovium) will also be necessary to move them towards clinical applications, as it is currently unclear whether these stem cells utilize the same mechanisms of mechanical signal transduction as bone marrow-derived MSCs.
Table 1
Summary of recent dynamic compressive loading studies evaluating chondrogenesis in mesenchymal stem cells
| Bioreactor | Compressive loading regimen | Scaffold | Species (age) | Medium supplementation | Preculture (days) | Reference |
| --- | --- | --- | --- | --- | --- | --- |
| Compression | 1 Hz, 10%, 1 to 20 hours | Agarose | Bovine | ± Dex ± TGFβ1 | 8 or 16 | [16] |
| Compression | 0.33 to 3 Hz, 10%, 1 to 3 hours | Agarose | Bovine (3 to 6 months) | Dex ± TGFβ3 | 3 | [17] |
| Compression (semipermeable) | 0.3 Hz, 7.5%, 45 minutes on/45 minutes rest | Agarose | Horse (2 to 5 years) | Dex ± TGFβ1 | 0 | [18] |
| Compression | 0.01 to 1 Hz, 10%, 1 to 4 hour/day | Agarose | Bovine (3 to 6 months) | Dex ± TGFβ3 | 0 or 21 | [19] |
| Compression + shear | 0.1 to 1 Hz, 5 to 20%, 1 hour/day | Fibrin/PU | Human | Dex ± TGFβ1 | 7 | [20] |
| Compression | 1 Hz, 10%, 1 hour/day | Agarose | Porcine (4 months) | Dex ± TGFβ3 | 0 or 21 | [21] |
| Compression + shear | 1 Hz, 10 to 20%, 1 hour/day | Fibrin/PU | Human | None | 2 to 4 | [22] |
| Compression | 1 Hz, 10%, 1 hour | Agarose | Porcine (4 months) | Dex + TGFβ3 | 0, 7, 14, 21 | [23] |
| Compression + shear | 0.1 Hz, 5 to 20%, 3 hours/day | Agarose | Bovine (3 to 6 months) | Dex ± TGFβ3 | 21 | [24] |
| Compression | 1 Hz, 10%, 4 hours/day | Hyaluronic acid | Human | Dex + TGFβ1 | 3 | [25] |
Mechanical stimulation can directly influence the fate of undifferentiated stem cells [1–3, 5–7, 26]. Dynamic compressive loading, specifically cyclic unconfined compression, has been one of the most highly utilized model systems of mechanical stimulation in cartilage tissue engineering and mechanobiology [7]. This system has also been used to investigate the potential of mechanical stimulation for use in MSC-based cartilage regeneration and repair, and the results of these studies can be summarized by four main findings: growth factor treatment is a more potent stimulus than mechanical stimulation for initiating MSC differentiation; provided there is a period of predifferentiation and other specific loading parameters, mechanical stimulation can be effective at enhancing growth-factor induced MSC differentiation and tissue neo-formation; the mechanoresponsiveness of differentiated MSC constructs appears to persist over time to direct matrix remodeling and maintain a stable chondrogenic phenotype; and bioreactors that impart multifactorial mechanical stimulation, such as compression–shear loading, further enhance mechanically-induced chondrogenesis.
Mechanisms of mechanically-induced chondrogenesis
Physical transduction of mechanical loading
There are obvious practical limitations to mechanically conditioning anatomically-shaped tissue replacements, including the spatial constraints and inhomogeneity of the stress and strain fields. Furthermore, these inhomogeneities can also act to obscure the detailed understanding of the cellular effects on mechanical signals. As such, there is a growing interest in studying the individual biophysical components present during deformational loading, which practically are much simpler to deliver in a repeatable and uniform manner. A thorough understanding of the mechanisms by which individual components of mechanical stimulation leads to cartilage development, maintenance, and disease should also allow for more practical and predicable strategies for enhancing the maturation of stem cell-based cartilage replacement tissues.
Joint loading leads to complex tissue strains, including components of compression, tension, and shear, producing direct cellular and nuclear deformation [
40
]. In addition, indirect biophysical factors are also generated (Figure
3
) as a result of the exudation of interstitial water and ions from cartilage, including streaming potentials, changes in local pH and osmolarity, and hydrostatic pressure [
38
]. While application of dynamic compression to isolated chondrocytes or MSCs seeded into hydrogels or polymeric scaffolds will recapitulate many of these biophysical changes that occur in native cartilage, it is important to appreciate that the amount of extracellular matrix relative to the original scaffold or hydrogel present within the constructs, as well as the mechanical properties of these scaffolds, will influence the range of biophysical stimuli generated by loading (for example [
41
]). A number of studies have examined the response of chondrocytes and MSCs to individual biophysical stimuli generated during loading of intact articular cartilage. In this respect, future studies comparing donor-matched responses among chondrocytes, undifferentiated MSCs, and differentiated MSCs to these stimuli would be highly useful in further elucidating the mechanisms involved in mechanotransduction in different cell types.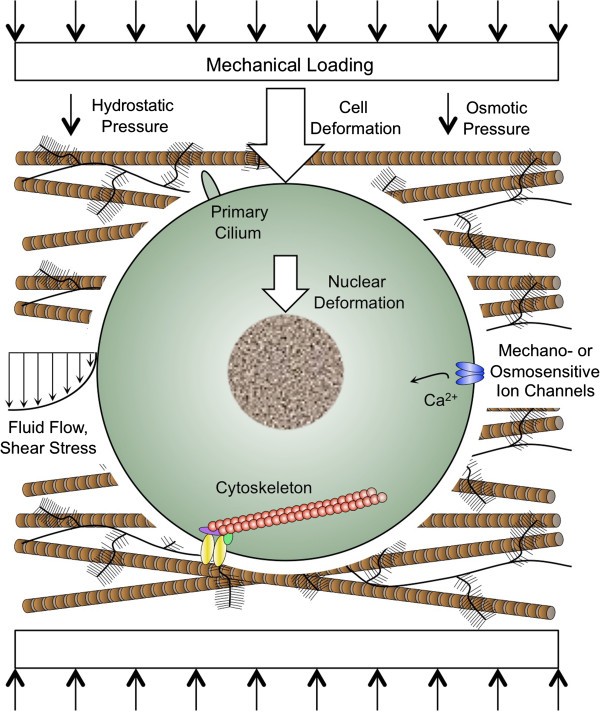 Molecular mechanisms of transduction
The molecular mechanisms of mechanical signal transduction in chondrocytes and MSCs are not fully understood and represent an area of growing investigation. Ion channels, the primary cilium, the nucleus, and the cytoskeleton have all been proposed as candidate mechanical signal transducers in articular chondrocytes (Figure 3). Ion channels in chondrocytes include potassium channels, sodium channels, transient receptor potential (TRP) nonselective cation channels, and chloride channels [81]. Various ion channels in chondrocytes appear to be regulated by changes in osmolarity, as well as different forms of mechanical stimulation. For example, the TRPV4 ion channel has been identified as the major sensor of osmolarity in chondrocytes [82], and activation of this channel leads to an influx of calcium ions. Calcium signaling has also been observed in chondrocytes in response to hydrostatic pressurization [83] and compressive loading [84]. Changes in intracellular calcium downstream of ATP secretion and binding to purinergic receptors have also been proposed as a mechanical signaling pathway in chondrocytes [85]. Calcium signaling has been linked to the propagation of mechanical effects on gene expression in cartilage explants [86]. Treatment with nifedipine, a calcium channel inhibitor, or 4-aminopyridine, a potassium channel inhibitor, disrupted mechanical stimulation of sGAG synthesis by chondrocytes in agarose, suggesting possible roles for calcium and potassium signaling in mediating this loading effect [87]. A recent study showed that altering the intracellular sodium and calcium concentrations using the pharmacologic agents oubain and ionomycin for 1 hour daily on days 10 to 14 of culture increased the tensile modulus of neo-tissue produced by chondrocytes from young bovine donors in a scaffoldless culture system at 4 weeks of culture, providing evidence that ion channel regulation can also influence functional properties of neo-cartilage [88].
The primary cilium is a nonmotile organelle that extends from the cell surface and has been implicated in both sensory and signaling functions in a variety of cells [89]. Primary cilia were identified on articular chondrocytes more than three decades ago [90, 91], and recent work indicates that the primary cilium may have an important role in chondrocyte mechanotransduction [92, 93]. Primary cilia on sternal chondrocytes were shown to have α2, α3, and β1 integrins on their surface [94], allowing a direct linkage between the cilium and collagens in the surrounding pericellular matrix. As such, tissue compression during joint loading could lead to deformation of the cilium. Ion channels, including TRPV4, are also found on primary cilia. Interestingly, chemical disruption of the primary cilia on articular chondrocytes blocked the increase in intracellular calcium caused by exposure to hypo-osmotic stress or a TRPV4 channel agonist [82]. Acute compressive loading of sternal chondrocyte–agarose disks has been shown to induce an increase in calcium signaling, upregulation of aggrecan expression, and higher sGAG accumulation; these loading effects were absent in IFT88(orpk) mutant chondrocytes that lack primary cilium [95]. Together, these studies suggest that the primary cilium may contribute in multiple and complex ways to mechanical signal transduction in chondrocytes, and further investigations are needed to clarify the contributions of this proposed mechanosensory organelle.
Deformation of the nucleus in chondrocytes may be important in propagating the cellular response to biophysical stimuli [96]. The connections between the extracellular matrix, integrins, cytoskeleton, LINC complex, and nuclear lamina allow for direct transmission of biophysical forces from the cell exterior to the nucleus and potentially to subnuclear structures. The nucleus in chondrocytes deforms in response to compression of articular cartilage explants [40] and chondrocyte/agarose constructs [97]. Application of osmotic stress to chondrocytes also influences nuclear volume and structure [98], with changes in the nucleus probably reflecting alterations in intracellular macromolecular concentrations [99]. Studies are needed to define how these direct pathways by which biophysical stimuli influence the nucleus contribute to regulation of gene expression by mechanical loading in chondrocytes and stem cells.
The cytoskeleton in articular chondrocytes is primarily composed of actin microfilaments, microtubules, and vimentin intermediate filaments [100]. Disruption of actin microfilaments with cytochalasin D was found to decrease viscoelastic mechanical properties of chondrocytes [101] and to alter chondrocyte nuclear deformation in response to compression of cartilage explants [40]. The actin cytoskeleton in articular chondrocytes has also been shown to undergo reorganization with osmotic stress [70, 102], as well as compressive loading and hydrostatic pressure [103]. These studies suggest that the cytoskeleton is involved in the response of chondrocytes to mechanical loading, yet studies directly implicating the cytoskeleton are lacking. Prior work has shown that integrins are involved in responses of chondrocyte–hydrogel constructs to dynamic compressive loading [104, 105]. A recent study demonstrated that, when chondrocytes were suspended in agarose and pretreated with a blocking antibody for αv or β1 integrin, the increases in sGAG synthesis and sGAG accumulation induced by 24 hours of dynamic compression were disrupted [106]. Linkages between integrins and cytoskeletal components are thought to be integral to mechanotransduction in various cell types [107], but such linkages in chondrocytes have not been well defined. How early signaling events downstream of changes in ion channels, the primary cilium, the nucleus, and the cytoskeleton are propagated into changes in gene expression and matrix synthesis that support chondrogenic differentiation and neo-tissue formation remain open questions for future investigations.
Conclusion
Mechanically-generated signals appear to play a critical role in the differentiation and maturation of MSCs into a chondrogenic phenotype. Compressive deformational loading of MSC-laden constructs produces a pro-chondrogenic and biosynthetic response that is advantageous for developing MSC-based neo-tissues for cartilage regeneration and repair, and this system can also be used as a model to better understand the mechanisms of MSC mechanotransduction. Use of more advanced bioreactors, such as those that also incorporate shear and other components of loading, further enhances the chondrogenic response of MSCs to mechanical loading, and better mimics the in vivo environment in which these cartilage neo-tissues are designed to reside. Knowledge about the mechanisms that transduce macroscopic mechanical forces into intracellular events is increasing with respect to both chondrocytes and chondrogenically-induced MSCs. Further delineations about these mechanisms will probably lead to controllable strategies for rapid and effective preconditioning of anatomically shaped MSC-based cartilage replacements.
Note
This article is part of a thematic series on Physical influences on stem cells edited by Gordana Vunjak-Novakovic. Other articles in the series can be found online at http://stemcellres.com/series/physical.
Abbreviations
MSC:

Mesenchymal stem cell
sGAG:

Sulfated glycosaminoglycan
TGFβ:

Transforming growth factor beta
TRP:

Transient receptor potential.
Declarations
Acknowledgements
This work was supported by grants from the National Institutes of Health (AR48182, AR50245, AG15768, AR48852, AG40868, and GM08719) and by the Collaborative Research Center, AO Foundation, Davos, Switzerland.
Authors' Affiliations
(1)
Department of Orthopaedic Surgery, Duke University Medical Center, Durham, USA
(2)
Department of Biomedical Engineering, University of North Carolina – Chapel Hill, Chapel Hill, USA
Copyright
© BioMed Central Ltd. 2013