Urine-derived cells for human cell therapy
Stem Cell Research & Therapy
2018
9:189
Abstract
Desirable cells for human cell therapy would be ones that can be generated by simple isolation and culture techniques using a donor sample obtained by non-invasive methods. To date, the different donor-specific cells that can be isolated from blood, skin, and hair require invasive methods for sample isolation and incorporate complex and costly reagents to culture. These cells also take considerable time for their in-vitro isolation and expansion. Previous studies suggest that donor-derived cells, namely urine stem cells and renal cells, may be isolated from human urine samples using a cost-effective and simple method of isolation, incorporating not such complex reagents. Moreover, the isolated cells, particularly urine stem cells, are superior to conventional stem cell sources in terms of favourable gene profile and inherent multipotent potential. Transdifferentiation or differentiation of human urine-derived cells can generate desirable cells for regenerative therapy. In this review, we intended to discuss the characteristics and therapeutic applications of urine-derived cells for human cell therapy. Conclusively, with detailed study and optimisation, urine-derived cells have a prospective future to generate functional lineage-specific cells for patients from a clinical translation point of view.
Keywords
Urine
Stem cells
Renal cells
Differentiation
Therapy
Background
Cell therapy aims to restore diseased or injured tissues by replacing lost cells with functional cells to re-establish normal function [1]. Generally, functional cells for therapy are generated from donor-derived somatic cells or stem cells by differentiation. The method of sample collection for the widely used donor-derived cells such as keratinocytes, adipose-derived stem cells, and mesenchymal stem cells (MSC) require needle insertion, biopsy, or physical dislodgement by scraping. Although these cells can be cultured and differentiated successfully with various protocols, sample isolation is quite complicated, and the cells also take considerable time for expansion. On the other hand, cells isolated from human urine samples, urine stem cells and renal cells, do not require such invasive methods for sample collection [2]. Urine cells can be isolated using a relatively simple method and be expanded easily. In addition, the possibility of generating cells from urine samples makes the human urine-derived cells an attractive alternative choice for cell therapy [3, 4]. However, few manuscripts have been published thus far to describe the use of these cells in cell therapy. In this review, we focus on some of the significant aspects of urine cells that can be utilised for different patient-specific regenerative therapies.
Isolation of urine-derived cells
The ease of isolation is the main advantage of urine-derived cells compared with all other donor-related samples. Adipose-derived stem cells, hair cells, and mesenchymal stromal cells require liposuction or invasive methods for sample isolation. Amniotic and umbilical cord cells are neither easily accessible nor suitable for auto-transplantation. These hurdles make the cost of biopsy for the aforementioned cells high, ranging from $150 to 500 (per sample) and the procedure requires hospital admission, physician consultation, and surgical procedure. On the contrary, collection of urine samples does not require such specialised procedures. Urine-derived cells can be isolated at a cost less than $70 (per sample) by simple centrifugation of the samples to sediment the cells and by seeding them onto normal culture plates without special substrates [2]. Following isolation, they may be expanded with minimal labour to generate a considerable number of cells (an average of 2–7.2 cells/100 ml sample during initial isolation which can be expanded to 0.5–1 million by 10–15 days) that express a wide range of markers [3].
Two significant types of undifferentiated donor-derived cells can be generated from human urine. Firstly, urine stem cells (USC) are progenitor cells that can be converted into cells of multiple lineages [5]. USC supposedly originate from the kidney due to their high gene expression for kidney cortex markers [6]. Studies have demonstrated the presence of "Y chromosome" in a female patient who received a male kidney transplant, suggesting a cell origin from the kidney [6]. USC can be expanded to generate more than a million donor specific cells by two consecutive subcultures after their in-vitro isolation. The second type, so called "renal epithelial cells" or "renal cells" are considered less potent than USC in terms of gene expression and in-vitro expandability [4]. Compared with the renal cells, USC can generate more donor-specific multipotent cells by cell culture.
The practical method of urine cell isolation includes the centrifugation of the collected sample at 400 g followed by an antibacterial wash of the pellets (to avoid contamination) and later seeding them onto culture plates with medium. For USC, the sedimented cells are seeded and subcultured with 10% fetal bovine serum containing Dulbecco's modified Eagle's medium (DMEM), DMEM/nutrient mixture F-12 (DMEM/F-12) and keratinocyte serum-free medium with supplements. USC can be preserved inside the collected urine samples for 24 h without any considerable loss of viability [7]. USC have been isolated from patients with a number of disease conditions including haemophilia A, B-thalassemia, Duchenne muscular dystrophy, systemic lupus erythematosus, epidermolysis bullosa, bladder cancer, and neurological disorders (Parkinson's disease, acute myeloid leukaemia) [8–12]. Renal cells have been isolated from healthy donors only, and thus less information is available on the isolation of renal cells from diseased patients. Unlike USC, renal cells are seeded and cultured using renal epithelial cell growth medium. After isolation and expansion and preservation using dimethyl sulphoxide, USC and renal cells can be stored in liquid nitrogen, holding a strong revival capability for future applications without any considerable loss of viability [8].
Podocytes and proximal tubule epithelial cells (PTEC) are the other two types of cells that can be isolated from human urine samples. However, podocytes and PTEC are mature, differentiated cells and have less expandability and lifespan compared with the undifferentiated cells (USC and renal cells) that can be isolated from urine samples. In addition, the cells require immortalisation to maintain them in vitro. Because of the terminal differentiation, podocytes and PTEC are non-significant in terms of generating lineage-specific cells in considerable quantities for therapy and therefore are not discussed in this review.
Characteristics of urine-derived cells
Urine stem cells (USC)
Urine stem cells (USC) express a variety of markers for pericyte, MSC, and pluripotent stem cell markers (Table
1
). Some of the key pericyte markers expressed by USC are CD224, CD146, platelet-derived growth factor r beta (PDGF-rβ), and neural/glial antigen 2 (NG2). The critical MSC markers such as CD44, CD73, CD90, and CD105 are highly expressed by USC. Previous studies suggest that USC are urine-derived MSC due to the high expression of the above markers [
13
]. In addition, USC express the pluripotent stem cell markers POU5F1 or octamer-binding transcription factor 3/4 (Oct 3/4), VMyc avian myelocytomatosis viral oncogene homologue (c-Myc), stage-specific embryonic antigen 1/4 (SSEA-1/4), and Kruppel-like factor 4 (Klf-4) [
5
]. Since urine contains different cell types, after sample isolation the aforementioned pluripotent marker expressions can serve as typical markers for the confirmation of USC isolation from any donor sample. In addition, USC express the renal cortex markers sine oculis homeobox homologue 2 (SIX2), neural cell adhesion molecule (NCAM), epithelial cell adhesion molecule (ep-CAM), and frizzled class receptor (FZD), suggesting their origin from the kidney [
14
–
16
]. Therefore, urine-derived stem cells may also be termed kidney progenitor cells or kidney stem cells [
17
]. Urine stem cells also express a small proportion of endothelial, epithelial, smooth muscle, and interstitial markers (Table
1
), and the significant highlight of these cells is their high in-vitro expandability.
Table 1
Markers expressed by different urine-derived cells
| Markers | Urine stem cells | Renal cells | Podocytes | PTEC | Reference |
| --- | --- | --- | --- | --- | --- |
| ESC/iPSC | Oct 3/4, Sox-2, c-Myc, Klf-4, SSEA-4, Tra-1-60, Tra-1-81 | Sox-2 | – | – | |
| MSC | CD29, CD44, CD54, CD73, CD90, CD105, CD166, STRO-1 | – | – | – | [13] |
| Pericyte | CD24, CD133. CD140b, CD146, CD224, PDGF-rβ, NG-2 | – | – | – | [46] |
| Haematopoietic stem cell | CD34, CD45, MHC-I | – | – | – | [13] |
| Interstitial cells | c-Kit | – | – | – | [3] |
| Renal tubular | CK-7 | CK-7, SLC2A1 | – | – | [32] |
| Fibroblasts | Vimentin, α-tubulin | Actin, Vimentin | – | – | [32] |
| Smooth muscle | α- SMA, Desmin | – | – | – | [6] |
| Urothelial | CK-13, CK-19, Uroplakin | CD 13 | – | – | [46] |
| Endothelial | vWF, CD31 | – | – | – | |
| Kidney-specific | Pax 2, Pax 8, Six 2, FZD, ep-CAM | L1CAM, NR3C2 | – | – | |
| Membrane/tight junction | Zo-1, Occludin (traces) | β- Catenin, E-cadherin, Claudin 1 | – | Zo-1, E-cadherin, MRP4 Oct-2 P-gp, BCRP | |
| Pancreatic | – | Sox-17, PDX1 | – | | [55] |
| Hepatic | – | Sox-17, AFP | – | | [55] |
| Others | | | Podocalyxin, synaptopodin, GLEPP1, podocin | Collagen I αI, Collagen IV αI, fibronectin I, laminin 5 | |
USC have high expandability compared with other widely used stem cells such as bone marrow stem cells, blood progenitor cells, keratinocyte progenitor cells, umbilical cord stem cells or adipose-derived stem cells [18–21]. Urine stem cells may reach nearly 70 population doublings and have an average doubling time of 21–24 h. On the other hand, the doubling time of the aforementioned non-urine-derived cells are greater than 24 h and their method of isolation and culture incur considerable time as it involves complicated methods of sample processing. USC isolation does not involve such complicated procedures for sample processing. Furthermore, with the addition of serum-containing medium, more USC were cultured from one sample. Interestingly, Schosserer et al. reported that the USC isolation efficiency of male donors is better than female donors [22]. An important matter that requires attention here is the significant variability of gene expression in the isolated USC. A recent study on USC has demonstrated significant intra-variability of reported markers on subculturing [23]. Regardless, the cells maintain their multipotent nature in vitro.
Similar to induced pluripotent stem cells (iPSC), embryonic stem cells (ESC), and MSC, USC are multipotent [
12
,
24
]. USC have shown the capability to generate cells from the mesoderm, endoderm, and ectoderm. Furthermore, USC secrete 25 different angiogenic paracrine growth factors as detected by human angiogenesis array, which include the key angiogenic factors such as vascular endothelial growth factor (VEGF), fibroblast growth factor (FGF), insulin growth factor (IGF), hepatocyte growth factor (HGF), platelet-derived growth factor (PDGF), and matrix metalloproteinases (MMP) [
24
,
25
]. These angiogenic and immunomodulatory growth factors may play an important role in the vascularisation of cells derived from USC which, if subsequently transplanted, might influence the immune system of the hosts. Supplementation of the endogenous VEGF production of USC with growth factor beads have improved angiogenesis and stress urinary incontinence (SUI) in rodents by increasing vascularisation and survival of the transplanted cells [
24
,
26
]. In addition, USC have improved the in-vivo vascularisation and growth if delivered through hydrogels, collagen, alginate microbeads, or three-dimensional biofilms in mice [
24
,
26
–
30
]. The stem cells have restored sphincter function after vaginal distension injury in rats [
31
]. Thus urine-derived stem cells have great potential to generate donor-specific autologous cells for tissue repair for multiple degenerative diseases (Table
2
).
Table 2
Differentiation capability of urine-derived cells and their potential application
Type of urine cell

Differentiated to

Markers expressed before differentiation

Markers expressed after transdifferentiation/differentiation

In-vivo testing reported

Potential application

Reference

Urine stem cells

Endothelial

vWF, CD31

KDR, VE-cadherin, FLT-1, eNOS

Yes

Renal reconstruction, angiogenesis, SUI, erectile dysfunction

[36]

Uroepithelial

Uroplakin Ia

Uroplakin-III, AE1/AE3 and CK7

Yes

Urological reconstruction

Smooth muscle

α-SMA

Desmin, Myosin, Smoothelin,

Yes

Bladder reconstruction, Genitourinary repair

Myogenic

Nil

MyoD, Myogenin, Myf5, Myosin

Yes

Heart repair, SUI

Beta–like cells

Nil

PDX1

Yes

Diabetic treatment

[62]

Osteogenic

Nil

Osteocalcin, Runx2, ALP

Yes

Bone tissue engineering

[21]

Neuronal

Sox-2

GFAP, Nestin, NF-200, S100

no

Neural tissue engineering

[85]

Chondrogenic

Nil

Sox-9, Collagen II, Aggrecan

Yes

Cartilage replacement

iPSC

Klf-4, Sox-2, Oct 3/4, c-Myc

Nanog

Yes (teratoma)

Disease modelling/drug screening

[91]

Renal cells

Neural stem cells

Sox-2

Nestin, Pax6,

Yes

Neurodegenerative disorders

[33]

Beta cells

Sox-17, PDX1

NKX6.1, Insulin, C-peptide

Yes

Diabetic therapy

[55]

iPSC

Unknown

Sox-2, Oct3/4, Klf-4, Tra-1, SSEA-4

Yes (teratoma)

Disease modelling/drug screening

[32]
Renal cells
Renal cells are considered as intermediate cells between kidney proximal tubular epithelial cells and fibroblasts (Table
1
). Research indicates that renal cells express Beta-cadherin, E-cadherin, CD13, cytokeratin 7, zona occludens 1 (Zo-1), fibronectin, and vimentin [
32
]. They express some neuronal, beta cell, and hepatocyte markers (Table
1
). The cell growth and in-vitro characteristics of renal cells are not known extensively in comparison with urine stem cells. However, from our in-vitro expansion studies of renal cells and USC, the isolated renal cells demonstrated less expandability than urine stem cells (Fig.
1
). Nevertheless, irrespective of the donor sample and volume, urine stem cells demonstrated an in-vitro lifespan of approximately 40–45 days (Fig.
1
). Renal cells derived from human urine samples were converted into neural stem cells by a non- integration-free method using small molecules [
33
]. The induced neural progenitor cells were converted into three different brain cell types (astrocytes, oligodendrocytes, and neurons), providing a safe and promising option for neurodegenerative diseases. In addition, the protocol does not incorporate any transcription factors and does not cause potential alterations in the genome. From our research, we have found out that the renal cells express the sex-determining region Y-related HMG box (Sox)-17 marker at high levels (Fig.
2
), suggesting that they can be useful for generating endoderm-derived cells. Due to the high expression of the key endoderm marker Sox-17, renal cells can be a good source of donor-specific cells for liver, pancreas, or thyroid repair. However, extensive studies should be carried out on renal cells, as with USC, to understand their potential in terms of differentiation, gene expression, paracrine activity, and transplantation.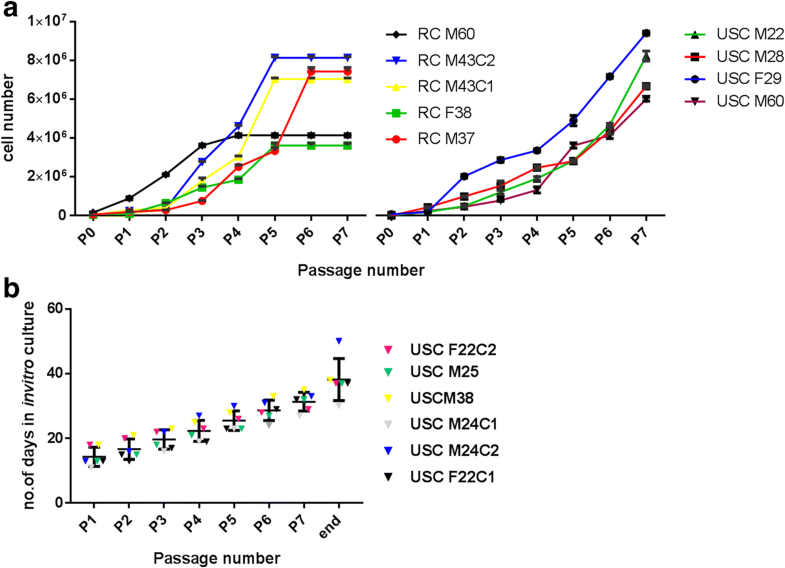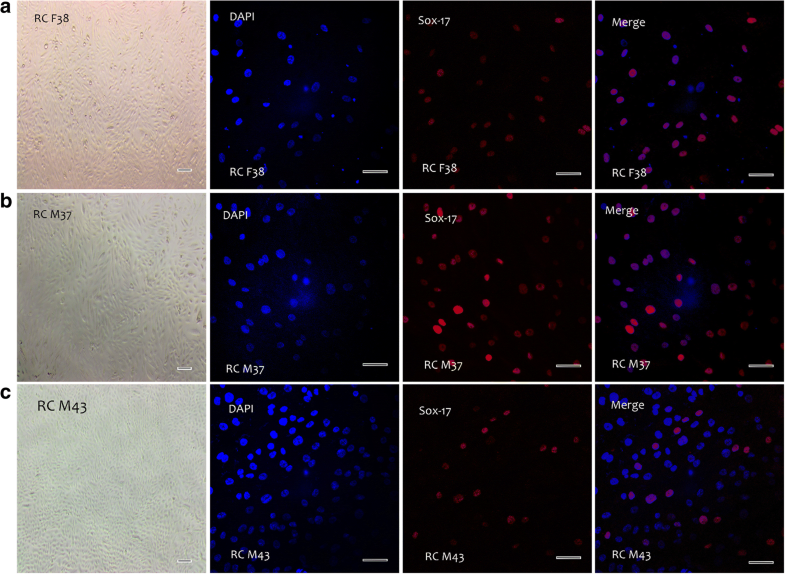 Above all, renal cells and USC can serve as the easiest cells to be isolated from any other well-studied donor cells and, consequently, urine-derived cells can serve as an ideal choice for generating differentiated cells for human therapy (Table 1).
Therapeutic applications of urine-derived cells
Currently there is a lack of robust donor-derived cells that can serve as potent therapeutic cells for human therapy. Nevertheless, human therapy requires millions of cells ready for transplantation [34]. Hence, the choice of precursor cells is a significant challenge to achieve the cell numbers required for transplantation [18, 35]. In addition, the cells to be utilised for regenerative therapy have to meet other general stem cell characteristics. They should be harvested non-invasively from the donor and should be differentiated into multiple lineage cells in a reproducible manner. Moreover, the cells must be safe to perform an autologous transplant and should be generated according to Good Manufacturing Practise (GMP) guidelines. Urine cells also have other possible advantages from a therapy prospective. The ease of donor sample collection with minimal ethical issues makes them ideal for clinical applications. In addition, the low costs and the simple method of cell isolation is another advantage. Furthermore, there should be no immune rejection if used for regenerative transplants and it can be straightforwardly automated. Above all, the cells can be translated into commercial production and widespread clinical applications [3, 4, 6, 19, 20]. For the mass production of a wide range of differentiated cells (Table 2), urine-derived cells can serve as autologous cell therapy for erectile dysfunction, SUI, kidney bioengineering, cardiac and genitourinary repair, liver reconstruction, and neurodegenerative disorder treatment [2, 21, 36–38]. Currently, most of the investigated cells for the treatment of these diseases are generated from iPSC. However, extensive differentiation protocols combined with ethical issues makes iPSC more complicated for use in clinics.
Conclusion
Statistical analysis suggests that using the daily average volume of urine from an individual, 10 times the number of donor-specific urine cells required for an autologous tissue repair can be generated [
4
]. The automation of the urine cell cultures will make it easy to achieve the numbers for human transplantation. As a universal sample of collection, urine-derived cells can serve as an outstanding option for treatment of diseases such as those in the kidney, brain and paediatrics [
84
]. With more extensive study, urine cells can be employed as a preservation method for patient cells to serve as a cell bank for therapy and disease modelling study by generating iPSC (Fig.
3
) [
8
,
85
]. In addition, urine cells can also serve as a replacement for current MSC (derived through invasive methods such as bone marrow harvest and liposuction) to generate a donor bio-bank. However, this may require further expandability and qualitative studies, especially with the recent reports of considerable differences in isolation efficiencies and cell culture issues [
23
]. Although urine cells are an attractive solution, further testing of cells (especially renal cells) needs to be conducted to confirm the efficacy of the cells in terms of functional differentiation and long-term transplantation. The immune reaction of the differentiated cells after transplantation also need to be addressed. On critical analysis, we found significant inter-variability in the expression of reported markers and the reasons for such variations need to be addressed. One possible explanation for this heterogeneity in terms of gene expression can be due to the mixed nature of the isolated cells. This is also supportive of the fact that the human urine contains complex constituents and cells removed from the body. Sorting of the isolated urine cells at early passages can minimise the variation arising from the heterogeneous nature of urine cell cultures. Furthermore, for isolation and cell culture, we were unaware whether the urine storage conditions after collection (including adding serum to samples at room temperature and storing at 4 °C for 24 h to perform later isolation) and the duration of time the urine is held in the bladder before collection would affect the isolation. Upon extensive review, we have found that such conditions are important; for example, previous studies have reported variations in the quality of the cells (morphology and gene expression of USC markers) depending on different storage and sample collection conditions [
7
,
47
]. An explanation is also unknown for the differences in the gene expression of the urine cell markers in different samples obtained from the same individual at different times (intra-variability). Furthermore, we also need to investigate if urine cell generation will be influenced by diet and medication. Generating clinically graded autologous cells from urine samples for cell therapy still needs comprehensive pre-clinical analyses to generate a standardised procedure. Conclusively, with detailed testing and optimisation, urine cells can serve as the future of regenerative therapy in terms of generating quantitative and qualitative cells for both organ reconstruction and to understand pathological mechanisms using disease modelling.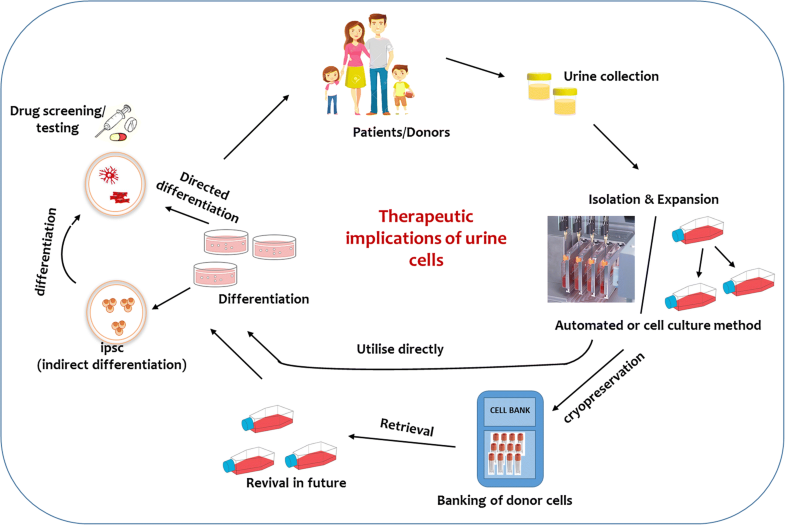 Abbreviations
ACS:

Adipocyte-specific cell surface protein
AE1:

Anion exchange protein 1
AE3:

Anion exchange protein 3
AFP:

Alpha fetoprotein
ALP:

Alkaline phosphatase
ALT:

Alanine aminotransferase
α-SMA:

Alpha smooth muscle actin
AST:

Aspartate aminotransferase
BCRP:

Breast cancer resistance protein
C/EPB α:

CCAAT/enhancer-binding protein alpha
CK:

Cytokeratin
c-Myc:

VMyc avian myelocytomatosis viral oncogene homologue
eNOS:

Endothelial nitric oxide synthase
ep-CAM:

Epithelial cell adhesion molecule
ESC:

Embryonic stem cells
FABP4:

Fatty acid binding protein 4
FGF:

Fibroblast growth factor
FLT-1:

Fms-like tyrosine kinase 1
FZD:

Frizzled class receptor
GFAP:

Glial fibrillary acidic protein
GLEPP1:

Designated glomerular epithelial protein 1
GMP:

Good Manufacturing Practise
HGF:

Hepatocyte growth factor
IGF:

Insulin growth factor
iPSC:

Induced pluripotent stem cells
KDR:

Kinase insert domain receptor
Klf-4:

Kruppel-like factor 4
L1CAM:

L1 cell adhesion molecule
LpL:

Lipoprotein lipase
MHC-1:

Major histocompatibility complex class 1
MMP:

Matrix metalloproteinases
MRP4:

Multidrug resistance protein 4
MSC:

Mesenchymal stem cells
Myf5:

Myogenic factor 5
MyoD:

Myogenic differentiation
NCAM:

Neural cell adhesion molecule
NF-200:

Neurofilament 200
NG2:

Neural/glial antigen 2
NKX6.1:

NK6 Homeobox 1
NR3C2:

Nuclear receptor subfamily 3 group C member 2
Oct 2:

Organic cation transporter 2
Oct 3/4:

Octamer-binding transcription factor 3/4
Pax 2:

Paired box 2
Pax 8:

Paired box 8
Pax6:

Paired Box 6
PDGF:

Platelet-derived growth factor
PDGF-rβ:

Platelet-derived growth factor r beta
PDX1:

Pancreatic and duodenal homeobox 1
P-gp:

P-glycoprotein
PPARϒ:

Peroxisome proliferator-activated receptor
PTEC:

Proximal tubule epithelial cells
Runx2:

Runt-related transcription factor-2
S100:

S100 calcium-binding protein
SIX2:

Sine oculis homeobox homolog 2
SLC2A1:

Solute carrier family 2, member 1
Sox:

Sex-determining region Y HMG box
SSEA:

Stage-specific embryonic antigen
STRO-1:

S-adenosylmethionine synthase isoform type-1
SUI:

Stress urinary incontinence
Tra-1:

Tumour-related antigen 1
USC:

Urine stem cells
VE:

Vascular endothelial
VEGF:

Vascular endothelial growth factor
vWF:

Von Willebrand factor
Zo-1:

Zona occludens 1
Declarations
Acknowledgements
This work was supported by D&R Pharmaceutics China, a UniSA president scholarship to NPAM, and an NHMRC fellowship to X-FZ.
Availability of data and materials
All data generated and/or analysed during this study are included in this published article.
Authors' contributions
NPAM: concept, data acquisition (immunostaining, in vitro characteristics of urine cells), drafted the manuscript and editing. MA-H: concept, data acquisition (in vitro lifespan of urine cells) and critical revision of the manuscript and approval; LB: critical revision of the manuscript and final approval. PTC: critical revision of the manuscript, final approval, and financial support. X-FZ: concept, critical revision of the manuscript, and final approval. All authors read and approved the final manuscript.
Ethics approval and consent to participate
Human urine collection and storage was performed in accordance with the Ethics committee of University of South Australia (human ethic number 0000035945).
Consent for publication
All authors have approved the data for the submission.
Competing interests
The authors declare that they have no competing interests.
Publisher's Note
Springer Nature remains neutral with regard to jurisdictional claims in published maps and institutional affiliations.
Open AccessThis article is distributed under the terms of the Creative Commons Attribution 4.0 International License (http://creativecommons.org/licenses/by/4.0/), which permits unrestricted use, distribution, and reproduction in any medium, provided you give appropriate credit to the original author(s) and the source, provide a link to the Creative Commons license, and indicate if changes were made. The Creative Commons Public Domain Dedication waiver (http://creativecommons.org/publicdomain/zero/1.0/) applies to the data made available in this article, unless otherwise stated.
Authors' Affiliations
(1)
Central Northern Adelaide Renal and Transplantation Service, Royal Adelaide Hospital, Adelaide, South Australia
(2)
School of Pharmacy and Medical Sciences, Sansom Institute, University of South Australia, Adelaide, South Australia
(3)
School of Medicine, Faculty of Health Sciences, University of Adelaide, Adelaide, South Australia