Noninvasive in-vivo tracing and imaging of transplanted stem cells for liver regeneration
Stem Cell Research & Therapy
2016
7:143
Published: 23 September 2016
Abstract
Terminal liver disease is a major cause of death globally. The only ultimate therapeutic approach is orthotopic liver transplant. Because of the innate defects of organ transplantation, stem cell-based therapy has emerged as an effective alternative, based on the capacity of stem cells for multilineage differentiation and their homing to injured sites. However, the disease etiology, cell type, timing of cellular graft, therapeutic dose, delivery route, and choice of endpoints have varied between studies, leading to different, even divergent, results. In-vivo cell imaging could therefore help us better understand the fate and behaviors of stem cells to optimize cell-based therapy for liver regeneration. The primary imaging techniques in preclinical or clinical studies have consisted of optical imaging, magnetic resonance imaging, radionuclide imaging, reporter gene imaging, and Y chromosome-based fluorescence in-situ hybridization imaging. More attention has been focused on developing new or modified imaging methods for longitudinal and high-efficiency tracing. Herein, we provide a descriptive overview of imaging modalities and discuss recent advances in the field of molecular imaging of intrahepatic stem cell grafts.
Keywords
Stem cellsStem cell therapyIn-vivo imagingLabelingOptical imagingRadionuclidesSuper paramagnetic iron oxideReporter genesLiver regeneration
Background
Liver dysfunction is a serious healthcare problem worldwide that can progress to fulminant or chronic liver failure, and eventually deteriorate into end-stage liver disease. Currently, the only ultimate therapeutic approach for these diseases is orthotopic liver transplant (OLT). Nevertheless, the potential benefits are extraordinarily hindered by the major characteristics of organ scarcity, surgical intervention, postoperative complication, and life-long immunosuppressive medication, which have urgently facilitated the exploration of novel strategies to promote hepatic self-rehabilitation ability and reverse the pernicious process.
Early observations that stem cells derived from somatic cells, bone marrow, and embryonic cells exhibit the capacity of multipotential differentiation and self-renewal in vitro led to the proposal that they might migrate to the injured sites driven by environmental triggers and partly substitute the function of hepatocytes. Thus, over the last several years, stem cell-based therapy has emerged as a possible alternative, revolutionizing the treatment of liver regeneration or enabling patients to buy time before liver transplantation [1–4]. By homing to damaged tissues, stem cells contribute to alleviating the liver dysfunction. However, the potential mechanisms involved are not yet completely understood. Moreover, the disease etiology, cell type, timing of cellular graft, therapeutic dose, delivery route, and choice of endpoints have varied between study groups, leading to different, even divergent, treatment outcomes. Optimizing stem cell-based therapies will therefore require a better understanding of the cellular viability, biodistribution, differentiation capacity, and long-term fate after engraftment, with imaging techniques playing a pivotal role. Successful implementation of proper cell labeling enables noninvasive monitoring for the in-vivo tracing of cellular biology, and provides some clues for stem cell therapies.
An ideal imaging technique should most of all be biocompatible; that is, with low toxicity to both the labeled cells and the host. Additionally, the imaging technique should allow the relatively long-term visualization of infused cells with high temporary and spatial resolution, and meanwhile be available for histological or functional analysis. In addition, it is vital that the labeling agent or marker should be highly specific to original cells, passed to all progenies, and not transfected to nontarget cells [5, 6]. To the best of our knowledge, there is no single imaging method that satisfies all of the ideal conditions. However, we can combine multiple imaging strategies to achieve optimal imaging sensitivity, resolution, and time for follow-up.
Currently, in-vivo cell tracing in liver tissues is performed by direct labeling techniques or reporter gene labeling. Direct labeling is the most straightforward method, introducing imaging-detectable probes into target cells before implantation, including dye-mediated optical imaging, magnetic resonance imaging (MRI), and radionuclide imaging. A few researchers have also utilized Y chromosome-based fluorescence in-situ hybridization (FISH) imaging. In this review, we discuss the advantages and disadvantages of these imaging modalities and provide an overview of the recent advances in the domain of molecular imaging of intrahepatic stem cell grafts.
Conclusion and perspectives
To date, quite a few clinical trials of stem cell-based therapies have been performed focusing on liver regeneration [
60
,
61
]. However, most cases are in the early phase I/II stage. Improved liver function has been found to be small in some studies, and an average of only 55 % patients showed amelioration in histological tissues [
62
]. There is still a long way to go until the widespread application of stem cell therapies in clinical practice, which prompts us to translate from bedside to bench to furnish deeper insights into the fate of stem cells and treatment mechanisms. Imaging processes using direct labeling strategies and reporter genes enable us to elucidate key issues, including cellular survival, migration, biodistribution, and hepatogenic differentiation. The existing imaging strategies differ mainly in terms of depth penetration, spatial and temporal resolution, sensitivity, quantitative degree, molecular probes, and cost of imaging modalities. Every tracing technique has its inherent advantages and shortcomings owing to different mechanisms of action (Figs.
1
and
2
). MRI is excellent for spatial resolution and soft-tissue contrast, but is far less sensitive than fluorescent imaging (10
–9
–10
–12
mol/l) or radionuclide imaging (10
–11
–10
–12
mol/l) [
18
]. Optical imaging allows for multilabeling and high-efficiency tracking, but is limited by unstable photobleaching and weak tissue penetration. The persistent expression of reporter genes is fit for long-term tracing. Nevertheless, concerns about the ionizing radiations from radioisotopes, leakage or diffusion of tracers, and immunogenic and ethical issues with reporter genes still require attention. A qualitative outline comparing some general features of these imaging modalities is presented in Table
4
. The ideal imaging method for each study must be determined in light of the high sensitivity, resolution, and tracing time.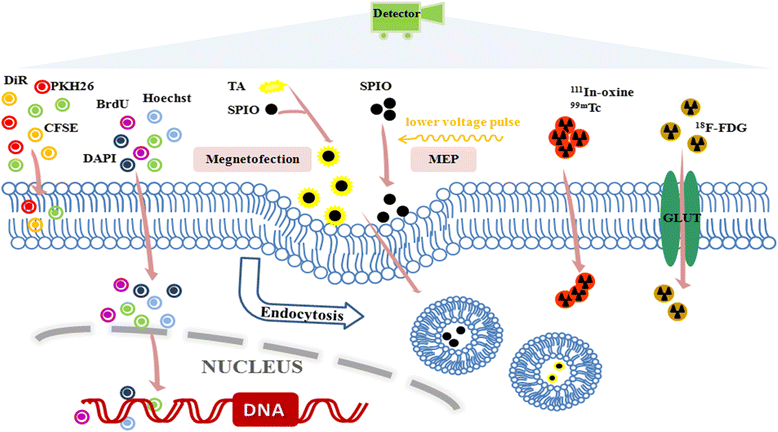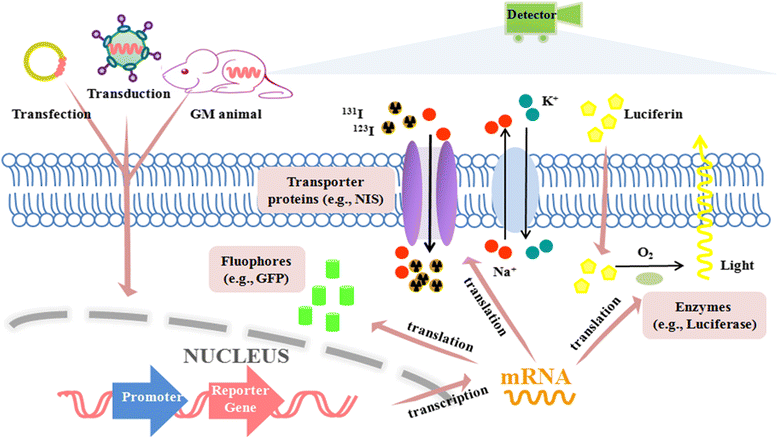 Table 4
Comparison of characteristics of imaging modalities available for intrahepatic stem cell tracing
| Imaging technique | Probes | Imaging methods | Sensitivity | Spatial resolution | Temporal resolution | Penetration depth | Quantitative degree | Cost |
| --- | --- | --- | --- | --- | --- | --- | --- | --- |
| Fluorescence imaging | Fluorophores, QDs, GFP/RFP | Direct labeling/reporter genes | +++ | + | ++ | + | +to++ | $ |
| Bioluminescence imaging | Luciferin | Reporter genes | +++ | + | ++ | + | +to++ | $ |
| MRI | SPIO, gadolinium | Direct labeling | + | +++ | + | +++ | ++ | |
| SPECT | 111In, 99mTc, 131I | Direct labeling/reporter genes | ++ | ++ | + | +++ | ++ | $$ |
| PET | 18F, 124I | Direct labeling/reporter genes | ++ | ++ | + | +++ | +++ | $$$ |
Noninvasive in-vivo imaging of stem cells stands at a critical point during the transition of treatment from bench to bedside. Clinical barriers will remain until the optimal cell types, timing of cellular graft, therapeutic dose, delivery route, and choices of endpoints are addressed. Therefore, it is vital to implement more large-scale clinical studies combined with imaging strategies to explore the trail of cell tracking in patients with liver diseases in the near future. Novel imaging strategies or combining imaging modalities might help to shed new light on the biological behavior of stem cells and the therapeutic mechanisms by which transplanted stem cells improve hepatic function and promote self-rehabilitation.
Abbreviations
AFP:

Alpha fetal protein
BLI:

Bioluminescence imaging
BMSC:

Bone marrow-derived mesenchymal stem cell
CCD:

Charge-coupled device
CPN:

Conjugated polymer-based water-dispersible nanoparticle
FISH:

Fluorescence in-situ hybridization
FLI:

Fluorescent imaging
GFP:

Green fluorescent protein
HSV-tk:

Herpes simplex virus type 1 thymidine kinase
iPSC:

Induced pluripotent stem cell
LacZ:

Galactosidase genes
MEP:

Magnetoelectroporation
MNP:

Fluorescent magnetic nanoparticle
MRI:

Magnetic resonance imaging
NIS:

Sodium iodide symporter
OLT:

Orthotopic liver transplant
PET:

Positron emission tomography
QD:

Quantum dot
SPECT:

Single-photon emission computed tomography
SPIO:

Superparamagnetic iron oxides
Declarations
Acknowledgments
The authors thank the laboratory members for their contributions.
Authors' contributions
JC and LL contributed to the conception of this manuscript. PC, LF, and JW were responsible for the literature review. PC and CH drafted the manuscript and revised the manuscript. All authors read and approved the final manuscript.
Competing interests
The authors declare that they have no competing interests.
Open AccessThis article is distributed under the terms of the Creative Commons Attribution 4.0 International License (http://creativecommons.org/licenses/by/4.0/), which permits unrestricted use, distribution, and reproduction in any medium, provided you give appropriate credit to the original author(s) and the source, provide a link to the Creative Commons license, and indicate if changes were made. The Creative Commons Public Domain Dedication waiver (http://creativecommons.org/publicdomain/zero/1.0/) applies to the data made available in this article, unless otherwise stated.
Authors' Affiliations
(1)
Collaborative Innovation Center for Diagnosis and Treatment of Infectious Diseases; State Key Laboratory for Diagnosis and Treatment of Infectious Diseases, School of Medicine; First Affiliated Hospital; Zhejiang University, Hangzhou, China