Encapsulation and 3D culture of human adipose-derived stem cells in an in-situ crosslinked hybrid hydrogel composed of PEG-based hyperbranched copolymer and hyaluronic acid
Stem Cell Research & Therapy
2013
4:32
Received: 30 December 2012
Accepted: 14 March 2013
Published: 21 March 2013
Abstract
Introduction
Cell therapy using adipose-derived stem cells has been reported to improve chronic wounds via differentiation and paracrine effects. One such strategy is to deliver stem cells in hydrogels, which are studied increasingly as cell delivery vehicles for therapeutic healing and inducing tissue regeneration. This study aimed to determine the behaviour of encapsulated adipose-derived stem cells and identify the secretion profile of suitable growth factors for wound healing in a newly developed thermoresponsive PEG–hyaluronic acid (HA) hybrid hydrogel to provide a novel living dressing system.
Methods
In this study, human adipose-derived stem cells (hADSCs) were encapsulated in situ in a water-soluble, thermoresponsive hyperbranched PEG-based copolymer (PEGMEMA–MEO2MA–PEGDA) with multiple acrylate functional groups in combination with thiolated HA, which was developed via deactivated enhanced atom transfer radical polymerisation of poly(ethylene glycol) methyl ether methacrylate (PEGMEMA, Mn = 475), 2-(2-methoxyethoxy) ethyl methacrylate (MEO2MA) and poly(ethylene glycol) diacrylate PEGDA (Mn = 258). hADSCs embedded in the PEGMEMA–MEO2MA–PEGDA and HA hybrid hydrogel system (P-SH-HA) were monitored and analysed for their cell viability, cell proliferation and secretion of growth factors (vascular endothelial growth factor, transforming growth factor beta and placental-derived growth factor) and cytokines (IFNγ, IL-2 and IL-10) under three-dimensional culture conditions via the ATP activity assay, alamarBlue® assay, LIVE/DEAD® assay and multiplex ELISA, respectively.
Results
hADSCs were successfully encapsulated in situ with high cell viability for up to 7 days in hydrogels. Although cellular proliferation was inhibited, cellular secretion of growth factors such as vascular endothelial growth factor and placental-derived growth factor production increased over 7 days, whereas IL-2 and IFNγ release were unaffected.
Conclusion
This study indicates that hADSCs can be maintained in a P-SH-HA hydrogel, and secrete pro-angiogenic growth factors with low cytotoxicity. With the potential to add more functionality for further structural modifications, this stem cell hydrogel system can be an ideal living dressing system for wound healing applications.
Keywords
Human adipose-derived stem cellsHyaluronic acidPEG hyperbranched polymersHydrogelsWound healing
Introduction
Chronic wound healing has remained difficult despite the advances in tissue engineering such as bioengineered skin substitutes [1]. At least 50% of chronic wounds remain resistant to advanced or standard treatments such as growth factor delivery or bioengineered skin substitutes [2]. In recent years, stem cell-based therapies have emerged as therapeutic alternatives in the regeneration and repair of damaged organs and tissues for various diseases [3]. Recent studies in delayed wound healing animal models using stem cells have been encouraging in treating of chronic wounds [4, 5]. Among the many factors contributing to impaired wound healing, the main factors are the reduction of cytokines and reduced neovascularisation [6, 7]. Bone marrow-derived stem cells have been shown to modulate the immune response and provide the building blocks for the regeneration of wounds in recent studies [8, 9]. Furthermore, adipose-derived stem cells have shown multipotency and secrete many growth factors such as insulin-like growth factor, hepatocyte growth factor, transforming growth factor beta 1 (TGF-β1) and vascular endothelial growth factor (VEGF) that are essential in wound healing and have been shown to heal chronic wounds in preclinical wound healing models [10–13]. In a recent study, human adipose-derived stem cells (hADSCs) embedded in a collagen hydrogel secreted increased levels of growth factors to enhance wound healing [14].
The main strategy to deliver stem cells or growth factors to chronic wounds involves direct injection to the injury site. However, this method leads to poor engraftment and poor efficacy due to proteolytic degradation within the first few hours post injection, thus preventing the beneficial effects of these expensive biological agents [15, 16]. These problems can be overcome with the use of a delivery scaffold of natural or synthetic origin. Hydrogel scaffolds have recently been extensively studied because their hydrophilic and injectable properties make them a suitable delivery system for drugs and stem cell therapy [17–21]. Hydrogels can encapsulate stem cells and maintain good viability while keeping their phenotype, which can provide a three-dimensional (3D) microenvironment for stem cells to closely mimic the in vivo conditions leading to stimulation of cellular proliferation, differentiation and regeneration via physical or chemical cues [22–24]. However, most of these hydrogel systems are developed via UV crosslinking or require multistep chemically modified reactions and purification methods, which causes safety concerns and increased cost as well as requiring complex preparation methods [25, 26].
A PEG-based thermoresponsive hyperbranched copolymer of poly(ethylene glycol) methyl ether methacrylate-
co
-2-(2-methoxyethoxy) ethyl methacrylate-
co
-poly(ethylene glycol) diacrylate (PEGMEMA
475
–MEO
2
MA–PEGDA
258
) was developed recently using a one-pot and one-step deactivated enhanced atom transfer radical polymerisation method in our group [
27
]. This copolymer exhibited a lower critical solution temperature that was close to body temperature. Once the polymer solution was applied at body temperature, a thermal gelation rapidly occurred. In addition, with high content of vinyl functional groups, this polymer further crosslinks chemically with thiolated hyaluronan (HA-SH) in minutes via a Michael-type thiolene reaction, which increases the mechanical properties of the hydrogel. This thermoresponsive hydrogel system allows
in situ
encapsulation of stem cells in a very short period of time, which can be used to deliver cells and growth factors. The secretion of growth factors from embedded cells could help induce the healing process in chronic wounds (Figure 
1
C).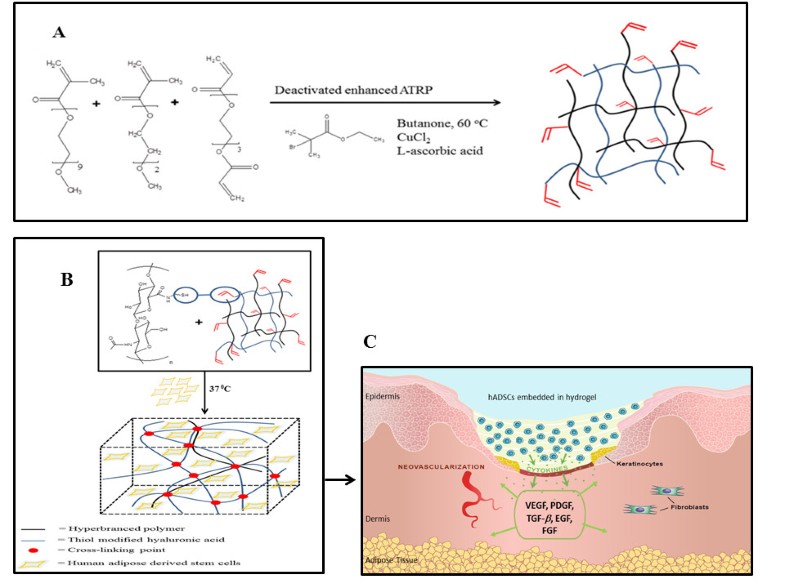 The purpose of this study is to analyse this system for soft-tissue engineering by successful encapsulation of hADSCs in situ. The effects of the PEGMEMA–MEO2MA–PEGDA and HA hybrid (P-SH-HA) hydrogel on cellular toxicity, proliferation and secretion of proinflammatory/anti-inflammatory and angiogenic growth factors were examined. Herein, we describe the preliminary characterisation of P-SH-HA synthetic extracellular matrix hydrogels for use in cell culture in vitro and with potential application in vivo.
Methods
Materials
The chemicals PEGMEMA (Mn = 475 g/mol), MEO2MA, and PEGDA (Mn = 258 g/mol) were purchased from Sigma-Aldrich (Wicklow, Ireland). HA-SH (HyStem™, Glycosan) was purchased from BioTime Inc. (Alameda, CA, USA). All chemicals were of analytical grade.
PEGMEMA–MEO2MA–PEGDA polymer synthesis and characterisation
The PEGMEMA–MEO2MA–PEGDA copolymer was synthesised by the copolymerising of PEGMEMA, MEO2MA and PEGDA via an in situ deactivation-enhanced atom transfer radical polymerisation approach as previously described [28]. Briefly, PEGMEMA (7.4 g, 0.015 moles), MEO2MA (12.8 g, 0.068 moles), PEGDA (5.4 g, 0.021 moles), the initiator ethyl 2-bromoisobutyrate (155 μl, 0.001 moles), copper(II) chloride (0.032 g, 0.0002 moles), bis(2-dimethylaminoethyl)methylamine (64 μl, 0.0002 moles) were added to a two-neck flask in 25 ml solvent butanone. The mixture was stirred for complete dissolution followed by purging with argon for 30 minutes to remove dissolved oxygen. l-Ascorbic acid (0.011 g) was added to the polymerisation solution under argon conditions and the mixture was heated in an oil bath to 50°C and stirred for 6 hours.
The polymerisation was stopped by opening the flask and exposing the catalyst to air. After the polymerisation, the solution was diluted with (1:1) acetone and precipitated into a large excess of diethyl ether and hexane (1:1.2) to remove solvent and monomers. The precipitated mixture of the polymer was dissolved in deionised water and purified by dialysis (spectrum dialysis membrane, molecular weight cutoff 6,000 to 8,000) for 72 hours in a dark environment at 4°C against fresh deionised water, while the water was changed regularly. The pure polymer samples were obtained after freeze drying. The molecular weight and molecular weight distributions were determined for PEGMEMA–MEO2MA–PEGDA using gel permeation chromatography (Polymer Laboratories) (Amherst, MA, USA) with an (Refractive Index) detector using dimethylformamide as an eluent. The columns (30 cm PLgel Mixed-C, two in series) were calibrated with poly (methyl methacrylate) standards. All calibrations and analysis were performed at 60°C and a flow rate of 1 ml/minute. 1H-NMR was carried out for PEGMEMA–MEO2MA–PEGDA on a 300 MHz Bruker NMR with MestReC processing software. The chemical shifts were referenced to the lock chloroform (CDCl3) for PEGMEMA–MEO2MA–PEGDA (Sigma, Wicklow, Ireland).
Hydrogel preparation
Commercially available HA-SH (Glycosan-HyStem™; BioTime Inc.) was used for making hydrogels,. The hydrogel was prepared by reacting the vinyl groups on the hyperbranched copolymer with free thiol contents of HA-SH at physiological condition via Michael-type addition. For this purpose, HA-SH (1% w/v) and PEGMEMA–MEO2MA–PEGDA (10% wt) were prepared in PBS (pH 7.4) in separate glass vials. The two solutions were combined in a volume ratio of 1:1 and gently mixed for 30 seconds. The solution was than incubated at 37°C to obtain gels for further analysis.
Cell culture
STEMPRO® hADSCs (Invitrogen) (Life Technologies, Dublin, Ireland) isolated from human adipose tissue collected during liposuction procedures were obtained at passage 1. The cells were grown and passaged using MesenPRO RS™ Medium (includes basal medium and growth supplement; Invitrogen) during all of the studies and used between passages 2 and 4. These cells have been shown to express a cell-surface protein profile that is positive for CD29, CD44, CD73, CD90, CD105, and CD166 (>95%), and is negative for CD14, CD31, CD45, and Lin1 (<2%).
Two-dimensional and three-dimensional cell culture
For two-dimensional (2D) culture, hADSCs were seeded on a 96-well plate (2D) at a final concentration of 0.5×106 cells/ml. Similarly, for 3D culture the cell suspension was mixed with PEGMEMA–MEO2MA–PEGDA and HA-SH at a final concentration of 0.5×106 cells/ml. After gelation, the cell laden gel constructs were transferred to a 48-well plate and 0.5 ml MesenPRO RS™ media were added supplemented with 2% growth supplement (Invitrogen). The media was changed every second day. Tissue culture plastic (TCP) seeded cells were used as experimental controls in all experiments.
Cell viability
The alamarBlue® (Invitrogen) assay was performed to evaluate the metabolic activity of hADSCs in the 3D cell culture system. hADSCs were encapsulated in 3D hydrogels as described above. At each time point, cells were washed three times with PBS at 37°C, following which 10% alamarBlue® in MesenPRO RS™ cell culture media was added to the wells containing hydrogel constructs to assess the cell metabolic activity after 1, 3, 5 and 7 days. Viability of encapsulated cells was also measured via intracellular ATP activity using Celltiter-Glo® reagent (Promega) (Madison, WI, USA) at days 2, 5 and 7. Media from cell-laden hydrogels were removed and replaced with 200 μl of 50% Celltiter-Glo® reagent in MesenPRO RS™ media. Following incubation on a shaker for 45 minutes at room temperature, 150 μl of the solutions were transferred into a 96-well white plate for luminescence quantification using a microplate reader. The LIVE/DEAD® assay (Molecular Probes) (Life Technologies, Dublin, Ireland) was also used to visualise the distribution of living and dead cells in the hydrogel at different time points for the 3D culture system. Fluorescence images were taken using an Olympus Fluoview Confocal Microscope.
Cell proliferation assay
Cell proliferation was determined using PicoGreen® fluorescent DNA quantification (Molecular Probes) kit at days 2 and 7 for both 3D and 2D culture as described by the manufacturer. DNA from cell-laden hydrogels was recovered by first mechanically digesting hydrogels and then enzymatically in proteinase K overnight at 56°C. Briefly, 100 μl DNA samples were incubated with 100 μl diluted (1:200) PicoGreen® reagent in 1× TE buffer in a 96-well opaque, flat-bottomed assay plate. The fluorescence was read at excitation 485 nm and emission 525 nm and was compared with a DNA standard curve provided with the kit.
Determination of growth factor secretion
After each predetermined time point (days 1, 3, 5 and 7), conditioned media from both 2D and 3D culture systems was collected and stored at -80°C for later analysis of the secreted factors using a multiplex ELISA system. The media was not changed in these samples until 7 days. The cell-laden hydrogels (3D) and cells on TCP (2D) were also harvested and stored at -80°C until further analysis. The conditioned media of hADSCs were analysed (days 1, 3, 5 and 7) for both the angiogenic growth factors VEGF, placental-derived growth factor (PlGF), TGF-β and the proinflammatory/anti-inflammatory cytokines IFNγ, IL-2 and IL-10 by the Mesoscale development system with multiplex ELISA kits (MSD TH1/TH2 7-plex, MSD Human Growth factor 1 4-Plex) (Meso Scale Discovery, Gaithersburg, MD, USA) as described by the manufacturer.
Statistical analysis
All data are expressed as mean ± standard deviation of triplicate samples. Comparisons between multiple groups were performed using one-way ANOVA. All analyses were performed with GraphPad Prism 5 (CA, USA). Differences between two datasets were considered significant when P <0.05.
Results and discussion
3D culture systems have frequently been used to mimic in vivo conditions. These systems allow for the control of cellular behaviour by providing control over properties of material substrates and microenvironments using natural or synthetic materials. This control allows creation of a stem cell niche to maintain or control the stemness of cells. Many synthetic and biological 3D systems such as collagen, hyaluronic acid, PEG-based synthetic extracellular matrix (QGEL™ ) (Lausanne, Switzerland) and chitosan have been reported recently [24]. However, most of these systems are synthesised via chemical modifications, which require multistep reactions and purification methods leading to increased production costs as well as giving rise to complex preparation methods. To overcome these problems, a hyperbranched PEG-based copolymer was therefore recently synthesised using a one-pot and one-step synthesis method (Figure 1A). This synthesis creates a hydrogel with thermoresponsive properties and desired end functionality to provide an in situ crosslinking system that can crosslink with HA-SH via Michael-type addition (Figure 1B). This hydrogel system allows encapsulation of stem cells in situ, which could potentially be used as a system to form a dressing upon application for wound repairs (Figure 1C). Understanding stem cell behaviour and analysing the ability for cells to secrete growth factors is therefore essential. In this paper, PEG-based thermoresponsive copolymer cross-linked with HA-SH was studied for hADSC viability, proliferation and secretion of pro-angiogenic growth factors and inflammatory cytokines under 3D culture condition. Cells seeded on TCP (2D) were used throughout the experiments to provide experimental control for the secretion of growth factors, proliferation of cells and viability.
Conclusion
This study shows that hADSCs can be successfully encapsulated in a newly formed in situ P-SH-HA hydrogel system to support the maintenance of hADSCs and to secrete essential growth factors. P-SH-HA hydrogel does not induce cytotoxicity over a 7-day period as measured by cell viability with live/dead staining and the alamarBlue® assay. hADSCs successfully secreted pro-angiogenic growth factors (PlGF, VEGF and TGF-β) and did not induce toxicity or inflammatory response as evident by low production of proinflammatory cytokines (IFNγ and IL-2). This in situ thermoresponsive copolymer with multiple acrylate groups has many advantages for the potential applications in tissue engineering and wound healing applications. The thermoresponsive property of this hydrogel allows easy handling during clinical practice and application as a dressing system. Furthermore, the multiple acrylate groups within the copolymer can provide tuneable mechanical properties leading to different swelling properties, to release profiles of growth factors from the gels and to allow control over secretion and cellular processes. Taken together, these results indicate that the PEG-HA-based synthetic extracellular matrix hydrogel can be used for topical application to deliver cells for wound healing applications.
Abbreviations
2D:

Two-dimensional
3D:

Three-dimensional
ELISA:

Enzyme-linked immunosorbent assay
HA:

Hyaluronic acid
HA-SH:

Thiol-modified hyaluronic acid
hADSC:

Human adipose-derived stem cell
IFN:

Interferon
IL:

Interleukin
MEO2MA:

2-(2-methoxyethoxy)ethyl methacrylate
NMR:

Nuclear magnetic resonance
P-SH-HA:

PEGMEMA–MEO2MA–PEGDA and HA hybrid
PBS:

Phosphate-buffered saline
PEG:

Polyethylene glycol
PEGDA:

Poly(ethylene glycol) Diacrylate
PEGMEMA:

Poly(ethylene glycol) methyl ether methylacrylate
PlGF:

Placental-derived growth factor
RHAMM:

Receptor for hyaluronan-mediated motility
TCP:

Tissue culture plastic
TGF-β:

Transforming growth factor beta
VEGF:

Vascular endothelial growth factor.
Declarations
Acknowledgements
The Heath Research Board of Ireland and the Science Foundation Ireland (SFI), the SFI Principal Investigator programme, DEBRA Ireland and DEBRA Austria, and the National University of Ireland, Galway are gratefully acknowledged for funding.
Authors' Affiliations
(1)
Network of Excellence for Functional Biomaterials, National University of Ireland, Galway, Ireland
Copyright
© Hassan et al.; licensee BioMed Central Ltd. 2013
This article is published under license to BioMed Central Ltd. This is an Open Access article distributed under the terms of the Creative Commons Attribution License (http://creativecommons.org/licenses/by/2.0), which permits unrestricted use, distribution, and reproduction in any medium, provided the original work is properly cited.